Q & A With Amujae Leader Ifeyinwa Maureen Okafor
By Ajong Mbapndah L
Featured recently on the list of top 50 most inspiring women in Nigeria by Business Day Newspaper, a 2021 Amujae Leader, one of 15 African women mentored and coached by Presidents and world leaders, Ifeyinwa Maureen Okafor is charting her own way to the top despite the odds. In a Q and A with PAV, Ifeyinwa Maureen Okafor, a former Adviser to the Imo State government shares her thoughts on gender perspectives across Nigeria and Africa.
You were recently listed among the top 50 most inspiring women in Nigeria by Business Day newspaper, what does this mean to you?
It is truly an honour, and I am humbled to have been listed. I deeply appreciate BusinessDay for the platform and recognition given to me and I celebrate all the great women with whom I share the honor. It means a great deal to me; it is a recognition of my values and the excellence I bring to my space.
It can be compared to being spotlighted, given an elevated platform where I can shine brighter and cascade to create the change that my country needs; motivating the younger generation to strive to be the best despite the many odds and obstacles that they are likely to face in their journey.
It is really great to have the work you do acknowledged. It becomes the stimulus you need for greater pursuit. 
So, I have become motivated to serve more and achieve more given this recognition.
 In a country of some 200 million people, how challenging is it for women like you to make it to the top?
It is a challenging country for everyone whether male or female to make it to the top and this should not be so. Dearth of power and infrastructure for example are commonalities impacting business growth.  In general, a deficit in value based leadership in my country; Nigeria has not allowed us make notable advancement over the years going by all developmental indices and evidence on ground. Making it to the top is made even more difficult for the 50% population who are women; by the institutional barriers of cultural stereotypes, patriarchal society, religious dogmas and archaic gender biases that have not shifted to embrace 21st century realities. There is a great underutilization of 'women' resources even where it is most needed. A simple analogy is why struggle to put on your belt with one hand when you have two? We are making a case for greater efficiency and management of resources by developing and unleash all our human resources. 
For women, there are challenges of financial inclusion, recognition and platforms to optimize their potential in business, politics and in other spheres. The few success stories there are been opportune and far between. Even when there is legislation and policy to support inclusion, there is weak enforcement and implementation. 
 But these challenges, present greater opportunity to right them. So, I acknowledge and support the work of various civil society groups to create more space for women; the Womanifesto movement is championing Constitutional reform that will amongst others allow women play a more prominent role in politics and governance. We marched in the month of March this year demanding implementation of the National Gender Policy. The court ruled in our favour for 35% affirmative action. When implemented, this should create a wave of change as we expect women; competent, capable women of unimpeachable character to be brought to the Governance table.
We can then begin the journey, become an inclusive nation and actualize our fullest potential by converting all of our human capital to human assets, male and female.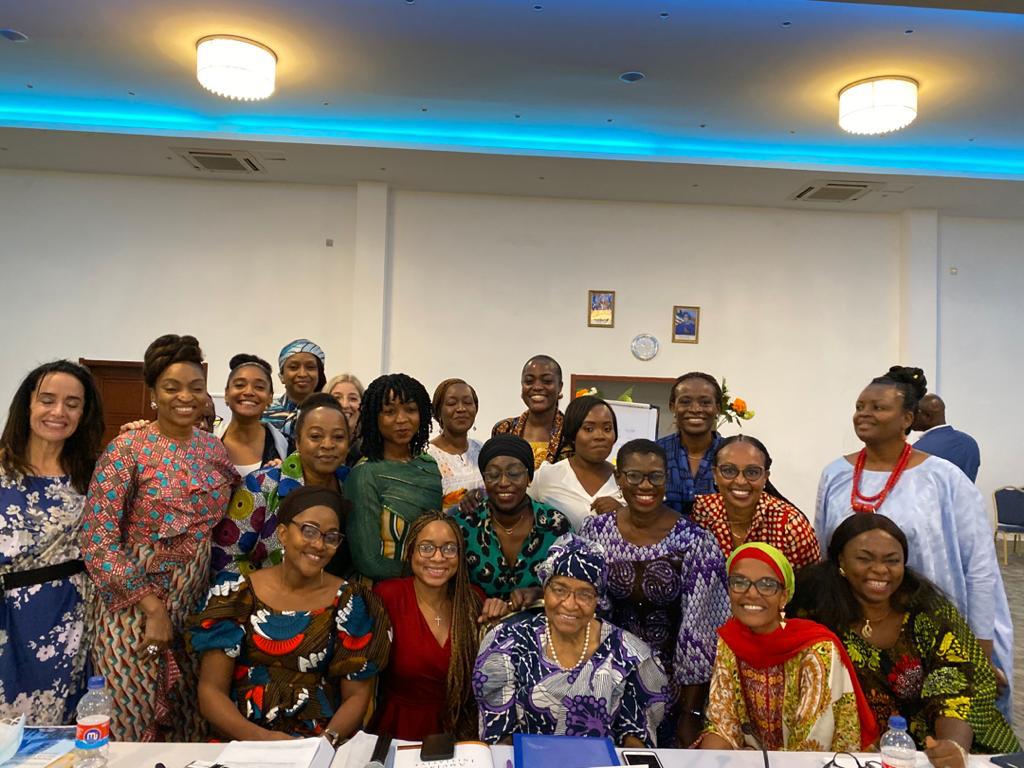 Ifeyinwa Maureen Okafor is a former Adviser to the Imo State government, how did that appointment come about and how was the experience like?
This appointment happened in 2019 under the administration of HE Emeka Ihedioha , Imo State, Nigeria and it was my first public sector role.
 At the time, I had outstanding records of achievement in the private sector; an award-winning career in banking and finance and I had repositioned an ailing company to be one of the leaders in its industry.
Then I began to show an interest in the governance of my state arising from a growing passion for leadership and compassion for the people. The state had faced serial malgovernance and required an injection of expertise, those who had the instinct and ideas of how to solve public problems. The timing for me to segue into the public sector was right. Fortunately, I was recommended to the Governor – elect as a strong candidate, capable of delivering policy that could create wealth and rebuild the state.
 Within days of his inauguration, I was appointed a Member of a Think tank called The Financial Advisory Committee, I concurrently served on The Judicial Panel of Inquiry for review of Contracts Award and the Visitation panel to Imo State Polytechnic, Umuagwo. I equally carried out Research and Policy work to reposition the state-owned University. These formed my most significant contributions to the state for which I am very proud.
 The experience of repositioning the state was very fulfilling. I found this most enriching and is the kind of work I wish to spend my time doing going forward.
You are also a 2021 Amujae Leader, one of 15 African women mentored and coached by Presidents and world leaders, could you shed some light on how you achieved this feat?
I have been very fortunate to be selected in 2021 as an Amujae Leader. Amujae means 'we are going up' in Kru, a Liberian language. The Amujae Initiative is a program of the Ellen Johnson Sirleaf Presidential Center for Women and Development (EJS Center) that identifies and challenges African women to be catalysts for political and social change across Africa.
 The vision of Amujae is to move society from a culture of tokenism to a culture that values women leadership. It believes in the important work of overcoming the negative social constructs, culture and religious dogma keeping women from achieving their highest potential.
 My core value is excellence and I have a passion for leadership. My vision is to bring excellence into democratic leadership on the continent.
This aligned with the vision of Amujae and when I applied it led me through a rigorous selection process to become one of the 15 women to emerge for the second cohort in 2021. 
 The Centre is committed to building the capacity of the leaders    through networking and prestigious leadership programs on their way to the highest echelons of office. I have benefited from this network greatly, part of which is this interview with you today.
What are some of the useful leadership lessons and tips that you have garnered as an Amujae leader, and how are you putting this to use to empower other women in the community who look up to you?
I refer to the Amujae Leaders as a convocation of eagles who benefit from the thrust of each other's flight. It's a wonder to be on this journey with these very accomplished and remarkable women. The greatest lessons I have learnt and shared include not to give up on the dream that you have been given. To keep trying, to dream bigger, strive higher and be comfortable in any room. To find your 'Why' and persevere in pursuit of higher calling.
 I am putting these lessons to use to empower others. As an entrepreneur and employer of labour, contributing to the local economy, I model enterprises for younger women. I motivate them through various capacity development and mentorship programs.
I inspire them to strive for greater goals by serving in Committees and Board positions and engaging in Community and Nation building efforts. 
 Specifically, I have been a speaker at various fora on Women in Politics and Women in Business. I am a regular Analyst/Commentator on women issues on The Women Radio FM 91.7 (The Voice of Women) Lagos, Nigeria. I also mentor many young women across the globe, sharing my Amujae lessons through my writing, blogging and social media channels. 
 With growing recognition, vision and strong profile you are building for yourself, may we know some of the leaders or people you consider as role models and why?
I am grateful for the growing recognition. I will mention two African women who I consider as role models. The first is 
HE Madame Ellen Johnson Sirleaf. 
She is a worthy Ambassador of democratic ideals and value- driven leadership, a catalyst for women aspiring to the highest echelons of leadership in a quest to transform the African continent.
 As Africa's first female democratically elected President, Nobel Peace Laureate and holder of numerous awards, she continues to work tirelessly to empower and nurture women leaders on the continent. The Amujae Leadership Program is a testament of this. 
 I appreciate her vision, leadership, boldness, courage, strength and determination. She is a role model not just for women but for the entire continent.
 Dr Ngozi Okonjo-Oweala
 Dr Okonjo-Iweala is one African woman I look up to. A Nigerian economist, author and entrepreneur, she served as the first female and two term Finance Minister and the first female Foreign Affairs Minister.
 I admire Dr Ngozi Okonjo-Iweala for her transparency, integrity and tenacity to bring reform while she served under the administrations of President Olusegun Obasanjo and Goodluck Jonathan. Creditably, she fought to end corruption in the system. Being resilient and courageous she has many successes to her credit.
She improved the macroeconomic management of Nigeria. She assisted the governed to monitor their leaders and seek accountability. She has been instrumental to several policies that have empowered the Youth like the Youth Enterprise with Innovation Program (YouWIN) which was a success.
Perhaps her most celebrated achievement is the negotiated debt relief secured from the Paris Club of creditors of US$30billion.
Her outspokenness, courage, commitment in the fight against corruption in Nigeria makes her very inspiring and a role model to many.
 She is also on the Board of the Amujae Initiative.
 We are doing this interview at a time when politics is dominating discussions in Nigeria, first how has eight years of President Buhari impacted the fortunes of women in your country?
This month of May 2022 the country is conducting its Party Primary elections which will determine the candidates in a General Election which comes up in 2023.
Unfortunately, in the 8 years of the Buhari administration there has not been much progress for Women in politics. In fact, the numbers of Women in Houses of Parliament and in appointive offices has regressed despite the National Gender Policy of 35%. According to reports, the national average of women's political participation in Nigeria has remained less than 7%, which is far below the Global Average of 22.5 %, and Africa Regional Average of 23.4%. For instance, out of the 36 ministerial appointments by the Buhari administration only six are women, representing 16.7 %. In the National Assembly, women constitute 5.6 % of members of the House of Representatives and 6.5% of the Senators. Also, with the twenty-three years of uninterrupted democratic governance (1999-2022), Nigeria is yet to produce a female governor in any of the 36 states of the Federation. Nevertheless, in the business sphere, we have maintained Africa's richest woman position as well as several other wins. For example, in attempting to achieve gender parity, the Central Bank of Nigeria (CBN) said it reserved 60% of its N220 billion Micro, Small and Medium Enterprises Development Fund for women entrepreneurs. The disbursement and monitoring for impact however may be a different kind of challenge.
On the upcoming elections, in what way do you think Nigerian women can better make their voices heard, or ensure that leaders elected prioritize expectations and development interests of women?
1.Mobilize. Mobilize. Mobilize.
Women must mobilize. It would require commitment and dedication. I am reminded of the election that brought in President Biden and the work of the women like Stacey Abrams in the state of Georgia. 
We must commit time and resources to ensuring the right candidates have visibility and the electorate understand and value the potential they carry.
 2.Advocacy for financial inclusion and empowerment. 
Women must be financially empowered, so they become a force to reckon with.
In the recent past, I was privileged to have worked with the Central Bank of Nigeria and the Nigerian Association of Chambers of Commerce, Industry, Mines and Agriculture ( NACCIMA) Women's Group on advocacy to enhance access to finance for Women . The Central Bank of Nigeria launched its Financial Inclusion Strategy in October 2012 with the aim of increasing financial inclusion of women from 36% to 70% by 2020.
Reports for 2022 show the target has been achieved at just under 70%.
This program and others should
be evaluated for its impact. The numbers should be sustained, and the program expanded.
 3.Build Capacity and hold elected leaders accountable.
Women must build capacity. Towards this, I have been privileged to be Speaker at several Women Empowerment programs for the Chambers of Commerce and the Centre for International Private Enterprise (CIPE). I have served as a Member NACCIMA -CIPE Committee in Governance,
Working with GEMS, to improve Growth and Employment in states supporting an improved business environment. 
 Mentorships: Women must commit to developing and mentoring the next generation. 
I co-founded a movement called Liberation Movement which became registered as a National Political Party called Liberation Party. As a Trustee of the party, I mentored many women to join politics and run for office. 
I have a scholarship fund for young girls who are less privileged to attend University.
I Co-Founded a Women's Group called We the Women ; a mentoring and networking group for women.
I have served as an Executive of the Women's Group of the Nigeria Association of Chambers of Commerce and Industry, Mines and Agriculture ( NAWORG) .
From an Adviser to a state government, to an Amujae leader, what next for Ifeyinwa Maureen Okafor, any plans to run for public office down the line?
Quoting Edmund Burke ; 'Nobody makes a greater mistake than he who does nothing because he could only do little'. 
My desire has always been  to apply the little I know ; my fund management and organizational leadership skills to prudently manage any organization. I took a step further to seek elective office in 2015. I sought to govern Imo state , to be a prudent custodian of the states meager resources and build wealth for the people by providing authentic leadership and achieve greater results in provision of infrastructure, education and healthcare.
It's a dream I plan to pursue again down the line and I do so because there is so much at stake.
And to other young women out there who see in you a role model, any advice or tips on how to navigate life challenges or emulate your success?
In my public sector role, I have contributed research work into issues that affect young ladies, in Nigerian Universities. As a government appointee in the Imo State University Joint Action Committee, we made far reaching recommendations and we developed a code of ethics for the University.
My interaction with these young women and men showed many gaps. Thus, my advice would be: 
 Determine your path early. Look for significance over success.
 Dream Big all the time.
 Focus on achieving academic excellence.
 Where there is a challenge, there is an opportunity.
There are two major hunters. The shark is useless on land and the lion is useless on water. Understand where and who you are. 
 Water your chosen path through study, and work experience. 
Stay on the path and seek Mentors to help you navigate challenges and obstacles.
Grow the path by looking for avenues to serve on the way to the top. 
Be passionate about your career/ business . If you are not then you are in the wrong career/ business. 
 Find what sets your soul on fire.
When you find it, be excellent, then you will be remembered.
Use evidence to solve problems; get the statistics to determine the problem and how best to solve them.
 In pursuit of significance, You will encounter social injustice because there are vested interests. These interested parties will not be the ones who bring change. Hence the need for disrupters. Be a disruptor!
 Chronicle your journey and when you get there, not if.. remember to put a ladder down for others to have an easier time getting up.