Mozambique Exposes Vulnerability Of Botswana Troops
By Jorge Joaquim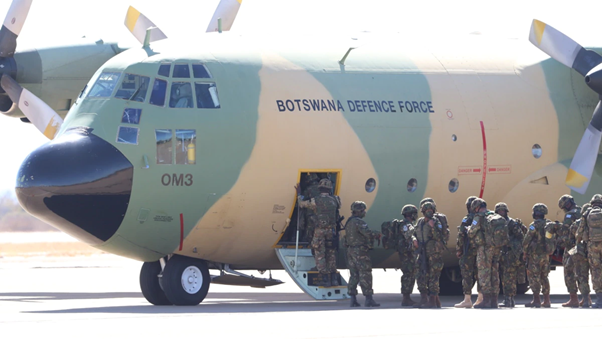 The presence of Botswana Defeense Force in Mozambique is putting Botswana vulnerable to different types of terrorist attacks, according to the BDF commander Placid Segokgo, who said hist country should now be on alert.
Last year, Botswana sent 296 troops to Mozambique to join soldiers from other Southern African Development Community, or SADC, countries. The SADC troops were deployed for the first time to quell a deadly Islamist insurgency in Cabo Delgado, Mozambique's northernmost province.
Now, according to the BDF commander Placid Segokgo, quoted by MmegIonline, the BDF troops' presence there has made Botswana vulnerable.
Appearing before the Public Accounts Committee (PAC) on Friday, Segokgo indicated that they continue to face challenges like cyber crime and terrorism and the latter specifically because of their presence in Mozambique.
"We have realised that our footprint there creates an even bigger vulnerability here so we must be ready together with our sister agencies to be able to adjust that, particularly ready in terms of the intelligence gathering," he said.
With the enemy in Mozambique reportedly multifaceted and diverse, Segokgo said they should be able to make sure that they are not reactive but rather proactive to the challenge. He said with the assistance of other security organs, they would heighten security measures and intensify intelligence activities.
Besides the threat that can come from the BDF's presence in Mozambique, Segokgo also indicated that their footprint there would provide an opportunity because they interact with other forces in the locality.
In terms of their successes on the ground, Segokgo said they have had breakthroughs but clarified that the threat has not gone away. He said they have been able to disrupt and dislodge the insurgents and they are no longer able to move as freely as they used to.
"They no longer have the upper hand, they have reversed and regressed. They are no longer holding static positions therefore they are now mobile. They are concentrating on soft targets and are looting to support themselves. They don't have the logistics support they once had," he further disclosed.
Segokgo said the terrorists are still a threat because they continue to exist.
Segokgo, however, said their recent decision to take some Members of Parliament (MPs) to visit the BDF troops in Mozambique has boosted the latter's morale. "The work for them is challenging because it is a different environment but it also motivates them. The topography, the vegetation, the culture and all of that are new and provides an opportunity for our troops to exercise and see what works and what doesn't work so that we revise our tactics, techniques, and procedures," he said.
Botswana becomes the second SADC nation to send troops to Cabo Delgado, after South African soldiers landed in Mozambique.