Mid-career researchers in 38 African countries to embark on five-year ARISE Fellowships valued at up-to €500,000 each
By Wallace Mawire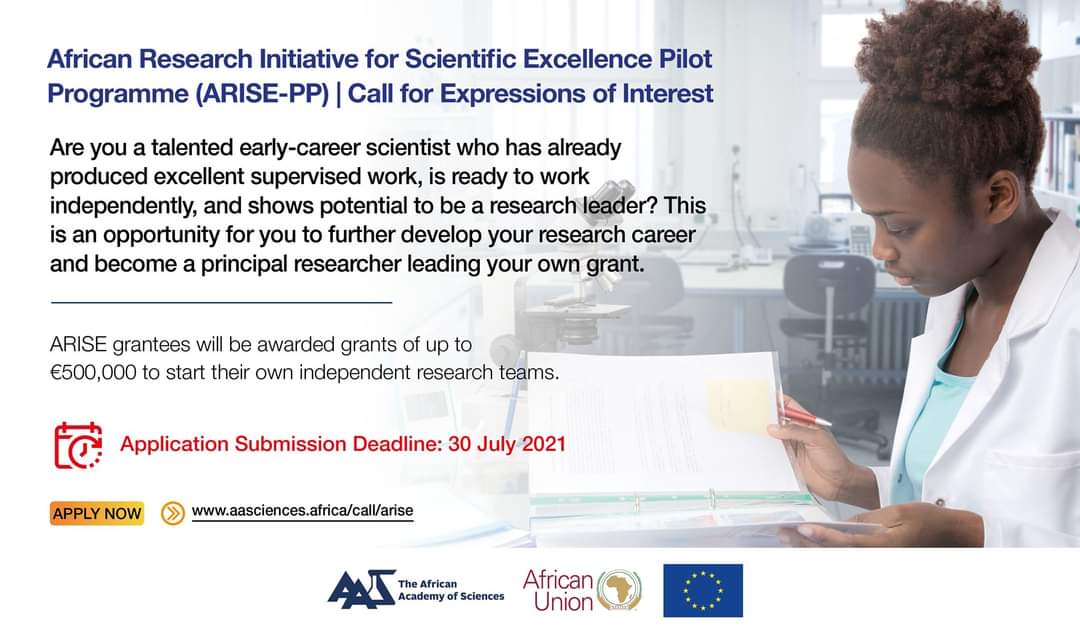 The African Academy of Sciences (AAS) has  partnered with the European Union and the African Union to boost Africa's science economy through investing in early career researchers.
Forty-four outstanding early- to mid-career African researchers across 38 African countries have been awarded five-year fellowships of up to €500,000 each to start their independent research teams and deliver cutting-edge research through the African Research Initiative for Scientific Excellence (ARISE) programme. Funded by the European Union, the ARISE programme is implemented by the African Academy of Sciences (AAS) with the European Commission and the African Union Commission as strategic oversight partners.
The ARISE programme responds to an urgent need to strengthen Africa's science base by investing in early- to mid-career researchers and building the capacity of African scientists to deliver cutting-edge research to enhance Africa's sustainable development. In so doing, the programme will complement the work of participating African research institutions and universities in building a critical mass of role models for African researchers. It will also enable, and secure, career development and will contribute to retaining research talents on the continent.
"Investing in higher education and research to create a knowledge-based society and economy in Africa is a key priority of the Global Gateway investment package for Africa and a tangible deliverable of the recent AU – EU Summit. The ARISE pilot programme is a great opportunity for talented early-career scientists, aiming to strengthen Africa's science and innovation base. It is a major step for the EU-Africa academic and scientific cooperation.." Jutta Urpilainen, the European Commissioner for International Partnerships.
The European Commissioner for Innovation, Research, Culture, Education and Youth, Mariya Gabriel, says, "The AU-EU Innovation Agenda, a flagship of the Global Gateway package, will propose specific short, medium and long-term actions, translating research and innovation outcomes rapidly into tangible solutions. The ARISE pilot programme builds the capacity of African researchers to deliver cutting-edge research transforming knowledge into innovation, generating sustainable economic growth and jobs." 
The 2022 ARISE fellows represent the best research talent on the continent, competitively selected from 929 applicants. Their research is diverse, ranging from providing renewable energy solutions and addressing climate change, to tackling food security and targeting health and environmental problems that are most acute for people living in African countries.
Professor Felix Dapare Dakora, President of the African Academy of Sciences, says, "The AAS recognizes that well-planned programmes supporting early- to mid-career researchers are critical in promoting scientific and research excellence and leadership in Africa. The ARISE programme will support the development of promising early- to mid-career researchers into world-class research leaders."
Professor Catherine Ngila, Acting Executive Director of the African Academy of Sciences, says, "The AAS welcomes the inaugural cohort of ARISE fellows to our growing early-to mid-career researchers' family. Early-to mid-career research support programmes are vital in training and developing rising research leaders whose scientific leadership will influence policies that will promote the socio-economic development of the continent and contribute to transforming lives in Africa through science."
The African Academy of Sciences (AAS) is a non-aligned, non-political, not-for-profit pan African organisation whose vision is to see transformed lives on the African continent through science. Our tripartite mandate is recognising excellence, providing advisory and think tank functions, and implementing key STI programmes addressing Africa's developmental challenges.
The Global Gateway Africa – Europe Investment Package aims to mobilise up to €150 billion in investments between 2021 and 2027 for Africa to support a strong, inclusive, green and digital recovery and transformation. It supports the Joint Vision for 2030 agreed by the leaders of the African Union (AU) and the European Union (EU) at the 6th EU-AU Summit on 17 and 18 February in Brussels.