Malawi: President Chakwera and Vice President Chilima At Daggers Drawn Over Corruption
By Joseph Dumbula.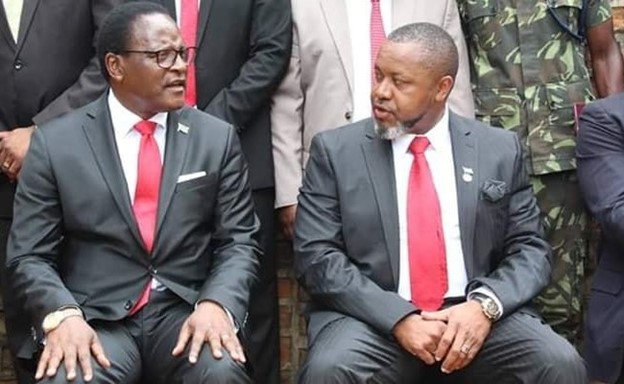 Malawi President Lazarus Chakwera has withheld delegated duties for Vice President Saulos Chilima and has fired the head of the Malawi police in the wake of recent investigations into an alleged state capture.
This follows the end of 21-day ultimatum that he gave to the Anti-Corruption Bureau to investigate matters related to a British national, Zunneth Sattar, on allegations that he had been bribing public officers in exchange for Government contracts.
The development came after the high-profile figures were mentioned in court affidavits in UK- in a case against Sattar.
On Tuesday evening, the President addressed the nation in a highly anticipated speech.
According to Chakwera, the Bureau found that in the four years between 2017 and 2021, the Malawi Police Service and the Malawi Defence Force awarded 16 contracts worth over 150 million US dollars to five companies belonging to Sattar.
''This means that one driver of corruption in Malawi is the country's procurement laws allowing contracts to be awarded to companies without regard for the beneficial ownership of those companies, which allows businesspersons to capture the State through unknown contract monopolies. As such, I have directed the Minister of Justice to fast track the legislation we have been working on to change this, ''said Chakwera.
The President has since suspended Chief of Staff at State Residences, Prince Kapondamgaga, to pave way for investigations, has fired Inspector General of Police, George Kainja.
''The Bureau has found that a total of 53 public officers and former public officers allegedly received money from Mr. Sattar in the eight months between March 2021 and October 2021.  These public officers were specifically from Malawi Defence Force, Malawi Police Service, Malawi Broadcasting Corporation, Malawi Revenue Authority, Public Procurement and Disposal of Assets Authority, Office of the President and Cabinet, Office of the Vice-President, Judiciary, Ministry of Justice, Ministry of Finance, Ministry of Information, Ministry of Homeland Security, Ministry of Lands, Ministry of Tourism, State House, Reserve Bank of Malawi, Financial Intelligence Authority, and even the Anti-Corruption Bureau itself, ''said Chakwera.
He added: '' What I must decide, as President, is what's best for the country as you all expect me to and to demand of myself the highest standard to accomplish it, and I believe the measures I have outlined meet that standard. And since Section 88 of the Constitution places on me the ultimate responsibility for the observance of the Constitution by the entire Executive Branch, it is right for me to demand higher standards of the Anti-Corruption Bureau as well''.