Food shortage speculations in Ghana false –Minister
By Papisdaff Abdullah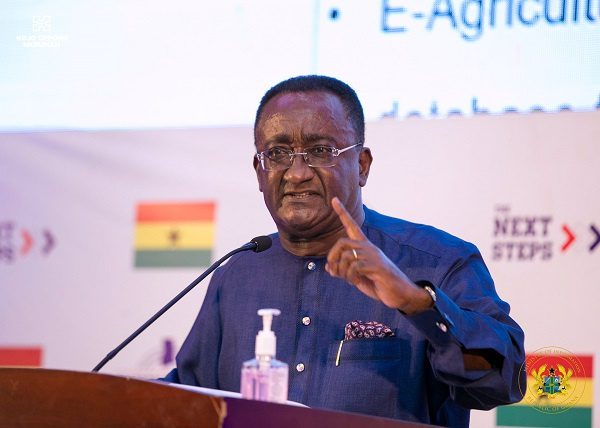 Ghana's Minister for Food and Agriculture, Dr Owusu Afriyie Akoto, has refuted reports of food shortage in the country. According to the Minister, "there is no food shortage in Ghana as is being speculated, the food situation in the regions provides enough evidence". "However, we recognise that food is relatively expensive due to external factors" he admitted.
Dr Afriyie Akoto said, the increase in prices of food commodities is not because of Ghana government's policies, but external factors such as the increment of imported chemicals and other external factors including the Russia-Ukraine war which is beyond the control Ghana's government.
The Minister made these assertions during his tour of the Eastern region to end the first leg of his annual regional tour to farms and processing facilities in the agricultural value chain. As part of the tour the team visited some commercial private farms including, the Legacy Crop Improvement Center (LCIC), a seed production hub at Otareso in the Akuapem North District and inspected the facility's warehouse embedded with a code room.
Addressing staff of his ministry and farmers, Dr Afriyie Akoto assured that despite the external factors beyond control, the government is instituting measures to bring down the cost of production to mitigate the effect on consumers. "We are encouraging farmers to switch to organic fertilizers produced locally to reduce the impact of fertilizer shortage on food production and urged the far west to switch quickly to the use of compost,"the NPP 2024 flagbearer hopeful remarked.
On financing from the banks, Dr Afriyie Akoto hinted that the government is looking at alternatives to compel banks to lend a portion of their loans to farmers to improve production. That, he said is to address farmers' inability to acquire loans from the banks adding that several efforts to the banks had proved futile over the years and the banks preferred to give loans to businesspeople than farmers.
The Minister stressed "Any talk of famine in Ghana or shortage of food in Ghana in the coming year is pure speculations. The reality is totally different. The data that we have been presented by the various directorates of agriculture support the view that we have a very healthy, robust agriculture system which has been spiked by planting for food and jobs"
He said his visit to some farms during his tour of the Regions observed that the country is well stocked of food and the data that were presented by the regional directorates of Agriculture, support the view that Ghana has a healthy robust agriculture system which have been sparked by Planting for Food and Jobs.