Cameroon: Africans Rising engages in Central Africa Regional Consultation
The Hybrid Regional Convening was an opportunity for Africans Rising to introduce to the CSOs, and activists the All-African Movement Assembly
By Boris Esono Nwenfor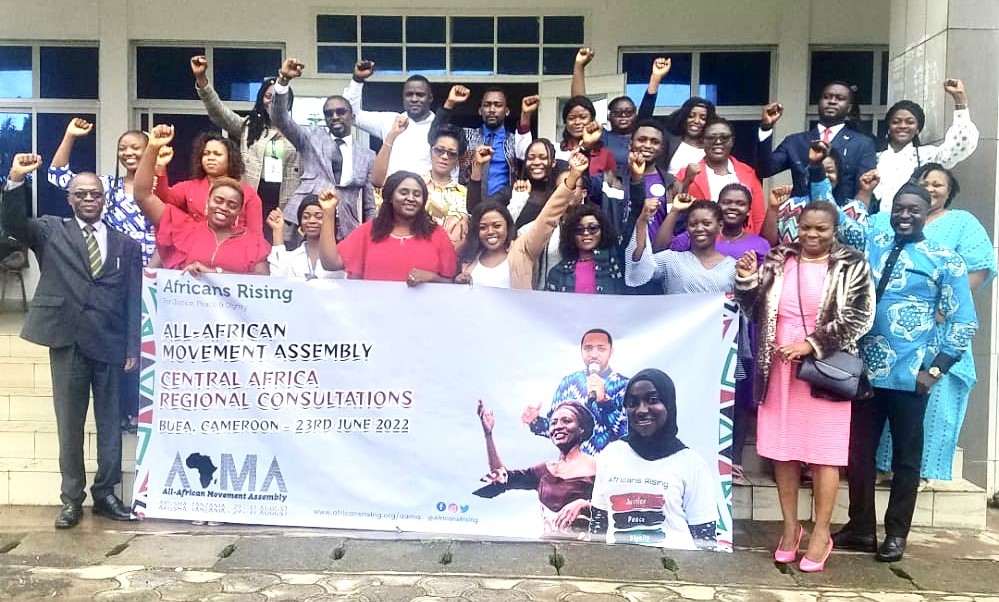 Africans Rising, a Pan-African movement of people and organizations working for Peace, Justice and Dignity organized a Central Africa Regional Consultations on June 23, 2022, in Buea South West Region of Cameroon to understand from the movements how they perceive the work of Africans Rising in all aspects and what could be done better.
Discussions during the regional consultations focused on "what topics should be considered for at the All-African Movement Assembly" and "How to build solidarity for stronger movements in the region (focus on communication, solidarity actions, and free movement across borders)."
"We are here as part of our field visit and regional convenings which are happening in line with the All-Africa Movement Assembly that Africans Rising plans to organize," Ancel Langwa, Communication and Media Lead for Africans Rising. "For us to achieve justice, peace and dignity, we know that we must start from the field, grassroots."
Ancel Langwa added: "We have gathered members of Africans Rising that are in the Central Africa region and we wanted to know from them if the Kilimanjaro declaration represents us and represents what we want for Africa and any amelioration… For us at Africans Rising, the goal is to build the Africa that we want and for us to build the Africa that we want we need to hear from what grassroots organizations are doing and how we can collaborate with them to build this Africa."
In preparations for 2022 All African Movement Assembly to be hosted in Arusha, Tanzania in August, Africans Rising is hosting various activities to serve as a mobilization platform for movements across the continent to be engaged. The regional convenings will be hosted in all six (6) regions of the continent. These convenings will help Africans Rising re-establish relationships with their grassroots movements in various key countries and build a sustainable plan.
"We have gotten many suggestions with participants calling on Africans Rising to put more focus on peace (that Africans should be able to live together in harmony). Others have talked about including more youths even deeper than what we are doing now. participants have also called on Africans Rising to be involved in cultural activities and that Africans Rising should not only limit itself to their five pillars but should also address any issue that concerns Africans,"  Ancel Langwa, Communication and Media Lead for Africans Rising said.
"All these ideas have been taken into consideration… This convening is happening in Cameroon for Central Africa and will happen in South Africa, East and West Africa so that we are not getting the realities only from Cameroon but also from different African countries…"
These regional convenings organized by Africans Rising are hybrid events and submissions from the various convenings will be drafted and shared at the AAMA which is expected to host over 750 participants made up of movements, activists, artists, poets, and civil society organizations.
"It has been impactful, knowing the five thematic that Africans Rising work upon and it has been an enriching programme," Epah Fotoh said. "One of the fascinating things is that Africans Rising has a programme that tends to give partnership to organizations to increase the voice of youths and activism within our local and grassroots levels. Africans Rising to me is a huge platform for advocacy."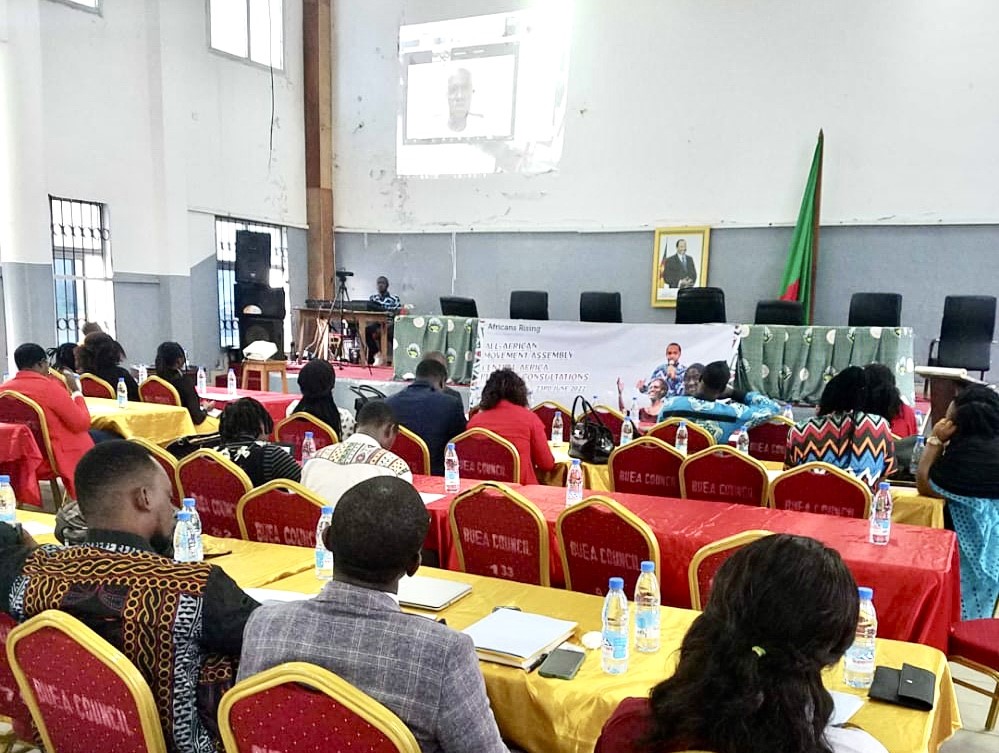 Oku Marvelous on her part said Africans Rising is that platform that is there to unite Africans. "Africans are seemingly bonded but we are not when it comes to the depth of our existence. I see Africans Rising as that platform that is advocating for Africans; uniting in making good use of our resources. One of the hindrances to enjoying the blessings the continent has to offer is the fact that we are not united… Bringing organizations together is uniting more people because they (organizational heads) will take the message beyond," Marvelous added.
Africans Rising looks to play a critical role on the continent pushing governments, businesses and even established global and national NGOs to focus on challenges Africans deem critical, including demands for a fair global trading system, concrete action to address the effects of climate change and the creation and strengthening of a representative coalition to protect our natural resources and the environment.
The organization has a footprint in over 40 different countries on the African continent, a network of over 350 organisations across the continent, and continues to build partnerships with various entities and institutions that stand for peace, justice, humanity, and dignity.