S. Sudan's Kiir Woos Investors To Enhance Economic Growth
By Deng Machol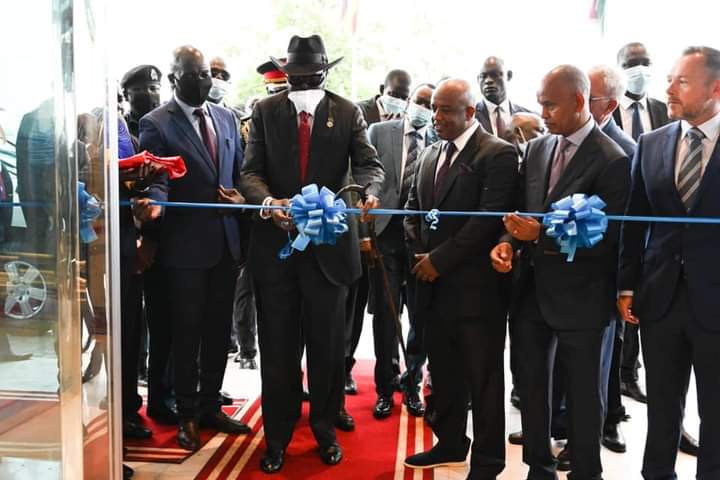 Juba – South Sudan's President Salva Kiir has called for more foreign investors into the country to enhance economic growth following a political violence relatively held.
Kiir was speaking on Tuesday at the inauguration of Radisson Blu, the country's internationally branded 5-star hotel in Juba, located on the White Nile River.
Radisson Blu Hotel is a 10 minute drive from Juba International Airport, in the heart of the city's business center.
"I am delighted to be with you to participate in the official opening of this iconic hotel. The inauguration of Radisson Blu Hotel in Juba today is a clear sign that Juba's landscape is changing for the better," explained Kiir.
The President further said the opening of the five-star hotel in Juba sends a clear message to investors to utilize business opportunities in the country.
"To these undecided investors, please come and invest in South Sudan. Do not allow negative press that does not acknowledge progress achieved in this country to stop you from investing your money in South Sudan,"  said Kiir.
Kiir commended the courage shown by the hotel management and encourage other businesses and companies interested in South Sudan as a destination for their investment to come and do business in the country.
According to Kiir, there are already 183 hotels in South Sudan. 83 hotels are here in Juba and the remaining hotels are across the country.
"South Sudan and its people will reward you. Your investment will pay a handsome dividend," Kiir  stressed.
Kiir vowed to ensure that the country's investment laws are reviewed to create a balanced approach that protects investments the right of the workers and further ensure that the local employees have a living wage.
"We are aware of the existence of some regulatory bottlenecks in our business laws, but we will work to review those laws in order to create a balanced approach that protects investments, but also protects the right of the workers, especially local employees to have a living wage," he added.
South Sudan is a country of vast potential despite the conflict that broke out in 2013.
While the implementation of 2018 peace deal is slowly ongoing, Kiir called upon genuine investors to maximize this potential through investment in tourism and recreation sectors, especially in amenities that support children's activities.
Kiir, however, seen private sector as a key pillar in his national development agenda in the country,which oil proceeds sold up to 2027.
"The goods and services you provide, the people you employ and the tax revenue generated from your businesses are part and parcel of what we consider as key elements of what will move South Sudan forward," said president.
President's speech aimed at attracting foreign investments, following years of protracted political and sub-national conflict and stagnant growth despite prevailing opportunities to improve the economy.
Radisson Hotel Group is one of the world's largest hotel groups with nine distinctive hotel brands, and more than 1,700 hotels in operation and under development in 120 countries.
The Radisson hotel offers 154 bright and contemporary rooms and suites with views of either the pool, the city, or the famed White Nile River.
The rooms are designed for maximum comfort, security, and relaxation.
The hotel offers several amenities, including a modern gym, a spacious outdoor pool, and a wellness center which includes a refreshing spa with a sauna, jacuzzi, steam bath, and male and female salons.
"We are delighted to strengthen our presence in Central Africa by opening the doors to our first hotel in South Sudan and the country's five- star internationally branded hotel," said Tim Cordon, area senior vice president, Middle East and Africa at Radisson Hotel Group. We are confident the hotel will be a great addition to help promote the country's hospitality offering."