South Sudan: Raila Tells Kiir, Machar To End Animosity, Take Guns To Barracks
By Deng Machol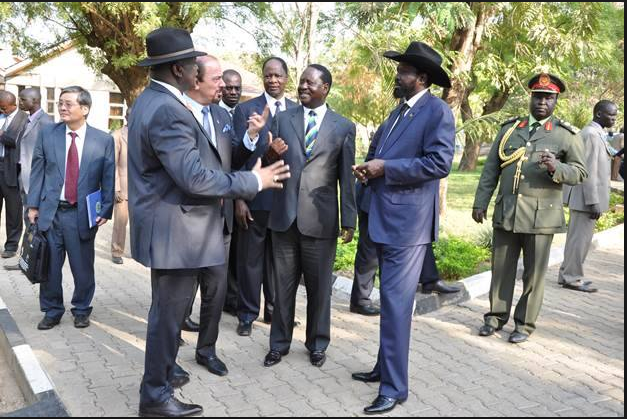 Juba, South Sudan – Kenyan current presidential candidate Raila Amolo Odinga has advised President Salva Kiir and his rival deputy Riek Machar to end their long-running bickering and focusing on concluding the ongoing peace deal in order to the country from returning into another war.
Odinga, The African Union Envoy for Infrastructure development, on Thursday appealed to the two principals during the opening of the Freedom Bridge in Juba to seek home based solutions to end their political rivalry.
He also told the Kiir and Machar to shelve their personal ambitions for the sake of the people.
"I am now talking to my brothers here in South Sudan you have also crisis but the solution is here, the solution is not Addis Ababa, not in Kampala or Entebbe, not in Nairobi, not in Khartoum, the solution is right here," said Odinga who is seeking to replace President Uhuru Kenyatta when Kenya goes to polls in August.
Odinga also told Kiir and Machar to take guns to barracks and maintain peace to save the East Africa's youngest nation from collapsing.
"Let the guns go to the barracks – guns and ammunitions are instruments used to fight for freedom. Once independence is attained, guns belong to the barracks," said Odinga, the former Kenyan Prime Minister.
"If you can do this, nothing will stop us in this region (East Africa) from achieving proper integration and realising the dreams of the founding fathers of this nation," added Odinga.
South Sudan has been wracked by instability since its founding in 2011, followed a political conflict erupted in December 2013, which pitted now-President Kiir against his rival and current Vice President Machar, killed almost 400,000 people and displaced millions from their homes both internally and externally.
The country of 12 million people, according to UN, is struggling to maintain a fragile peace in the years since the 2018, with the UN warning earlier this year that the country risks a return to conflict.
Kiir and Machar formed a revitalized transitional unity government in earlier 2020, but the two principals are struggling to complete pending critical tasks under the 2018 revitalized peace agreement due to mistrust.
Despite the parties recently establishing the unified army command, they are yet to graduate the 83,000 unified forces, enact the permanent constitution and establish transitional justice, healing, reconciliation and accountability mechanisms.
At the same event, However, the two principals pledged their commitments to peace building, to ensure long-lasting peace in the country.
"We should take seriously the advice that he (Odinga) gave us. "I want to say to you that the people of South Sudan are committed to peace," President Kiir told Odinga.
Machar also assured that he will work closely with Kiir administration to ensure that there is harmony in the country.
"The implementation is slow but we are committed to ensuring that the country becomes prosperous," said Machar.