Malawi: Three men jailed for 155 years for killing an albino
By Joseph Dumbula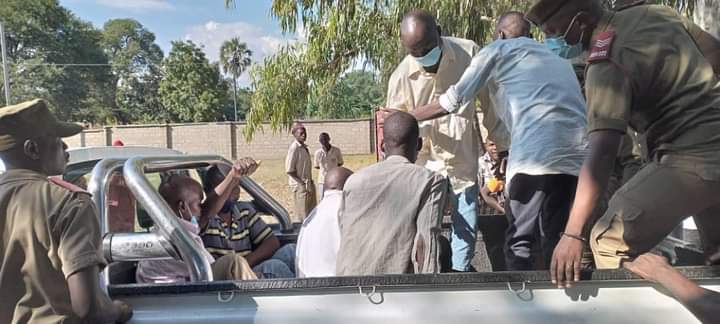 As the crackdown on attacks of persons with albinism continues in Malawi, three men in the Lakeshore district of Mangochi have been jailed for 155 and half years each, on three charges in relation to the murder of 23-year-old Saudi Dyton, a person with albinism last year.
The three are 71-year-old James Pilo Khang'a, 45-year-old Sumaila Umaila Nikisi, and Gayesi Katupe who is aged 44.
Presiding Judge Mzondi Mvula found them guilty of murder which has landed them 68 and half years in jail; extracting human tissues, 48 and half years in jail and trafficking in persons, 38 and half years in jail, sentences which will run concurrently.
Justice Mvula this week convicted three people who were accused of killing Dyton, a person with albinism who went missing in 2021 in the district.
They were jointly answering three charges namely: the charge of murder which is contrary to Section 209 of the Penal Code; extracting human tissue which contravenes Section 224 (a) ii of the Penal Code and trafficking in persons, contrary to Section 14 (1) of the Trafficking in Persons Act.
In recation, Senior State Advocate in the Ministry of Justice, Pilirani Masanjala said: "The law and court evidence have decided that the accused should finally face the law, an indication that justice has prevailed. ''When hearing of the case started July last year here in Mangochi, the court concluded everything in one week which is very commendable," he explained.
According to court records, the late Dyton visited his uncle Khang'a, the first accused, together with his best friend Mohammed, but never returned home and apart from the two, Khang'a also hosted Kapute and Sumaili, the second and third accused respectively at his house in Masanjala.
That evening, all the three accused persons tried to buy time to ensure that Dyton and his friend did not leave for their respective homes in time and instead ate their dinner at Khanga's place.
The records further indicate that after Mohammed had left for his place very late in the night, Dyton went to sleep in Khang'as kitchen and was later woken up by Kapute and Sumaili who disappeared together that night.
The second accused admitted to have used a club to hit the deceased and hacked him to death on the throat. Dyton's body parts were put in a yellow sack and later buried in Kapute's garden.
During police investigation, Kapute admitted he killed and buried Dyton in his garden and his wife identified the family's hoe which was used to dig the deceased's shallow grave.
The yellow sack in which Dyton's body parts were wrapped and Kapute's clothes were all found in Kapute's garden.
Wives to two of the accused persons, who testified in the previous court appearance, both said their husbands disappeared around 2:00 am on the fateful day and returned home with wet clothes and troubled minds.
During the hearing of the case in July, 2021, the accused tried to change their account of the story, but the state paraded seven witnesses, including the late Dyton's mother, uncle, girlfriend and best friend Mohammed who proved the case beyond reasonable doubt.
Through out the years, it has been believed that body parts of those with albinism are prized in black magic and witchcraft, as it is believed spells based on their body parts will bring luck, love and wealth.