Kenya: Kenya: Water Secretary Eng SAO Alima Meet The Inter-Agency Technical Committee On Rivers Protection And Pollution Management
By Samuel Ouma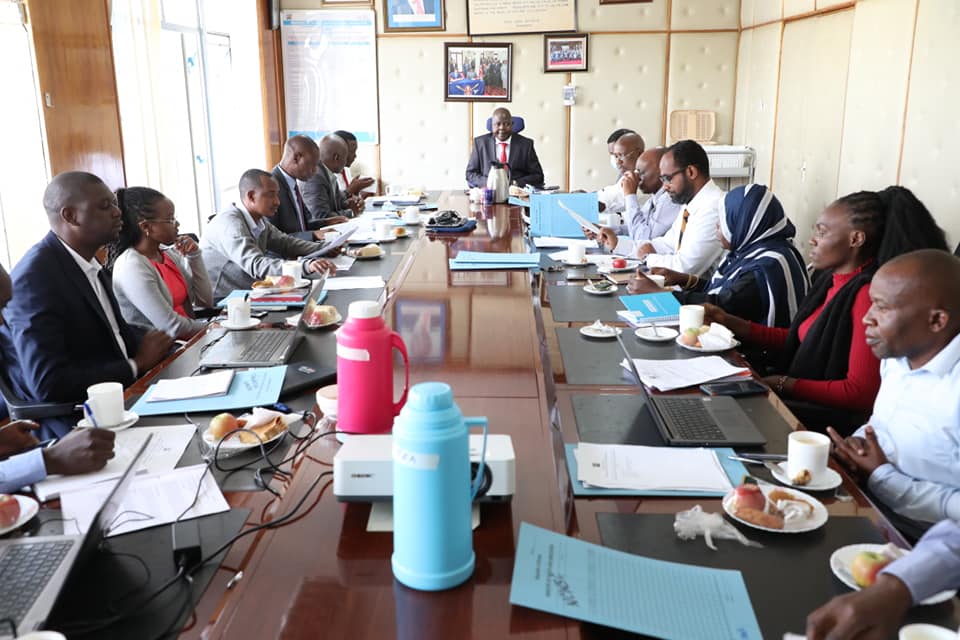 The inter-agency technical committee meeting on rivers protection and pollution management was held on Wednesday at the Ministry of Water Headquarters in Nairobi.
The committee membership was drawn from Ministry officials, Water Resources Authority (WRA), Kenya Forest Service (KFS), CoG TANATHI Water Works Development Agency, AWWDA (WWDA), National Environmental Management Authority(NEMA), Nairobi Metropolitan Service (NMS) and Nairobi City Water and Sewerage Company(NCWSC).
The meeting focused on the Inter-Agency Technical Committee (IATC) team visit to Thwake Dam recently and their feedback.
The Water Secretary challenged the committee to focus on the Thwake Dam Project and find suitable and sustainable water sources for posterity in the entire country.
"The role of this committee is to clean up all the rivers and minimize pollution. Thwake Dam Project is just a case study", stated Eng Alima.
While giving feedback on their tasks, WRA reported that it had marked and pegged specific areas mandated by the committee on the Nairobi River, Mathare River and wetlands.
On their part, NMS reported having employed youth casuals to clean up the Nairobi River for 90 days. During the period under review, NMS also came up with a structured Waste Characterization exercise, Waste patterns, Licensing the regulators, empowering the youth through the CBOs in informal settlements and enhancing material recovery at the source so long as they are not hazardous in the 17 Sub-Counties of Nairobi.
NMS further said they have mapped solid waste management and drainage clearing, thereby employing 500 youth to deal with solid waste traps. They have also completed material recovery facilities at Muthurwa market.
The AWWDA reported having dealt with liquid waste by construction and handover of 16 ablution blocks through funding from AfDB and construction of 1.5 Km of sewer line in Karura.
On their part, NCWSC reported to have closed factories believed to discharge effluent directly to Nairobi River, enhanced last-mile connection to sewer and routine to 350 households in the last 3 months since the exercise began.
TANATHI WWDA reported to have completed a modern sewerage plant, commonly referred to as EPZ Plant, to serve as an intervention in the Mavoko area, Machakos county, South Eastern Kenya.
NEMA intervention was to deal with 38 wastewater effluents discharged in the river and outside the river. They issued several restrictions orders and monitored the same for compliance, restricted increased development in the riparian areas in the upmarket area in conjunction with WRA.
They are in the process of strengthening County Environment Committees to streamline effective operation on pollution in all the 47 counties.
Meanwhile, Eng Alima directed that all Inter-Agency involved in the exercise develop specific targets, and formulate a well reporting template to be adopted by all reportees. Members of the committee will be reporting in the prescribed format for uniformity.