Tanzania implements the world environment summit's pledges by increasing Eco-schools
By Michael Sikaundwa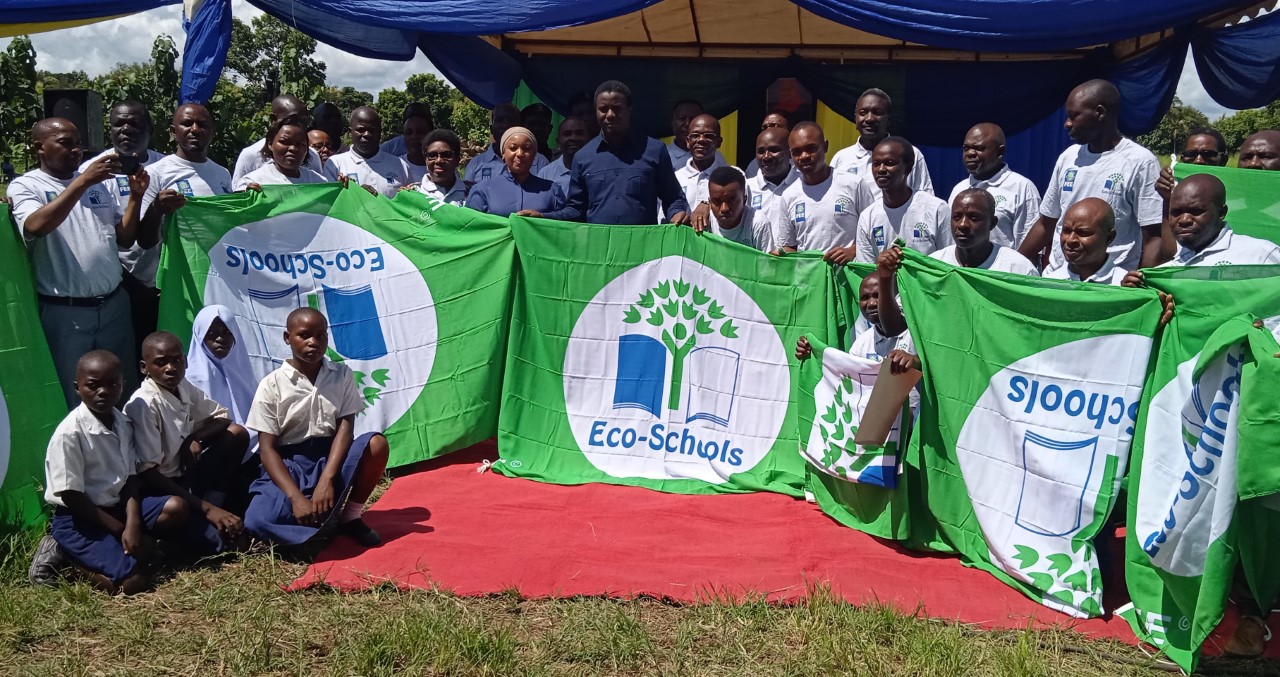 Tanzania targets to increase the number of primary and secondary ecological schools ( Eco-Schools), together with running a planting 1.5 billion trees campaign as part of fulfilling president Samia Suluhu Hassan's promises at the World Environment Summit.
According to Tanzania Forest Conservation Group( TFCG)'s current report, shows out of 26 regions, the only four namely, Morogoro, Iringa, Mtwara, and Lindi have Eco-Schools programs.
Deputy Minister in the president's office, Regional Administration and Local Government ( RALG ) David Silinde made the call when handing over the green flag 15 ecological primary and secondary schools from Morogoro and Iringa regions.
Silinde said, according to TFCG's report, the government orders the Eco-Schools program to be implemented in all public schools in the country. Insisted a program of increasing schools will be accompanied by planting 1.5 million trees per council in the country.
'' Eco-Schools program should first consider arid areas mostly central regions and Shinyanga.  Regional commissioners have to make sure these two programs are running together.'' He disclosed.
Additionally, all councils are required to summit six-monthly reports to RALG  that show the implementation of two projects government will need a six-monthly report.
'' RALG has young and committed ministers, what I order here have to be implemented soon. Government will take immediate  steps to any public leader who will let politics on it.'' He stressed.
Silinde, assigned awarded schools as Eco-Schools ambassadors, said academic and schools' development projects have to be increased to maintain the green flag which is a global identity of schools under the ecological program.
For her part, Morogoro regional Education officer,( REO) Germana Mng'ao, congratulated her region having 13 schools that were awarded green flags out of 15.
'' congratulation Kanga hill secondary school for increasing the school's funds from beekeeping project, from it you have managed to reduce government's burden because schools with no projects depend on government support.'' She explained.
TFCG Executive Director, Charles Meshark, said in order government to reach its intended objects is required to allocate Tzs 15 billion, which will run capacity building, including the launching of projects, training teachers, and provision of seeds.
Sungaji Ward's education officer, Elikana Buhori , revealed Eco-Schools' success, saying surplus from the rice project at Kigugu primary school, has managed to overcome students truancy through providing daily lunch.
'' Kigugu is among the school in my ward that has benefited, from the provision of meals to students led to an increase in performance from 50 to 90 percent in national examinations. Besides, have managed to increase another toilet holes from 2 to six,'' he said.