Rwanda to receive immigrants and asylum seekers from Europe
By Jean d'Amour Mbonyinshuti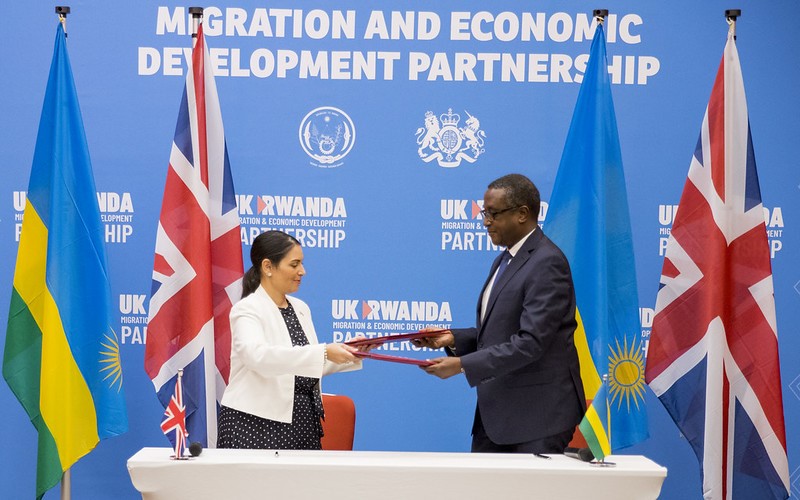 Rwanda is set to receive Europeans who leave their countries and seek asylum after leaving their respective hostile countries.
This comes after the United Kingdom and Rwanda signed a deal for the latter to host asylum seekers from European countries under the former's funding worth £120 million, according to the released statement.
 Asylum seekers and immigrants will be relocated to Rwanda where they will be empowered through different initiatives.
A statement issued by the Government of Rwanda described the deal as a "bold new partnership" with the UK which will take an innovative approach to addressing the global migration crisis.
"The partnership, through the Economic Transformation and Integration Fund, will invest in Rwanda's economic development – creating professional and personal development opportunities for migrants and Rwandans alike, and rebalancing the inequalities at the heart of the global migration crisis," read the statement.
Officials said that the partnership could also disrupt the business model of organised crime gangs and deter migrants from putting their lives at risk.
"By relocating migrants to Rwanda and investing in personal development and employment for migrants, our nations are taking bold steps to address the imbalance in global opportunities which drives illegal migration, while dismantling the incentive structures which empower criminal gangs and endanger innocent lives," it added.
As well as prioritising the dignity and empowerment of migrants, their safety and security will be ensured by hosting the programme in Rwanda.
The statement noted that Rwanda has been consistently ranked as one of the world's safest nations in reports released by different competent organisations over the past years.
"Rwanda is committed to international co-operation and partnership on migration, in particular the opportunities that a robust protection system as well as a comprehensive human capital investment program can create, for migrants and for development of the host country," said Minister Vincent Biruta, the Minister for Foreign Affairs and International Cooperation.
"There is a global responsibility to prioritise the safety and well-being of migrants, and Rwanda welcomes this partnership with the United Kingdom to host asylum seekers and migrants, and offer them legal pathways to residence. This is about ensuring that people are protected, respected, and empowered to further their own ambitions and settle permanently in Rwanda if they choose," he added.
Under the programme, migrants will be entitled to full protection under Rwandan law, equal access to employment, and enrolment in healthcare and social care services.
"Furthermore, the UK's upfront investment of £120 million will fund opportunities for Rwandans and migrants including secondary qualifications, vocational and skills training, language lessons, and higher education," reads the statement.
UK's Prime Minister Boris Johnson said that the deal will benefit anyone entering the UK illegally as well as those who had arrived illegally.
"From today, anyone entering the UK illegally as well as those who have arrived illegally since January 1 may now be relocated to Rwanda," He said said in a speech on Thursday.
Rwanda is home to thousands of refugees from different countries including neighboring ones such as DR Congo as well as Burundi.