Kenya:Metal dealers demonstrate over scrap metal trade ban
By Samuel Ouma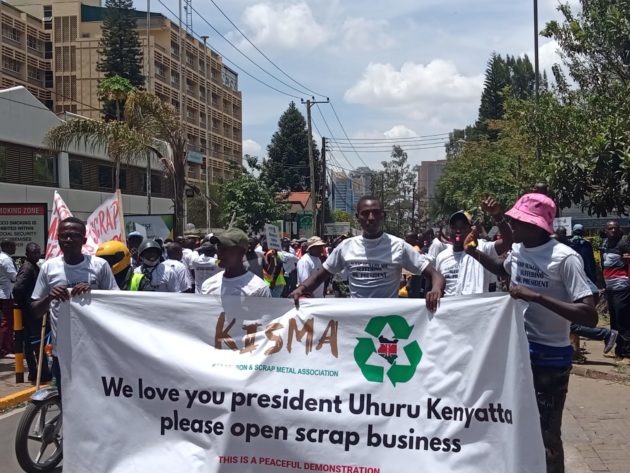 Scrap metal dealers, on Tuesday, April 12, 2022, took to the streets in Nairobi to protest against the ban imposed on the industry by President Uhuru Kenyatta.
The demonstrators demanded that President Kenyatta lift the ban, negatively impacting the industry. They claimed they have been rendered jobless with no source of livelihood since Kenyatta announced the ban in January.
They also want the 24 per cent Value Added Tax which they termed as high be reduced.
The protesters carried banners and placards and burned tyres in an attempt to paralyze transportation in some areas.
They also barricaded a section of Cathedral Road in Upperhill, forcing security officers to intervene. Police dispersed the protesters by hurling tear gas at them.
President Kenyatta had noted that the ban would remain in place until proper guidelines are put in place to regulate the sector.
"We will no longer allow, and we have put a moratorium on the export or the buying or selling of any scrap material until we have put in place proper guidelines that will ensure that material is not coming from the hard-won investments that the Kenyan people have made," said Mr Kenyatta.
The ban was effected after the country witnessed an increase in the number of vandalism on public infrastructures across the country.
"We have seen vandalism of different signboards and towers of our transmission lines. We have also seen clear cases of sabotage, as was the case in Naivasha where people intentionally unbolted some of our transmission lines and masts to create chaos and havoc," added Kenyatta.