Kenya: All Set for 9th edition of the Africities Summit
By Samuel Ouma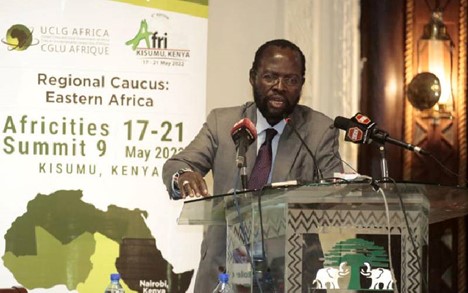 Kisumu, Kenya's Lake City, is ready to host the 9th edition of the Africities Summit, says the organizers led by Kisumu Governor Prof. Anyang' Nyong'o.
The summit is scheduled to take place on May 17 to 21, 2022, under the theme "The role of intermediary cities in Africa in the implementation of the United Nations 2030 Agenda and of the African Union´s Agenda 2063".
More than 3000 participants have already registered to participate in the event. Additionally, a number of guests are also expected to grace the occasions. Some of them include H.E. Mr. Mohamadou Issoufou, former President of the Republic of Niger; H.E. John F. Kerry, former United States Secretary of State, President's Special Envoy for Climate; Ms. Amina J. Mohamed, Deputy Secretary-General of the United Nations; and Mr. Moussa Faki Mahamat, Chairperson of the African Union Commission, among others.
"The President of the Republic of Senegal, H.E. Mr. Macky Sall, accepted the invitation of the organizing committee to participate in the summit in his capacity as current President of the African Union (AU)," read part of the statement sent to the press by the organizers.
The discussions during a five-day event will reflect around the theme of the summit, organized within the framework of thematic sessions such as sessions on local policies and strategies, and the political segment of the Summit.
Africities 9 also consists of specific days organized on the major topics that mobilize the attention of mayors and leaders of local governments on the continent, namely Climate Day; Diaspora and Afro- descendants Day; Digital Day; Culture Day; Urban Planning Day; Housing Day; Women's Day; Youth Day; as well as the Africities Trade and Investment Forum.
The International Exhibition of Cities and Local Governments will also take place.  The exhibition will offer institutions, economic operators, academia and research, as well as civil society organizations the opportunity to showcase their experiences, know-how, methods, tools and products in response to requests and needs in terms of support to local authorities for the implementation of their mandates.
Exhibition will also make it possible to organize B2B meetings with local authorities, which could possibly lead to the signing of contracts between protagonists
The event will also serve as a framework for the elective General Assembly aimed at designating the members of the organization's governing bodies.
The United Cities and Local Governments of Africa (UCLG Africa) event will be for the very first time held in an intermediary city. The summit is held after every three years.