Japanese Ambassador Visits Kenya's Central Vaccine Depot In Kitengela
By Samuel Ouma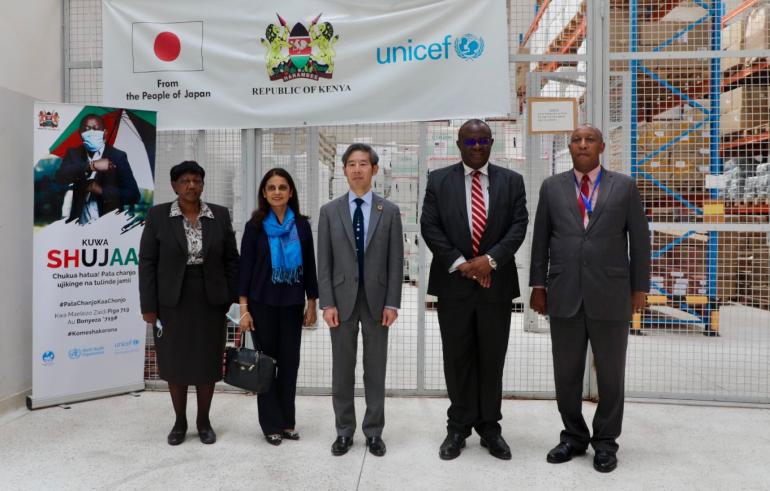 Japanese Ambassador to Kenya OKANIWA Ken on Thursday, April 22, 2022 visited Kitengela National Vaccine Depot in Nairobi, where 220,000 doses of AstraZeneca COVID-19 vaccine had been stored.
The vaccines arrived in Kenya on April 6. They were donated by the Government of Japan via the COVAX facility and transported by UNICEF.
The ambassador was accompanied by Dr Willis Akhwale, Ministry of Health Chairman of the COVID Vaccine Deployment Taskforce and UNICEF Representative to Kenya Maniza Zaman.
"We are very grateful to the Government of Japan for their recent donation of COVID-19 vaccines," Dr Willis Akhwale said.
"This will support the ongoing rollout of Kenya's COVID-19 vaccination campaign."
Dr. Akhwale emphasized that all vaccines approved by WHO and Government of Kenya, including AstraZeneca are safe and effective and encouraged any Kenyan who has not yet been fully vaccinated, including those eligible for booster shots, to visit their closest health centre immediately.
The donation builds on Japan's ongoing partnership with the Government of Kenya, including in response to COVID-19.
"For many years, Japan has supported Kenya's health sector including the attainment of universal health coverage. These vaccines will assist Kenya in its fight against the pandemic. The Government of Japan has here at Kitengela vaccine depot already provided support to the cold chain in Kenya, by providing ultra-low temperature freezers and other immunization cold chain devices that allow COVID-19 vaccines to be safely stored and transported across the country," said Japanese Ambassador OKANIWA.
"The recent donation from the Government of Japan is a welcome boost to Kenya's ongoing COVID- 19 vaccination campaign," UNICEF Representative to Kenya Maniza Zaman said.
"COVID-19 remains a serious health risk in Kenya to vulnerable and high-risk people and I would urge anyone who is due for their first, second or booster shot to get this immediately. Once again, UNICEF is delighted to offer our full support in getting these vital vaccines to Kenya and also in the overall vaccination drive in the country".
This is not the first time that Japan has supported Kenya's fight against COVID-19. In September 2021, the country donated 12 ultra-low temperature freezers and accessories for storage of COVID- 19 vaccines that require very low temperatures of up to -80 °C.
The equipment was procured by UNICEF with funding from the Government of Japan, through its global vaccine initiative 'Last One Mile Support'. This leveraged Japan's longstanding experience of medical logistics to ensure equitable access and swift distribution of vaccines across the world.