DR Congo Officially Admitted Into the East African Community
By Maniraguha Ferdinand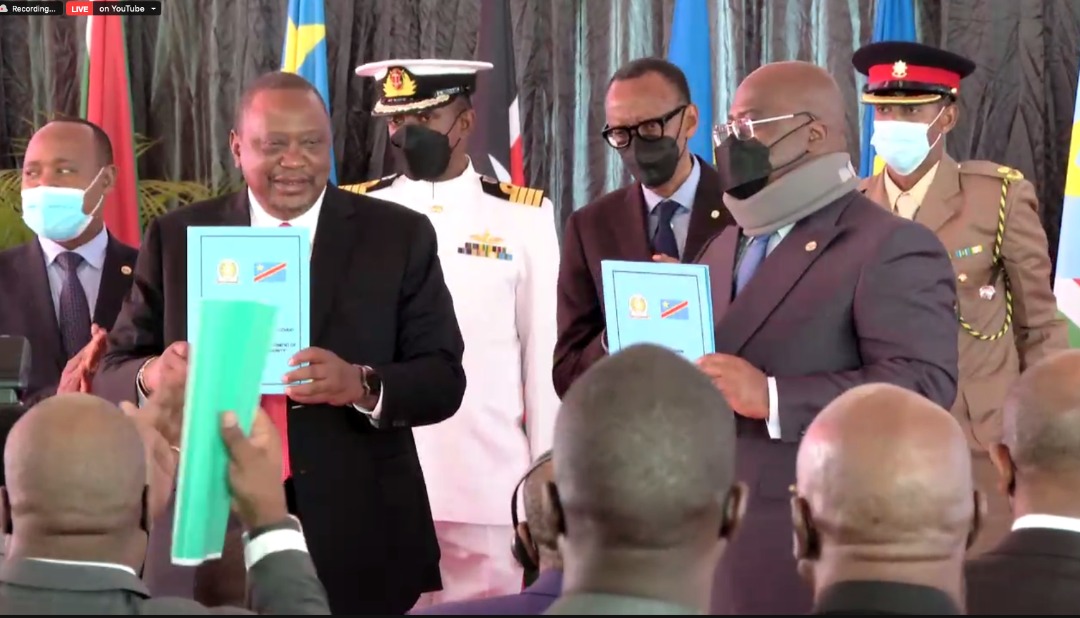 East African Community (EAC) Heads of States have officially welcomed the  Democratic Republic of Congo into the bloc as  the seventh member.
The event was graced by President Uhuru Kenyatta of Kenya who chairs the bloc, Yoweri Museveni of Uganda, Paul Kagame of Rwanda and DR Congo's Felix Tshisekedi who signed the treaty of his country's accession to EAC.
The admission ceremony took place on Friday 8th April 2022, in Nairobi, the capital city of Kenya. DR Congo's admission enables EAC to have the market size of  300 million people.
DR Congo started to show interests  in joining EAC, after Tshisekedi's victory to lead  one of Africa's biggest country in 2018.
On 29th March 2022, EAC Heads of state accepted DRC request to join the 22 year old bloc.
President  Tshishekedi said that his country is bringing much to the community.
"Let me reiterate the desire of DRC to see the creation of a new Organ in the EAC that is solely focus on mining, natural resources and energy that will be based in DRC", he said.
"Our admission to EAC not only help our country economically but also strengthen our peace and security within DRC and the region", added Tshisekedi whose Eastern part of the country has been devastated by armed group for over twenty years.
President Uhuru Kenyatta welcomed DR Congo, and insisted that the main task ahead is to connect every corners of the bloc.
"Inclusion of DRC  into the community will put EAC in a better position to combine resources to develop the much -needed infrastructure especially the main transit  corridors running from East to West".
Kenyatta added that admission of DRC into the EAC will open the door of opportunities for deeper integration.
The EAC now spans from the Indian Ocean to the Atlantic Ocean making the region competitive and easy to access the larger African Continental Free Trade Area (AfCFTA).
Now DR Congo joins Kenya, Uganda, Tanzania, Rwanda, Burundi and South Africa to the bloc.