Kenya, US renew agreement on the Cooperation in Threat Reduction Biological Engagement Programs (CTRA)
By Samuel Ouma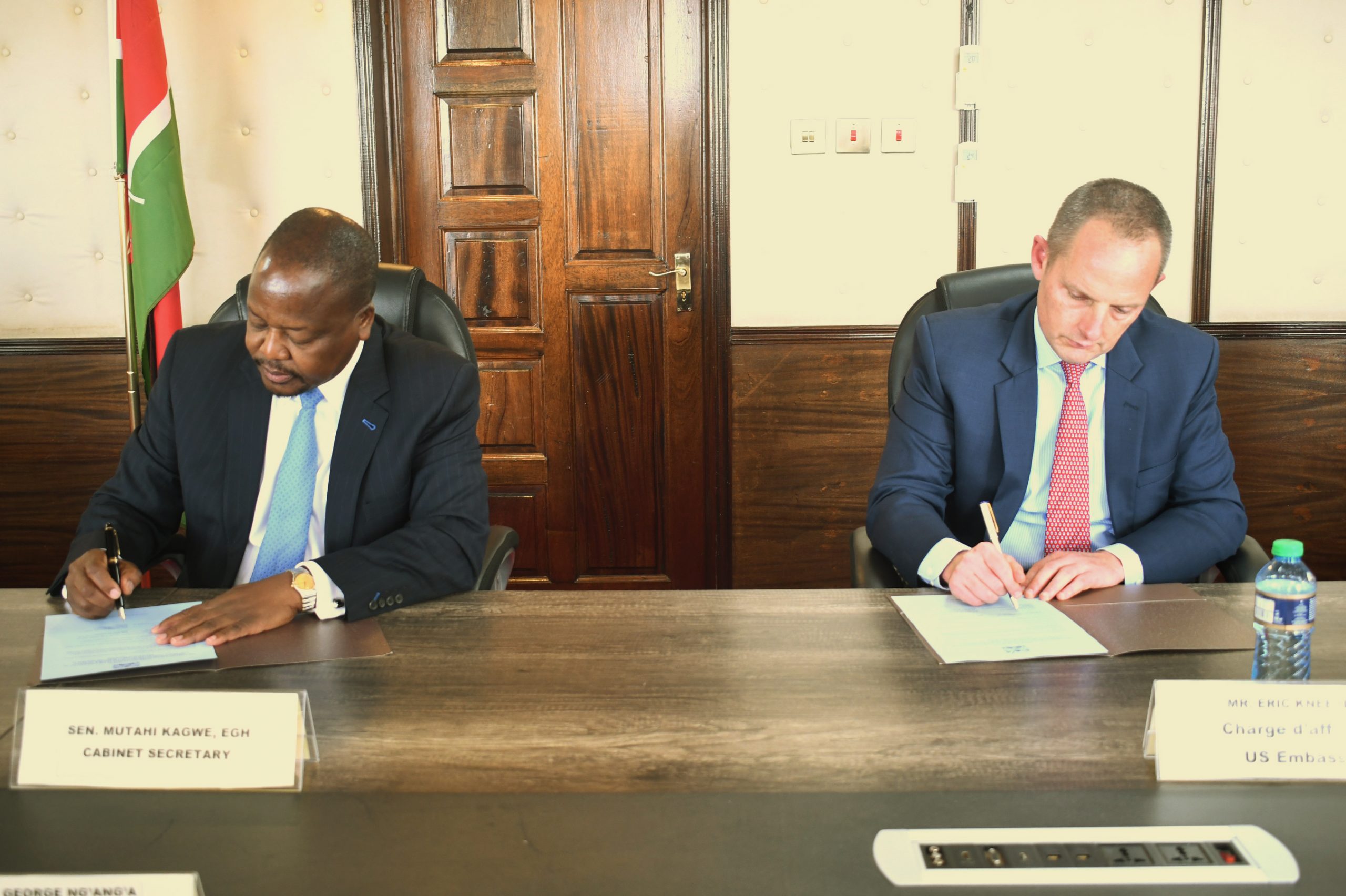 The Governments of the United States of America and The Republic of Kenya have renewed the agreement concerning the Cooperation in Threat Reduction Biological for further seven years.
The agreement renewal was signed by US Embassy Charge Dr Affaires, Eric Kneedler and Kenya Health Cabinet Secretary Mutahi Kagwe following wide bilateral consultations.
Speaking during the ceremony, CS Kagwe said Kenya has prioritized health security in an effort to address emerging threats.
"We have noted a critical need for the training of our officers in Biosafety and Biosecurity. We have also noted the need to raise awareness on handling and the measures needed towards the reduction of nuclear threats: a challenge recently witnessed in an event in Mombasa where we intercepted a ship carrying radioactive material," said Kagwe.
He said Kenya needs to build and strengthen the capacity of its nascent institutions, including the National Public Health Institute to adequately handle biological, chemical and nuclear threats, focusing not only on human health, but also on animal, plant and environmental health with training focusing on high level capacity building.
On his part, US Embassy Charge de Affaires Eric Kneedler said the US Government appreciates the collaborative role of different agencies within the Kenyan government including Defence, Interior, Agriculture and Health among others.
"The US Government commits to continue working with Kenya in building capacity to reduce the harmful effects of Biological threats," noted Kneedler.
The agreement was initially signed in July 2015 during President Barrack Obama's visit to Kenya by the then Minister of Health Kenya and US Ambassador to Kenya.
In April 2017, the Agreement came into force following the satisfcation of all legal requirements including Parrliamentary Ratification.
The Ministry of Health was selected as the lead implementing agency with the ministries of Interior and that of Defence designated as co-chairs given the security aspects of the agreement.
The agreement has seen several government ministries, Departments and agencies benefit, including Kenya Medical Research Institute, The Kenya Veterinary Vaccines' Production Institute, Central Veterinary Laboratories, National Public Health Labs as well as a host of County Health facilities that have benefited from different interventions.
Other upcoming beneficiaries include Kenya Wildlife Research and Training Institute and the Primate Research Institute who are discussing the possibility of setting up a molecular laboratory.