Zimbabwe Plant Breeders Association presents Dr Joseph Mushonga with outstanding award for plant breeding research
By Wallace Mawire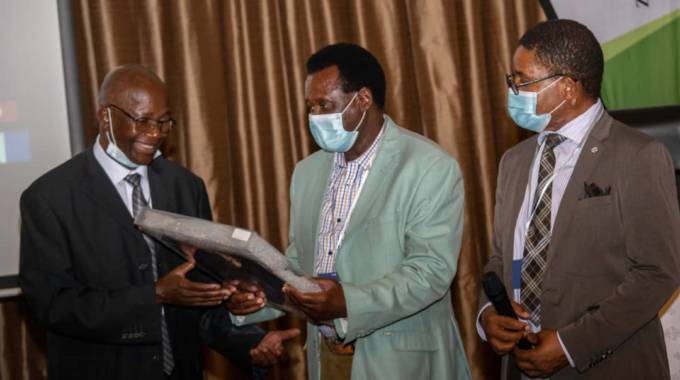 The Zimbabwe Plant Breeders Association (ZPBA) has presented an honorary life member award to Dr Joseph Nyika Mushonga, the current Deputy Director of the Community Technology Development Organization (CTDO) for his outstanding contribution to plant breeding research  in Zimbabwe over decades.
The award was presented on 2 March, 2022 at the ZPBA 2022 annual event titled the Dr Joe Mushonga Symposium under the theme:Resilience.
Dr Mushonga was also honoured for being one of the few remaining life members of the ZPBA.
Accepting the award, Dr Mushonga thanked the association for the homour and revealed that he had walked a journey of at least 43 years in his pursuit to support smallholder farmers and the seed industry in Zimbabwe and beyond.
The event brought participants including plant breeders and seed companies from the public,private and civic sector in Zimbabwe.
Some of the organisations which graced the annual event include ICRISAT,the University of Zimbabwe (UZ),Chinhoyi University of Technology (CUT),Excellence in Breeding,Midlands State University (MSU),Seed-Co,CIMMYT,Tobacco research Board (TRB),Quton,Europe Africa Seed Initiative (EASI Seeds),Crop Breeding Institute,Zimbabwe Farmers Union (ZFU),Agricultural Research Council,National Biotechnology Authority (NBA),Zimbabwe Sugar Association Experiment Station, National Tested Seeds and the Harare Institute of Technology (HIT),just to mention a few.
Other participants also participated virtually from all over the world including participants from Ghana,Nigeria and Kenya, just to mention a few.
In a speech read on behalf of Dr John Basera, Secretary for Lands,Agriculture,Fisheries,Water and Rural Development, it is noted that of particular interest to the event was the great input by Dr Mushonga in the formative years of the ZPBA and his outstanding breeding work in the traditional grains such as sorghums and millets,coupled with significant successes in participatory breeding work which resulted in the release of three sorghum varieties in Zimbabwe namely SV1,SV2 and ZWSH-1,two finger millet varieties FMV-1 and FMV-2 and one pearl millet variety PMV2 which are reported to be on the market.
The ministry applauded Dr Mushonga for the crop varieties of the traditional grains he released which are reported to be contributing to a more resilient crop production system.
The Centre for Technology and Development Organisation (CTDO) where Dr Mushonga currently works is  a private non –governmental organization, registered as a Private Voluntary Organisation (PVO)  under the PVO Act in Zimbabwe.
It was formed in 1993, in response to the livelihoods challenges facing the poor rural communities and households in Zimbabwe and regionally. It now has extensive regional and international linkages and now operates in 22 districts of Zimbabwe with sub offices in each district.