ZANU-PF develops a disability food security and hand-outs family support mechanism, promises to garner 5 million votes in 2023 elections ….
By Nevson Mpofu ..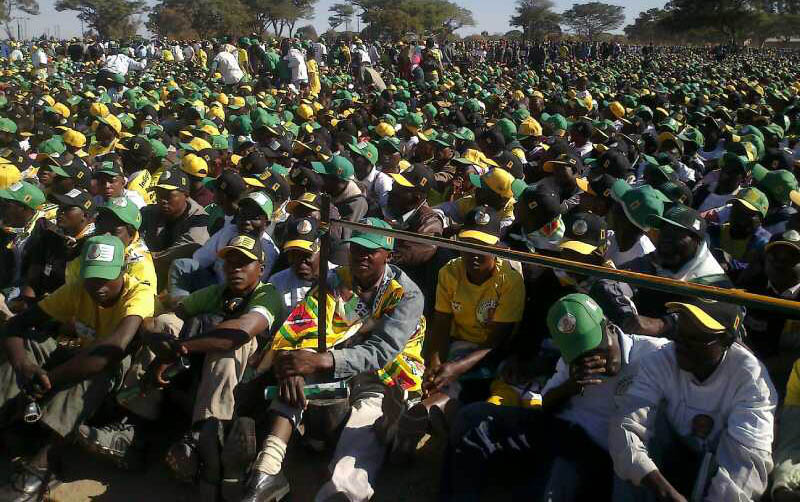 Zimbabwe 's ruling party will leave no one disabled behind in a holistic approach to food security hand-outs to families of war victims injured , maimed and strangled during the liberation struggle 40 years ago . The hefty food support witnessed yesterday in Harare at Party headquarters  takes aboard into wide inclusivity all children from around the country who have disability and whose grandparents , parents or be it guardians are war victims and supporters of the liberation revolutionary party .
Making a wholehearted supporting statement in line with this development Zimbabwe War-Victims Leader Vongai Mutokoti pointed out that the revolutionary party is taking philanthropic lane to give food hand-outs to victims of war and those born with disability.
''I take this opportunity to unite families of those who are victims of the liberation struggle that left them disabled and as well to give moral support to those born disabled . It is out of their choice to be born disabled. It is by nature of God. They are victims because they fought the war, the struggle that liberated others. We will take every child aboard in this support to handout food for all , just for sake of their survival''.
''Disabled people face the challenge in terms of food , therefore today we are here to hand out food to 200 families from 5 provinces which are Mashonaland Central ,  Mash West , Masvingo ,          Manicaland  Matebeleland South provinces and Bulawayo Metropolitan Province ''.
''For this particular day we start with those from Harare. There are 50 families from each province. However our total figure is reaching 200 families which are ready to get hand-outs. There are other families that will benefit. The figure will increase because we want to help, do it inclusively. Through-out the country we have some other families reaching up to 20,000 families in need of food hand-out ''.
Secretary for Liberation War-Heroes Douglas Mahiya said the Government is working on a holistic strategy to help and support families with victims in need of food support. In line with this we expect to get 5 million votes for 2023 elections.
''The Government will come up with a strategy to lift out of vulnerability  ,disabled victims , those who fought for the liberation of this country and those born disabled . We want all disabled people to live a free life with all the freedom enjoyed by others. As a party in line with our good work, we expect 5 million votes in 2023 elections''.
Rights of disabled people stand vital and important.  William Choruma standing for the Disability Affairs office under Ministry of Public Service, Labor and Social Welfare said rights of those disabled have always been taken seriously by the Government. This goes hand in hand with the Disability Policy launched in 2021 by President Mnangagwa.
''Zimbabwe has always respected rights of those who are disabled. This is why we have Disability Affairs office and the Disability policy launched in 2021. Disabled people receive free education. They also have access to all services in their local communities. Disability is not in-ability, therefore, these people must have access to everything that is got by those not disabled because they can do it as well,''
Women Bank gives support to those disabled as well. It has helped a number of those who need financial support so that they can start businesses. A number of disabled people have got into the program since it started banking operations .