Operation Dudula in South Africa, Centre for the Study of Violence and Reconciliation condemns the xenophobic protests and recognises the challenges of crime and unemployment
By Wallace Mawire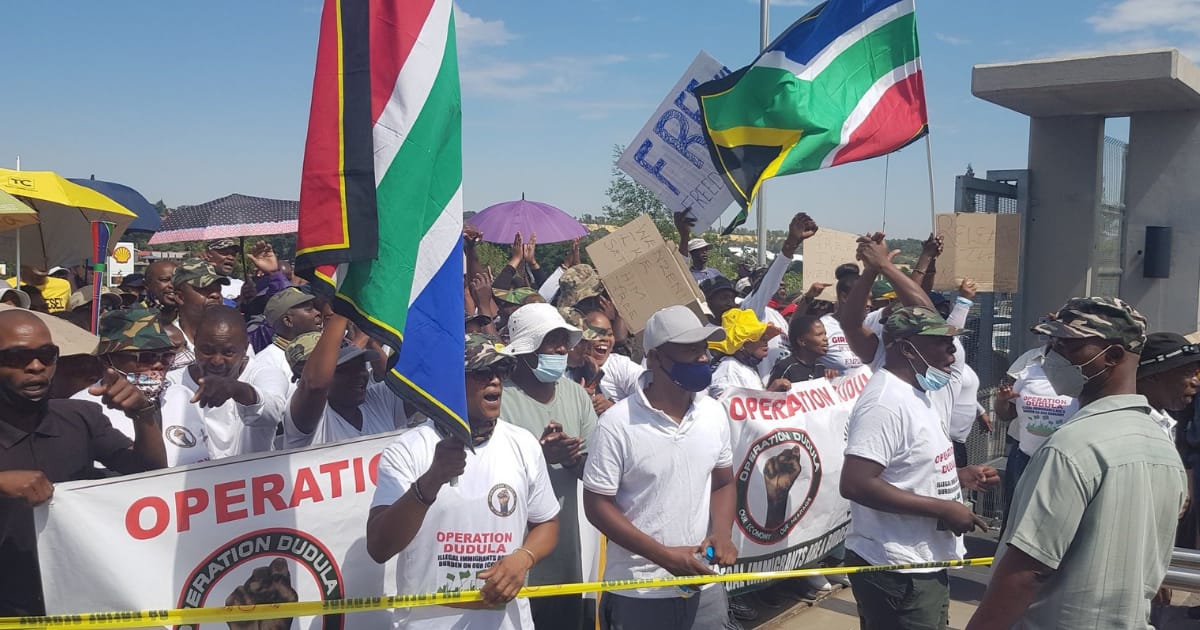 The Centre for the Study of Violence and Reconciliation says that it  notes with concern the widespread Operation Dudula violent protests that have turned xenophobic.
The centre says that while the movement highlights the socio-economic inequalities and the lack of service delivery, the scapegoating of non-nationals is a much narrow response to complex issues that require collective and inclusive efforts.
The centre adds that this year has witnessed growing coverage of Operation Dudula protests that have taken place across Johannesburg, South Africa.
This follows the wave of protests that the movement carried out in Soweto, towards the middle of last year, where migrant shop owners were instructed to vacate the township within seven days.
It is reported that xenophobic, nationalist, and militant aspects have been highlighted in the group's mission of "cleaning South African communities of illegal immigrants", who are deemed to be stealing jobs, business opportunities, homes, and other services from South Africans.
The Centre for the Study of Violence and Reconciliation says that it would like to call on Operation Dudula and fellow South Africans to recognise the complexity associated with issues such as unemployment, small businesses, housing, and the documentation of non-nationals.
It is reported that the 2013 Sustainable Livelihoods Foundation (SLF) survey that was conducted with over 6000 micro-enterprises, in townships across Cape Town and Gauteng, to understand the significance of spaza shops as a component of the informal economy, highlighted the strengths and challenges that South African and non-national (foreign) shop owners experienced in running their microenterprises.
It is added that whilst there is often the perception that foreign shop owners gain competitive advantages through illegal activities, this research highlighted key, above-board strategies that allowed foreign shop owners to outcompete their local counterparts. This included factors such as collective ownership, business-risk sharing, store location, product procurement, as well as
product diversity.
It is reported that preliminary findings, from CSVR's The Impact of COVID-19 on Economies, Social Cohesion,and Governance in Africa project, suggest that local informal traders and microenterprise owners have received very little support from the public or private sectors, both before and since the COVID-19 pandemic. Related to the SLF's research and many other studies in this regard, it is important for Operation Dudula and other stakeholders to come together to explore the strengths and challenges associated with existing strategies, aimed at supporting local microenterprises.
It is added that furthermore, given the proposed National Labour Migration Policy and Employment Services Amendment Bill, a similar recommendation would apply to the Department of Employment and Labour; that is, CSVR encourages the department to release data or reports that can assist various stakeholders in understanding why certain sectors of the economy (e.g. agriculture or hospitality) may be 'overrepresented' by non-nationals. This could assist in reducing less nuanced statements or understandings of what is another complex issue.
CSVR says that it  recommends a multi-stakeholder dialogue to unpack the interconnected socio-economic challenges of COVID-19 that have affected communities. This includes recognising the pandemic as a significant social, psychological, political, and economic shock, which merged with pre-existing factors, to fuel divisions, discrimination, and various forms of violence.
It says that these consequences were noted in last year's social unrest and likely also underly the anger and resentment noted in the Operation Dudula movement.
It adds that whilst these factors or consequences have intensified economic and social divisions, CSVR also calls on the government and other stakeholders to invest on social cohesion and stabilising the economy.