Kenya:Supreme Court Puts Final Nail On BBI Coffin
By Samuel Ouma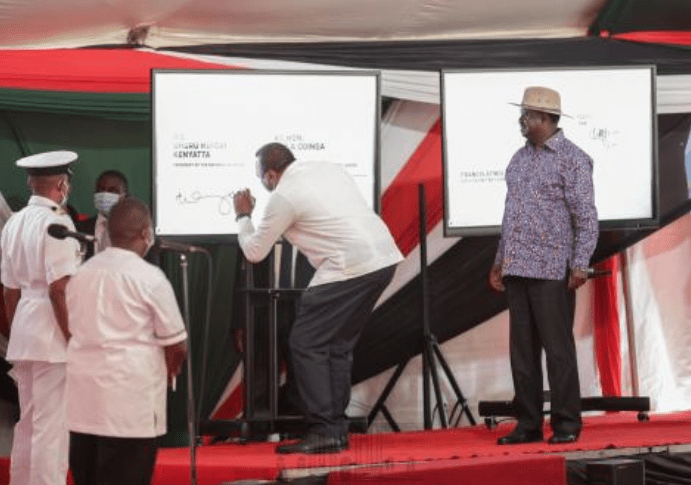 Kenya's Supreme Court has declared the Building Bridges Initiative (BBI) aimed at changing the country's constitution null and void.
The seven-judge panel issued the verdict on Thursday, March 31, 2022. They include Judges Isaac Lenaola, Smokin Wanjala, Philomena Mwilu (DCJ), Martha Koome (CJ), Ibrahim Mohammed, Njoki Ndungu and William Ouko.
The judges said the BBI proponents did not follow procedure as stipulated the constitution. The initiative was spearheaded by President Uhuru Kenyatta and his handshake brother Raila Odinga.
The majority ruling of the bench ruled that President Uhuru Kenyatta's participation in the process was illegal. Six of the seven judges agreed that law bars the president from initiating any constitutional amendment. They said the process to change the constitution can only be initiated by the parliament or through a popular initiative.
"When it comes to popular initiatives, citizens are supposed to initiate them rather than representative institutions. Direct democracy can only be exercised by the people themselves, not by their representatives," the Chief Justice said.
Except for Justice Ibrahim Mohammed, all of the judges agreed that the Basic Structure Doctrine does not apply in Kenya.
The court ruled that one of the proposals in the document, creating new constituencies, did not go through public participation as required by law.
On the issue of public participation, three judges, justices Ndung'u, Mwilu, and Wanjala, dissented, arguing that the BBI process lacked an inclusive participatory process.
Apart from Justice Ibrahim Mohammed, Judges further agreed that the Independent Boundaries and Electoral Commission (IEBC) was properly constituted and had the authority to conduct the signature verification.
The Judges unanimously agreed that the President cannot not be sued while in office. The Head of State, on the other hand, can be sued before or after the start of a term.
As a bench, all but Justice Ndung'u agreed that any discussion of multiple referendum questions is premature in any court.