Jersey to return stolen funds to Kenya
By Samuel Ouma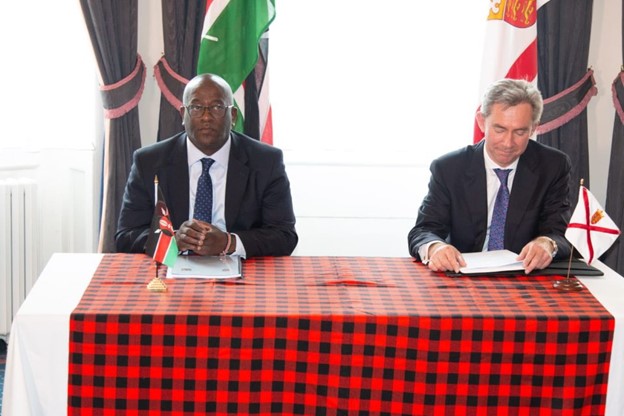 Kenya and Jersey have signed a deal that will see millions of dollars allegedly stolen by two former government officials returned.
Kenya's High Commissioner to the UK, Manoah Esipisu signed the agreement in London with Jersey's Attorney General Mark Temple on Monday, March 28, 2022.
The deal covers $4.9m seized from a bank account belonging to Samuel Gichuru, the former Kenya power company boss and ex-finance minister Chris Okemo.
The two were accused of accepting kickbacks from multinational corporations and directing them to a Jersey-registered company.
Jersey authorities seized the funds in 2011and following an extensive investigation, it was discovered that the funds originated from Kenya and were being transferred to the Jersey company.
The Jersey-Kenya Asset Recovery Agreement will pave the way for the first return under the Framework for the Return of Assets from Corruption and Crime in Kenya (FRACCK), a multilateral initiative involving Kenya, the United Kingdom, Switzerland, and Jersey.
The FRACCK was signed in the presence of former UK Prime Minister Theresa May in August 2018, by the President of Switzerland Alain Berset, during his official visit to Kenya in July 2018.
Ambassador Manoah Esipisu praised the decision, calling it a victory for Kenyans in general.
"The repatriation of the $4.9 million signifies that there is nowhere in the world for corrupt individuals to hide their loot," said Esipisu.
On his part, Mark Temple confirmed that the funds would be used to combat the covid-19 pandemic in Kenya.
He went on to say that the agreement demonstrated their government's willingness to go to great lengths to combat corruption and deliver justice.
"The signing of this agreement demonstrates that Jersey does not tolerate financial crime and that our officers will seize monies associated with corruption and ensure that such funds are returned for the benefit of people who have suffered as a result of corruption," Temple said.