Ghana: Former President Bemoans Ruling On Deputy Speakers' Voting Rights, Urges Review
By Maxwell Nkansah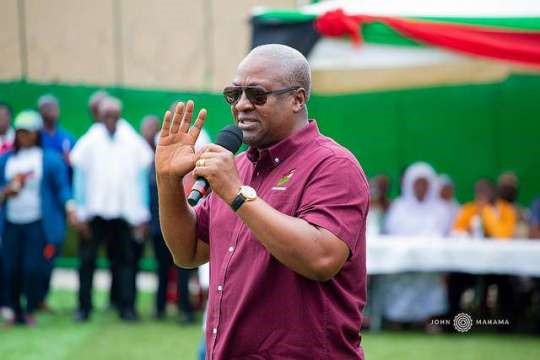 The Former President of the Republic of Ghana, John Dramani Mahama has urged the applicant in the case on the voting rights of Deputy Speakers presiding over parliamentary proceedings to seek for review of the Supreme Court judgment.
Mr. Mahama in a Facebook post was concerned about how possible it will be for the Deputy Speakers who have been empowered to vote during proceedings to 'impartially' determine the winning side in situations there are voice votes.
"The first vote in most cases taken on a motion in Parliament is a voice vote. The presiding officer whether the Speaker or any of his/her deputy speakers, is supposed to listen to which is the loudest, the ayes or the nays and make a determination."
"According to him if the deputy speakers are allowed to vote, then they must take part, first, in the voice vote. If you are presiding and can shout aye or nay with your party in the voice vote, how do they impartially determine which was the loudest?
He further questions the determination of the SC ruling. That Deputy speakers can shout aye or nay with the side they agree or disagree with in the voice vote?" he queried.
Mr. Mahama said the Supreme Court judgment is absurd. He called on the applicant to apply for a review of the judgment.
"This judgment is regrettable, and I look forward to the applicant applying for a review of this ruling," he added.
The judgment was given in a case brought by a law professor, Justice Abdulai, who was contesting the First Deputy Speaker of Parliament, Joseph Osei-Owusu's, and decision to count himself for a vote on the budget.
The judgment backed the position of Mr. Osei-Owusu, who defended his decisive vote in the approval of the 2022 budget, although he was presiding as Speaker.
The Court also struck down order 109 (3) of the Standing Orders of Parliament, describing it as unconstitutional.
On November 30, last year, Mr. Osei-Owusu, who is also the Bekwai MP, presided over the overturning of an earlier vote of the House rejecting the government's 2022 Budget.
The First Deputy Speaker welcomed the judgment, describing it as refreshing. The Speaker of Parliament, Alban Bagbin, however, described it as absurd and reckless.