Cameroon: HIVC trains 54 Girls, Youths in 3D Modelling, Printing and Robotics
By Boris Esono Nwenfor
Studies suggest educating girls in STEM has a broader societal benefit that goes beyond the individual child. And the field of 3D modelling, printing and robotics is one of those fields that see a majority of males than females due to several factors such as family pressure and others.
In a bit to reverse this trend, the Hardware Innovation Valley Community (HIVC) with one of its core tasks to provide hands-on technical knowledge and employability skills to the youths of its community, with the backing of UNESCO trained 54 girls and youths for three (3) months.
"The process has been enriching. I am proud of what I am seeing; the ladies are outstanding and coming out with various products such as robotic arms which are extreme things that we see mostly in the States," said Yunika Robert, President HIVC, second-year PhD student and an electronic product designer.
"At the start, people were not sure about the programme and we had to engage them. In the beginning, we had about 23 though we ended with 54. By the second week, the output of the first session already caused us to reach about 45 and at the end of the training, we had about 74 who wanted to be in the training. The difficulty was just about engaging and creating the awareness that the programme can give."
UN Under-Secretary-General and Executive Secretary of the ECA, Vera Songwe, has deplored the fact that women continue to be under-represented in Science, Technology, Engineering, Arts and Mathematics (STEAM). She added that affordable, reliable and strong broadband connectivity was crucial to fully unleash the innovative potential of young girls in Cameroon and Africa.
It has been observed that Africa has the widest digital gender gap in the world with only 22.5 per cent of women using the internet, compared with 33.8 per cent of men. This trend organizer at HIVC is hoping to see it go down as they continue to train and engage more girls and youths in the field of robotics, modelling and printing.
Dr Njoh Vevanje, Programme Officer for UNESCO multisectoral Regional Office for Central Africa based in Yaounde said: "Today is an exciting day seeing young people come together in the tech age and seeing that we have young girls. The 3D modelling programme is an amazing opportunity to realize that we have ladies who are coming up in an area that was perceived to be exclusively meant for men. We have ladies who the trainers say there are inquisitive, willing to learn, aspiring and we see that the girls are the ones following up the trainers."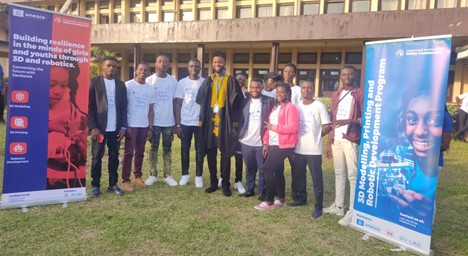 The role of Africa's female entrepreneurs as a driving force for the continent's digital economy has been highlighted. The field of robotics, 3D modelling and printing is a field that is filled by males as opposed to females, with the latter greatly dissuaded in the country due to gender biases, family pressure and many more.
"This is the trend we want to see those young girls can have a better alternative to rather being suppressed; taking themselves as secondary figures but pursuing their career, pursuing innovation and making a change in the world. Impacting the world is not only meant for men but women as well and UNESCO is encouraging the young girls and youths to keep the fire burning and UNESCO will continue to stand by them," Dr Njoh Vevanje added
"Before this training, I did not know anything about 3D modelling, printing and robotics but now I can tell you a handful of things about it. We designed a robot car during this programme that works. It took us some time to get the skills but in the end, it was successful," said Miriam Asang, a student from HIBMAT and a trainee.
"I saw this programme as a big privilege because I have been working on projects but to get parts for projects was not easy. This training has been great as it has taught me how to model parts of a car. I had heard of 3D modelling but I did not have the skills to do that which the training has now given me," Temanji Kestin, a student from the College of Technology, University of Buea said.