Anna Sempe discusses her career, the role of networking and the appeal of working in the oil and gas sector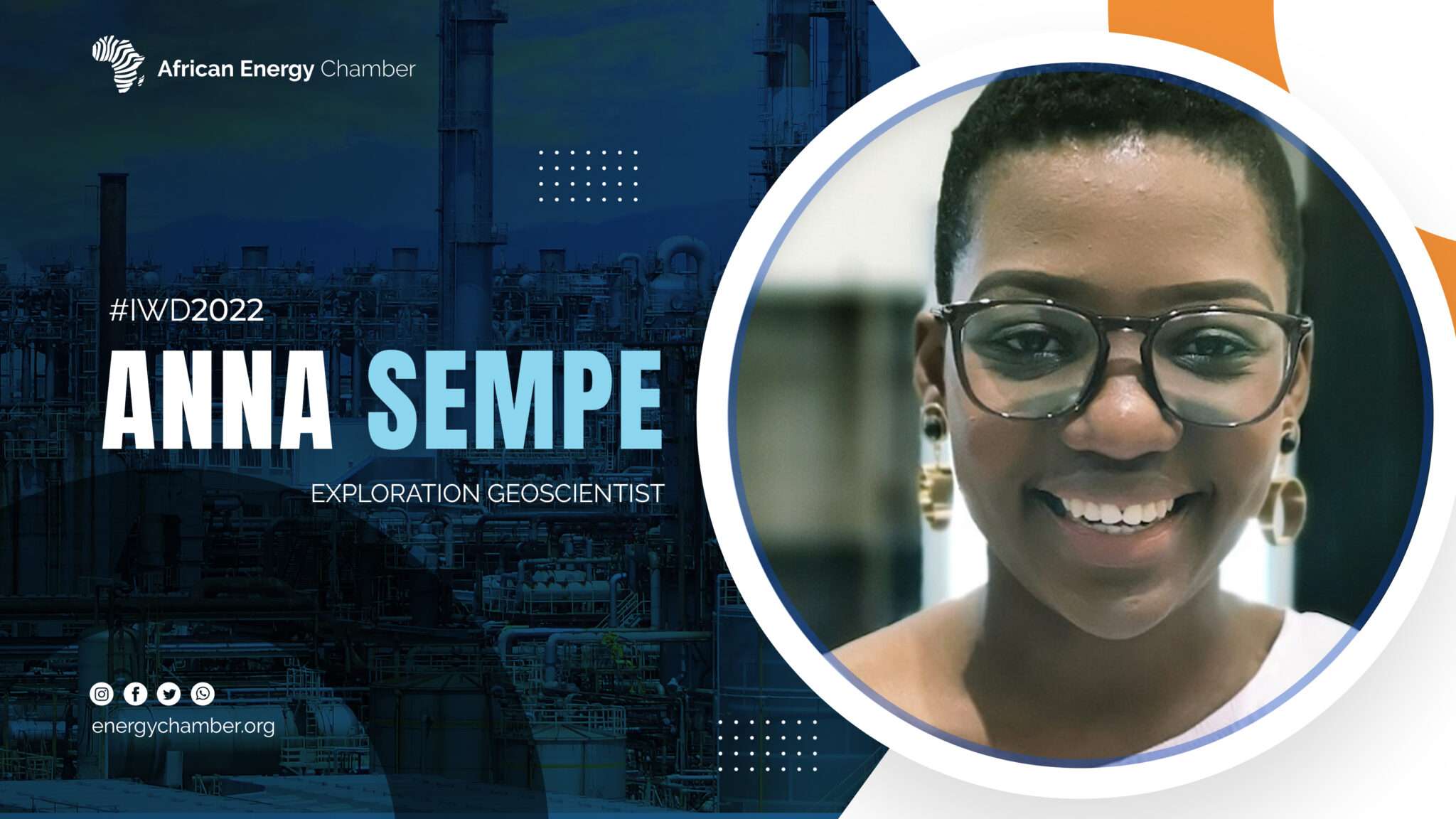 The African Energy Chamber is a signatory to the Equal by 30 campaign, pledging to achieve gender parity in its workforce by 2030.  In promoting diversity in the energy sector, the AEC interviewed Anna Sempe, a woman in energy who has had an illustrious career working with some of the world's top energy companies. In this interview, she discusses her experience as a woman in the field and offers advice for aspiring female energy professionals. She credits her success to always being open to learning new things and taking advantage of opportunities that come her way. As a woman in a male-dominated industry, Anna encourages other women to embrace their unique qualities and use them to their advantage. Anna is an accomplished geoscientist with over 5 years of experience, who has worked as a geologist in South Africa, Namibia and Malaysia.  She was a McKinsey Next Generation Woman Leader in 2020 and is a TOTAL and PETRONAS scholarship recipient.
How has your education and career path led you to where you are now?
I did a Bachelor's degree in Geosciences at Petronas university which lead to a position as an Operation Geologist in Malaysia. This is where I began to build my professional network that helped me get access to job opportunities, career advice and support.  After a few years at Petronas, I joined Sasol during which TotalEnergies offered me a scholarship to do my MSc. in Petroleum Geosciences at IFP School in France. I am now working at TotalEnergies in the Namibia Exploration team.
Despite being a critical part of the energy industry, women are often underrepresented in leadership positions. Why is there a need for more women in leadership roles?
Women are natural and impactful leaders. Well before we lead companies, we lead in our homes and communities. I also believe that woman lead in a way that is collaborative, empowering and one that creates a sustainable future. This is crucial in the Energy sector.
Despite being a vital part of the economy, the oil and gas industry is not particularly appealing to women. In fact, women only account for a small percentage of the workforce. In your opinion, what is the most appealing part of working in the oil and gas sector?
Firstly, the industry offers an expansive range of opportunities in upstream and downstream operations, the operations are on a global scale so you will work with people from diverse backgrounds and often get to travel to different parts of the world. Additionally, there is flexibility as the oil/gas industry is prone to changes. The most significant now being the Energy transition which has resulted in many oil/gas companies focusing on other business areas besides oil/gas such as renewables, geothermal and carbon capture utilisation and storage.
What are your tips for success as a young woman in this male dominated industry?
You should have a good support system and a strong network of women in the industry. Be bold and confident. Know your worth, recognize the value offer and always uplift others. as much as I am a geoscientist that I have a strong passion in helping people from underprivileged backgrounds to give them the resources and the opportunity for them to advance. That is something that's very close to my hearts because I was given the opportunity not just by PETRONAS, but by TotalEnergies, people believed in me and gave me the platform to use my technical skills to build my strong network of people of professional network, which has gotten me to where I am.
As more and more women enter the energy sector, it's important to share their stories and experiences with others who may be considering a career in oil and gas. Anna's advice for aspiring female professionals is to focus on developing their skills and network with other women in the industry. These tips can help any woman looking to start or further her career in energy. If you're interested in learning more about other female professionals in energy, be sure to check out our website for upcoming interviews and articles.
*Source African Energy Chamber