A Struggle For Survival From For Zimbabwe's Beleaguered Youth
By Nevson Mpofu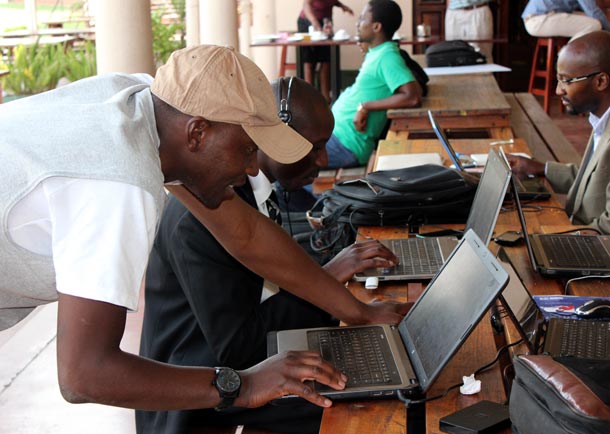 Research and Advocacy Unit's handbook for policy and practice titled Youth Active Citizenship for Decent Jobs is a fully fledged pack of information ready to help and relieve young people out of stress of unemployment and some challenges they are in . A number of economic factors have thrown these into a pit of financial exclusion, This is  why poverty and vulnerability extended widely . Adding on covid -19 triggered a new twist. They now feel much heat on .
In an interview at a local hotel on 17 March  in Harare Madrine Chiku Director of Research and Advocacy Unit cleared the air stressing valid and value chain of a number of points . She pointed out that the fact that young people have a high increase of population in a country with shrinking space makes it difficult for them to get decent jobs even though they are educated. The fa t that industry is not working like how it used to , there are no jobs for them  they end in hard times , hence why they engage in miscellaneous activities  like drug abuse.
" A number of factors have over time up to now closed open space for young people opportunities. They have no jobs because some companies are not active like how they used to be . Some have closed and some are at low pace in terms of production. Such is the main reason why young people upon completion of their education programs they do not have any form of jobs ""
"Young people end up engaged in drug and substance abuse a pathetic scenario which we are eager to address through policy dialogue . We have to include them , make them participate in policy framework and development . This could be a solution and for sure we want to see to it that all this is done , talked if and put into practice . What then can they do to occupy themselves."
As an objective Research and Advocacy Unit strives to open space for those young people in the trade industry .It pushes to create space for business opportunities so that they grow their businesses .The organisation is there to promote better sustainable livelihoods . This explains why the book they launched is vital in explaining their challenges and best how these can be solved .
"We as an organisation strives to see a vision for young people who are economically and financially empowered through employment creation . Therefore it is important to design and implement youth employment interventions particularly in contexts marked by political economic crisis "
""Youth employment programmes usually strengthen young people businesses and entrepreneurship skills . Therefore these must consider  civil and political competencies needed by young people in order to negotiate fair , safe and decent working conditions . This influences wider policy environment for  work .
""The handbook offers suggestions for integrating youth active citizenship strategies into youth employment interventions . This helps us build on youth skills for development . Civic and Political skills stand important  .Adopting holistic strategies , engagement with youth is important , engaging civil society , private sector and the government " Madrine Chiku concluded the interview
At a greater point of pain , young people businesses were adversely impacted by the pandemic of covid -19 .This was learnt during the research which has been there for 4 years since 2019 . A number of exceeding challenges made it difficult for youth open space to widely open in the difficult of times . Instead more and more challenges have I creased these tough times . Poverty and vulnerability increased , giving a burden to them and their bread winners .Informal traders can not increase the size of their businesses because they see it difficult working in an environment in which they lose to police and the City Councils in their local communities. The rate of unemployment continues to increase in a country already impacted by economic problems .