Zimbabwe's civil society organizations commended for complementing govt efforts in national development
By Wallace Mawire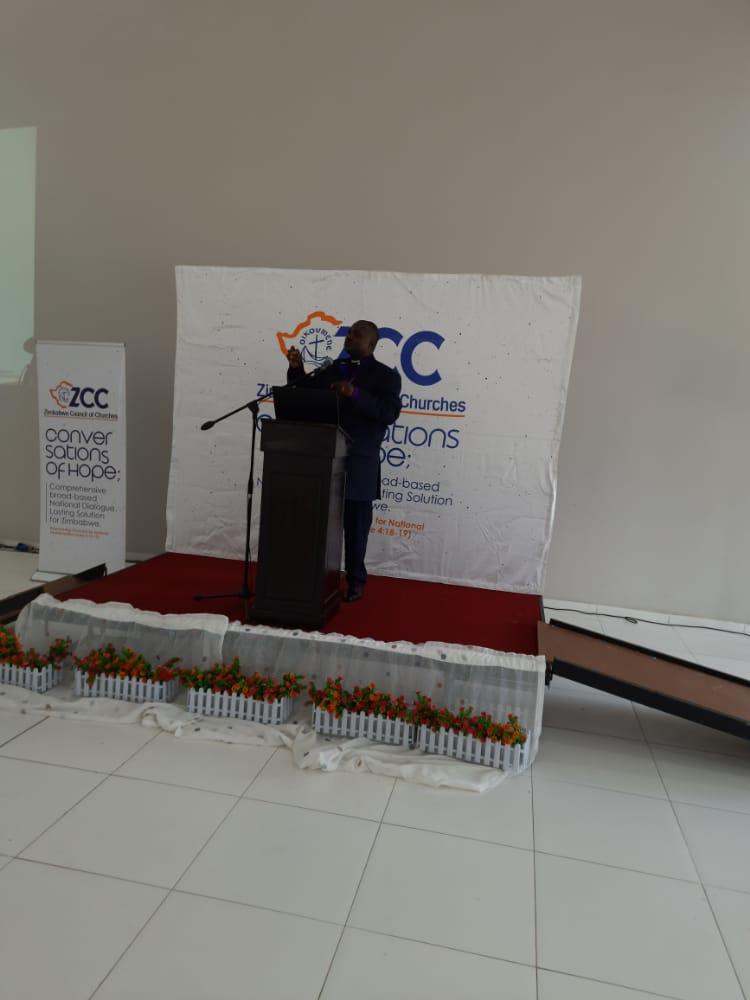 HARARE, ZIMBABWE-The role that Civil Society Organizations (CSOS) in Zimbabwe have played in complementing government efforts and initiatives to alleviate critical disasters affecting the population has been applauded at the Civil Society day celebration hosted by the Zimbabwe Council of Churches (ZCC) in Harare on 27 January, 2022.
The celebration was attended by various stakeholders who included Bishop Vushebwashe  Mhaka, a member of the ZCC Supervisory Council, who presented on theological reflections on the importance o unity of purpose and the celebrations.Other stakeholders included the Ministry of Social Welfare, the Ministry of Youth, the Ministry of Women Affairs, the Ministry of Women, Small to Medium Enterprise Development, CSOs operating in Harare and the media.
Maria Dendere, ZCC Acting Secretary General commended the work of CSOs in Zimbabwe saying that they a pivotal role in complementing government efforts in providing services across various sectors of the country.
'CSOs facilitate community interactions with services, influence policy development and contribute to resource mobilization both domestically and internationally. The development community recognizes CSOs as critical implementers and advocates for accountability, participatory planning and effective priority setting at national, sub-national and community levels,' she said.
Dendere added that in Zimbabwe,  CSOs have become important actors in policy dialogue, delivery of social services and implementation of other development programmes, as a complement to government initiatives.
She added that CSOs are not anti-government organizations and their existence are not to replace the government, but to complement government efforts.
In Zimbabwe, CSOs are grouped into broad categories which reflect the type of work that they do, which includes development organizations, service providers and advocacy organizations.
It is also reported that there are over 200 CSOs that work in various thematic areas which include but are not limited to human rights, research and advocacy, health, education, gender, child protection, livelihoods and legal matters.
According to Dendere, over the past two decades, Zimbabwe has been facing several political, socio-economic and developmental challenges.
'CSOs played and are continuing to play a pivotal role in monitoring the human rights situation in Zimbabwe. The country has experienced human rights challenges. Many CSOs reached out to affected people and provided assistance ranging from legal services to counselling services among others. However, there are still many people who need assistance,'she said.
She added that Zimbabwe, like many other countries, has been holding elections since pre-and post-independence.
She said that this demonstrated the commitment to prove that the nation is keen to conform to the principles of democracy and good governance.
ZCC says that the principles of democracy provide that elections should ensure the rights of citizens to participate in the electoral processes willingly and fully within a free, fair, and credible environment.
According to ZCC, several initiatives were implemented by CSOs and other stakeholders for violence-free elections in the last harmonized elections.
It is reported that CSOs played a watchdog role in making sure that the rights of citizens are upheld and honoured at every stage of the electoral process as well as offering voter education.
It is also reported that in 2018, CSOs provided over six million people with voter education and with the forthcoming by-elections and 2023 harmonized general elections, CSOs are expected to play another significant role.
According to ZCC, before independence to date, Zimbabwe has been experiencing the forced movement of people due to various attributes such as natural disasters,government's development projects, human rights violations, political violence and urban evictions.
In 2019, Zimbabwe was affected by Cyclone Idai and over 270,000 people in Zimbabwe were affected by the cyclone, including 129,600 children.
Of those affected, more than 51,000 people were forcibly displaced by flooding across 12 districts in Manicaland, Mashonaland East and Masvingo provinces.
ZCC says that CSOs played a fundamental and unprecedented role in mobilizing resources to assist the affected people. In response to the Cyclone Idai disaster, about 1,200 people were provided with shelter, and more than 200 000 benefited from WASH and food aid programs.
Dendere said that it is worthy to note that as of 2020, more than 40,000 internally displaced persons (IDPs) were desperately in need of assistance.
'Therefore, CSOs still have a mammoth task to make sure these IDPs recover from the impacts of disasters. In addition, we need to bear in mind that we are still experiencing disasters of different nature in Zimbabwe. In Budiriro 5, Harare, for instance, people are facing displacement due to heavy rains Zimbabwe is currently receiving,' she said.
It is further added that CSOs also play a critical role in Zimbabwe's health sector through advocacy and engagement by ensuring essential services are available, filling gaps in healthcare systems, engaging with communities, and sharing accurate, real-time information about their safety and wellbeing.
It is added that CSOs have been implementing massive health programmes ranging from WASH, HIV/AIDS and during the  Covid-19 pandemic, just to mention a few.
It is reported that  Zimbabwe has one of the highest HIV prevalence rates in sub-Saharan Africa at 12.8%, with 1.4 million people living with HIV in 2019.
According to ZCC, CSOs implemented programmes such as behavior change communication, Prevention of Mother-To-Child Transmission (PMTCT), Voluntary Male Circumcision (VMC) and HIV Testing and Counselling (HTC) and there is a notable decline in new infections and HIV related deaths.
It is said that furthermore, with the onset of COVID-19 achieving equitable vaccine access and distribution became a new frontier for CSOs.
ZCC said that CSOs partnered with the government in raising awareness on the Covid-19 pandemic and reached out to millions of people.
It is said that this helped the country to vaccinate over three million people with first and second doses.
'Despite this great milestone, more than four million peopl are still to get vaccinated to reach the head immunity of 60%, therefore, CSOs still have an important role to play in complementing government efforts in protecting people from this deadly virus,' Dendere said.
It is further added that  CSOs continue to play a pivotal role in complementing government efforts to reduce gender disparities and Gender-Based-Violence through promoting gender equality in every facet of life in Zimbabwe.
CSOs are reported to have worked with the government to ensure that gender balance provisions are included in the 2013 Constitution (Sections 17 and 56). It is added that with the much-anticipated forthcoming general elections in 2023, CSOs will play an important role in making sure that women participate before, during and after elections.
'Ladies and gentlemen, such great work deserves to be celebrated, hence the reason why we are all gathered here, today to celebrate such a worthy and noble cause,' Dendere said.