Zimbabwe:Academy with Pan African focus inaugural' class of 2019 celebrates remarkable pass rate
By Wallace Mawire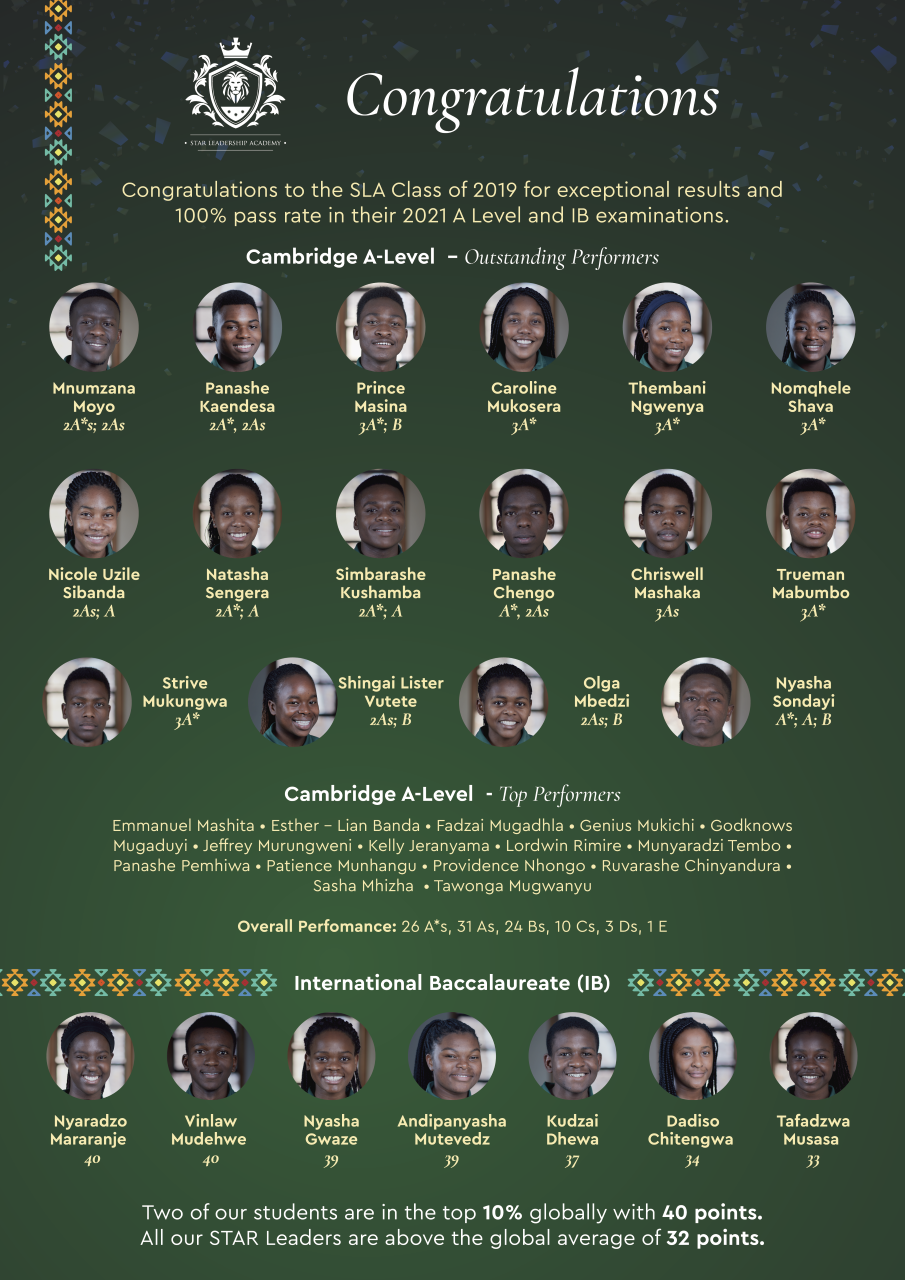 HARARE, ZIMBABWE-STAR Leadership Academy, a one-year intensive educational and experiential learning program, celebrates 38 students from the inaugural Class of 2019 who achieved a 100 %  pass rate in their Cambridge A-Level and International Baccalaureate (IB) examination results.
The A-Level class comprised 31 students, 16 male and 15 female, while the IB class had seven students, five female and two male.
Sixteen A-Level students attained 14 points (2As and a B) or more, with Mnumzana Moyo, Caroline Mukosera, Thembani Ngwenya, Nomqhele Shava, Panashe Kaendesa, Natasha Sengera, Simbarashe Kushamba, Panashe Chengo and Chriswell Mashaka receiving straight As.
All seven IB students scored more than the global average of 32 points, with two students, Nyaradzo
Mararanje and Vinlaw Mudehwe, placing in the top 10 percent globally with 40 points.
"We are incredibly proud of the Class of 2019 for such an outstanding showing in their final high school
examinations. The entire group are immensely exceptional, and we are delighted to be part of their journey
and development," said SLA Director of Academies, Elizabeth Tanya Masiyiwa.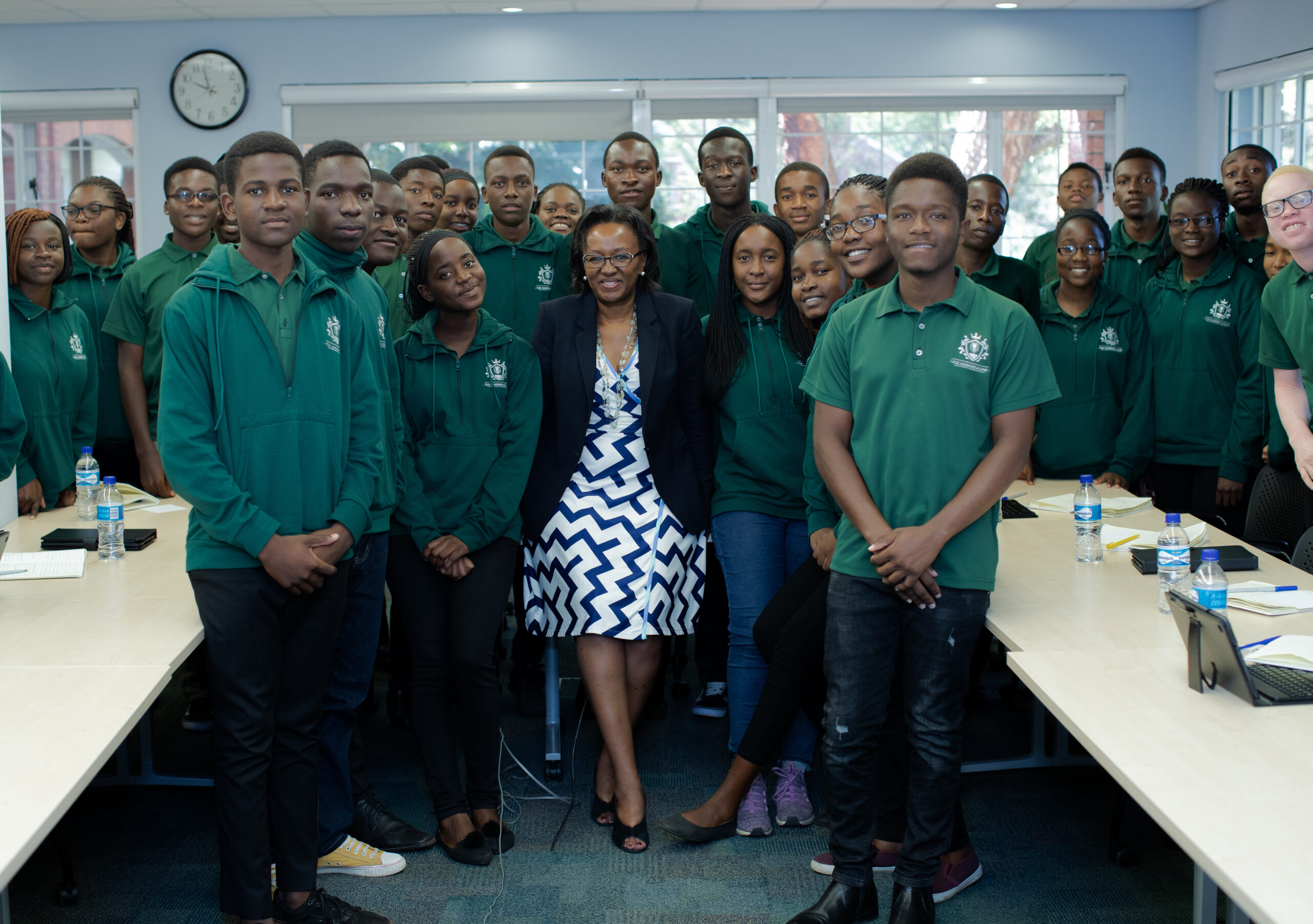 The Academy enrols diverse and gifted students from across Africa yearly. It aims to engage, develop, train, and inspire participants in the preparation of taking personal and community-wide action to address issues facing the continent.
"Africa is rich in culture and history and is home to the world's most precious resources. But its most
invaluable resource is its people.
"We believe that Africa's success is dependent on strong and inspired leaders. Solving our continent's
challenges calls for innovative thinking, dynamic and enterprising forms of leadership which create real
impact." Masiyiwa added.
Students selected for the SLA programme undergo an intensive leadership development and appreciation
course for one year. They are then onboarded into top tier high schools to pursue the international
baccalaureate diploma in Swaziland or Cambridge A-Level certificate in Zimbabwe.
"We are grateful to our partner schools for helping us to prepare these young leaders. As investments
towards quality education, employment, and entrepreneurship opportunities fall, Africa's young person is
prejudiced.
"Our Academy seeks to restore confidence in investing in African youth because they deserve a bright future.
We should not mortgage the future of young people but harness all our efforts to ensure that their success
is guaranteed today," shared SLA General Manager Philani Nyatsanza.
STAR leadership rides on the wealth of experience and expertise that Higherlife Foundation has developed
over the past 25 years in human capital development.
"We celebrate our incredible students because they reflect the catalytic ability of focused, community-based
Pan African resourcefulness to build the future of Africa and tap into the youth dividend that the continent
is endowed with," Nyatsanza said.
STAR Leadership Academy (SLA) is an intensive educational and experiential learning program that provides African students with critical leadership skills, improves their cultural awareness, and builds a commitment to servant leadership and nation-building. STAR Leadership Academy aims to engage, develop, train, and inspire participants in the preparation of taking personal and community-wide action to address issues facing the continent of Africa.