Tanzania music star Diamond Platnumz draws criticism over Confederate flag in new video
By Prosper Makene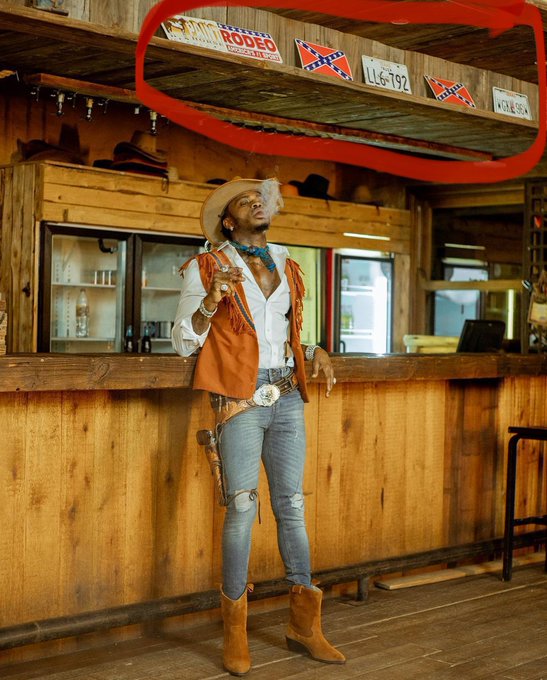 The Tanzania and East African music Star Nasib Abdul popularly known as Diamond Platnumz is under fire after releasing a new video with a Confederate flag displayed in the background.
 The bongo star musician released a video song 'Gidi' on Saturday and within 48 hours the video recorded 6.23M subscribers only on Youtube.
 "We don't understand why Diamond Platnumz has used the Confederate flag became, a symbol of racism in his new video. Definitely, we are very disappointed," Mugabe Migani, a political analyst said.
 He added: "Bad enough, he seen in the new video dancing with a video vixen in front of an old Texas bar counter dressed like a cowboy, no way, he must give the apology to his fans, unless otherwise, he will lose followers."
 George Katyega, a youth in Dar es Salaam said regarding the saga, "This shows that Diamond Platnumz is supporting the symbol of white power and oppression. We have to laud our voices so that he could think twice and give the apology to his followers and to all blacks."
 Arusha resident, Emmanuel Nkya said Tuesday that Diamond Platnumz should remove the video from Youtube and in all social media to continue showing confidence to his fans that it was an accident posting a video with a confederate battle flag.
  "The video call upon us to look Diamond Platnumz at this in a different way, we don't know if he has been used to acting like this," Michael Sikapundwa from Morogoro said after watching a video.
 However, the history, though, is clear: from the Civil War through the civil rights movement, the flag has always been about white supremacy. The only thing that has changed is how the rest of the USA sees the cause it represents.
 Who is Diamond Platnumz
Nasibu Abdul (born 2 October 1989), popularly known by his stage name Diamond Platnumz, is a Tanzanian bongo flava recording artist, dancer, philanthropist and a businessman of Ha heritage.  He became the first Africa-based artiste to reach a combined total of 900 million YouTube views.
 He is the founder and CEO of WCB Wasafi Record Label, Zoom Extra, Wasafi Bet and Wasafi Media. Diamond has gained a cult following in East and Central Africa.
 After signing a record deal with Universal Music in 2017, Platnumz released his third studio album, A Boy from Tandale (2018). In 2021, Diamond together with his record label WCB Wasafi entered into a 360 Partnership with Warner Music Group.
 Career beginnings and breakthrough
 His career began in 2006 then aged 17 years old while selling clothes. He would record songs with the money he earned from the clothes' business and eventually recorded his first single "Toka Mwanzo", a Bongo flava song fused with R&B. The song was not successful commercially.
 His breakthrough hit single "Kamwambie" was released in 2010. The song won three Tanzania Music Awards. He then released his debut studio album Kamwambie same year in 2010.
 In 2014, Platnumz earned nomination at BET Awards 2014 for Best International Act: Africa.
Platnumz has frequently collaborated with videographer Director Kenny for his music videos. The music video for "Waah", directed by Kenny, was nominated for "Best African Video" at the 2021 All Africa Music Awards.