ICAO Recognizes The Ghana Identity Card As An E-Passport
By Maxwell Nkansah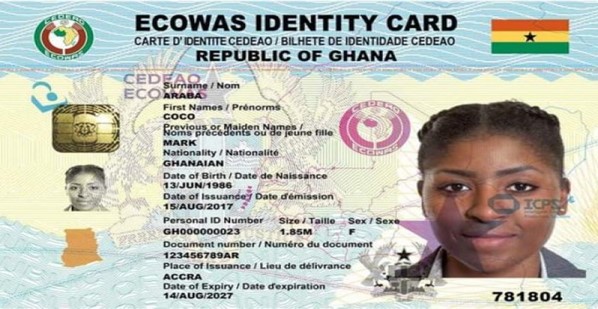 The Ghana National Identification Card, the Ghana Card can now be used as an e-passport in 44,000 airports globally. This is as a result of the global recognition of the card as an electronic passport that can be read and verified in all International Civil Aviation Organisation (ICAO) compliant borders. Ghana's High Commissioner to Canada, Ransford Sowah, received the 'key' to signify Ghana's entry into the ICAO family.
At a ceremony, held at the headquarters of the International Civil Aviation Organization in Montreal in Canada on Wednesday [February 9, 2022], Ghana was presented with the official certification to make the unique biometric identification card an e-passport, to be accepted at 44,000 airports and in 197 borders across the globe.
Delegates from Ghana present at the Ceremony include; the Secretary to the Vice-President, Mr Augustine Blay; the Executive Secretary of the National Identification Authority (NIA), Prof. Ken Attafuah,  the Director-General of the National Information Technology Agency (NITA), Richard Okyere-Fosu; the Director of Passport, Mr Louis Kwame Obeng, and the Head of Technical Services, NITA, Mr Solomon Kofi Richardson. Holders of the Ghana Card will be allowed to board any flight to Ghana by just showing the card. Ghana became the 79th member of the ICAO's Public Key Directory (PKD) community on October 13, 2021.
The ICAO Public Key Directory (PKD) is a central repository for exchanging the information required to authenticate e-passports.
According to officials of the National Identification Authority (NIA), with the Key Ceremony in Montreal over, the Ghana Card can now be verified internationally and border control authorities will be able to confirm in less than 10 seconds that a Ghanaian biometric e-passport (booklet) as well as the Ghana Card/e-passport were authentic and issued by the right authority.
Hence, the cards cannot not be altered or cloned for fraudulent activities.
The Ghana Card contains the biometric information of the holder with a cryptographic digital signature stored on a chip that can be used to authenticate the identity of travelers.
Ghanaians in abroad who are holders of the Ghana Card can be allowed to board any flight to Ghana without any visa requirement as part of the exclusive Akwaaba package.