Ghana:Government Needs To Pay Attention To Teachers' – Christopher Kutina
By Maxwell Nkansah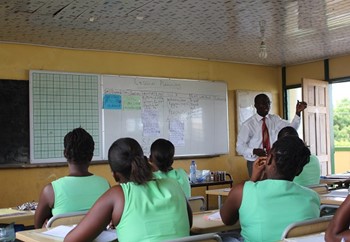 Mr. Christopher Kutina, the Nadowli-Kaleo District Director of Education, has appealed to the District Assembly to provide schools with the necessary resources to enhance teaching and learning.
He said there were so many school blocks in the communities without furniture for pupils and teachers, making teaching and learning difficult.
The provision of teachers' accommodation was also a challenge in many of the schools and teachers had to commute from the district capital, Nadowli, daily to schools in the various communities.
Mr. Kutina made the appeal when journalists, who were at Charikpong to cover an eye screening exercise, spotted a school block, which was abandoned and without pupils occupying it.
He appealed to the district assembly and civil society organizations to provide school furniture and teachers accommodation to help enhance quality teaching and learning.
The Nadowli-Kaleo District Director of Education advised the assembly to consider turning the abandoned school blocks into teachers' accommodation to serve education in the area.
He called for the revamping of Parents/Teacher Associations and School Management Committees to help promote quality education in the district. On the eyes screening exercise, he urged teachers to try and identify children in their classes with eye diseases and report them to school authorities to seek medical attention.
He said there was the need to intensify education in the communities to change the negative perceptions of the people about the vaccination of children and health workers in the communities.