Ghana:"A Father Of Peace-The General's Testimonial"
By Maxwell Nkansah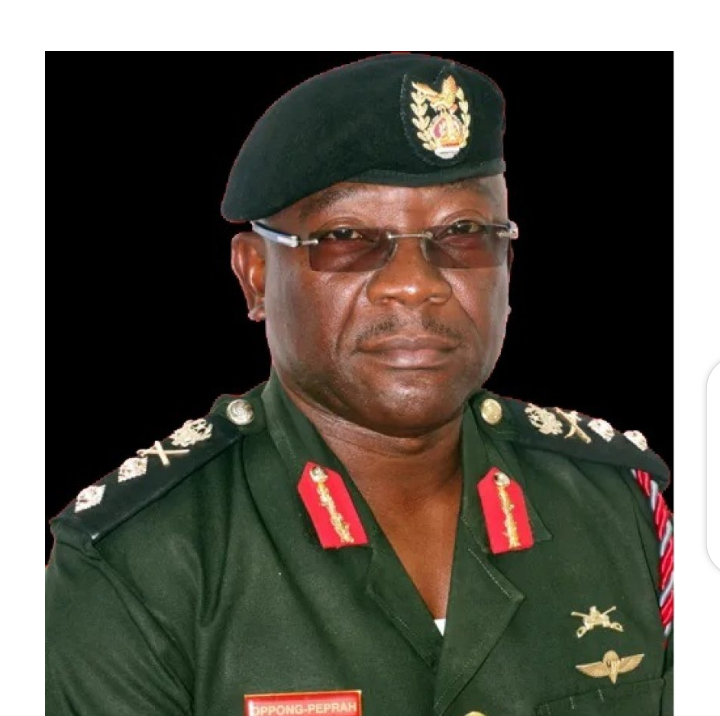 The Ghana Army (GA) is the main ground warfare organizational military branch of the Ghana Armed Forces (GAF). In 1959, two years after the Gold Coast obtained independence as Ghana; the Gold Coast Regiment was withdrawn from the Royal West African Frontier Force and formed the basis for the new Ghana army. Together with the Ghana air force (GHF) and Ghanaian navy (GN), the Ghana army (GA) makes up the Ghana Armed Forces (GAF), controlled by the Ministry of Defense (MoD) and Central Defense Headquarters, both located in Greater Accra.
Major General Thomas Oppong-Peprah, the Army Commander was commissioned into the Ghana Armed Forces in 1986 as part of Regular Career Course 26, and was posted to the Armor Recognizance Regiment. His civil educational qualifications include a Master of Arts in International Security and Strategy from Kings College, London (2013 – 2014) and an Executive Master of Business Administration (Human Resource Management) from the University of Ghana, Legon (2006 – 2007). He also has a Bachelor of Science degree in Administration (Human Resource Management) from the University of Ghana (1999 – 2004) and a Post-Graduate Certificate in Public Administration from Ghana Institute of Management and Public Administration (1998).
Major General Oppong-Peprah has undertaken several career progression courses. These include Defense Studies at the Royal College of Defense Studies, London, United Kingdom (2013 – 2014), Senior Intelligence Course at the Joint Intelligence Centre, Strasbourg, France (2010), Law of Combating Terrorism at the Defense Institute of International Legal Studies, Newport, Rhode Island, USA (2009) and Senior Command and Staff Course at the US Army Command and General Staff College, Fort Leavenworth, Kansas, USA (2000-2001).
He again took some career progression courses; Senior Command and Staff Course at Ghana Armed Forces Command and Staff College, Accra (1998 – 1999), Junior Command and Staff Course at the Command and Staff College, Kaduna, Nigeria (1997), and Armour officer Basic Course at the US Army Armour School, Fort Knox, Kentucky, USA (1996).
Appointments held in the course of his career include Aide-de-Camp to the Chief of the Army Staff and Chief of the Defence Staff, Ghana Armed Forces (1995 – 1997), Operations/Training Officer, 64 Infantry Regiment, (1999 – 2000).
He was then the Commanding Officer, 64 Infantry Regiment from 2002 to 2009, with additional appointments as Commanding Officer, Armoured Reconnaissance Regiment, (2004-2005), Coordinator, State Transport Security (2001 – 2008), and Instructor, Disaster Management Course, Army Combat Training School, Teshie (2001-2005).
Major General Oppong Peprah has held Director, Strategic Intelligence Assessment, Defence Intelligence Department, General Headquarters (2009-2011), Director Operations and Plans, Defence Industries Department, General Headquarters (2011 – 2013), Director Army Training (Sep 14 to Feb 16) and Director Army Peacekeeping Operations (Feb – Jul 16) Chief Staff Officer, Army Headquarters (Jul 16 –Feb 17).
Before his current appointment as the Chief of Staff at the General Headquarters, he was the General Officer Commanding, Southern Command of the Ghana Army (Feb 17 – Jan 19). Before his current appointment as the Chief of Staff at the General Headquarters, he was the General Officer Commanding, Southern Command of the Ghana Army (Feb 17 – Jan 19).
In peacekeeping, he has served as Humanitarian Officer, United Nations Assistance Mission in Rwanda (June-December 1994), Military Observer, United Nations Aouzou Strip Observer Group in Libya/Chad (March-May 1994), G4 Transport and Plans, United Nations Mission for the Referendum in Western Sahara – 1993 and Detachment Second-In-Command/Troop Leader, United Nations Interim Force in Lebanon/Israel (1987, 1989, 1992)
He is a Board member of the Governing Council of the National Disaster Management Organisation (NADMO). Major General Oppong-Peprah is married with five (5) children. He enjoys horse riding, soccer, traveling, watching movies, and jogging.
The participation of the Chief of the Army Staff (COAS) of the Ghana Armed Forces (GAF) in the prestigious United States Army Coalition Forces Land Component (CFLCC) Course is considered historic as the Commander is arguably the only senior African military officer to be invited by the United States Africa Command (USAFRICOM), to participate.
The course, which was organized at the US Army Carlisle Barracks, in the State of Pennsylvania, from April 20-24, 2021, was aimed at equipping selected military Senior Leaders, to function effectively.
A post by the US Army Southern European Taskforce, Africa surmises that the Ghana Army Commander – Major General (Maj Gen) Thomas Oppong-Peprah, is a Senior Leader and a Land Component Commander in a Joint/Combined Interorganizational Multinational Environment.
CFLCC, a multinational land force directing all land forces of different allied countries, on behalf of a Combatant Commander or Joint Task Force Commander, was established under Commander U.S. Army Forces Central Command (CENTCOM), to direct the two corps-sized formations – I Marine Expeditionary Force and U.S. V Corps, involved in the initial invasion of Iraq in March 2003.
General Oppong-Peprah, who hails from Dormaa Ahenkro, in the Bono Region of Ghana, and  is considered to have brought a lot of reforms to the Ghana Army.Since assuming command, he has set for himself and his troops, a vision of transforming his charges into a well-led, well-trained and well-equipped one, capable of handling any assigned task.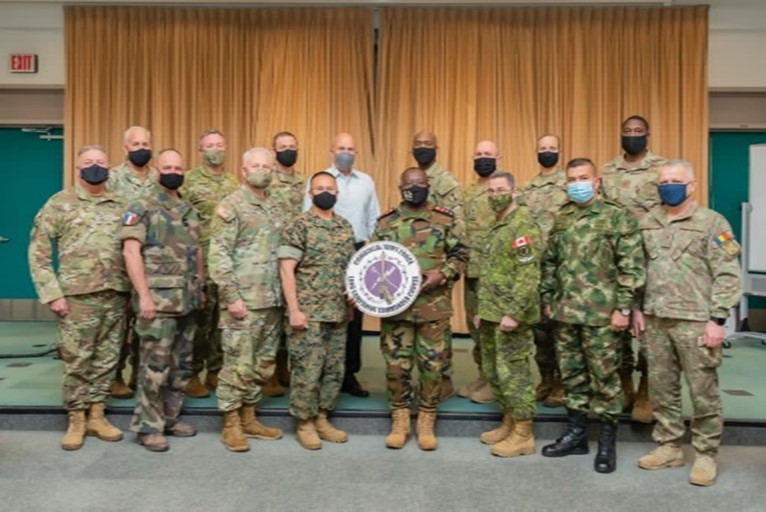 Considering the peculiar circumstances of West Africa, a sub-region threatened by terrorists, the Ghanaian officer, who is a graduate of Prempeh College and the Ghana Institute of Management and Public Administration, has set himself a target of collaborating with other militaries, such as the German, British and the US Armies, to retrain his charges, as a way of building the capacity of troops and opening them up to current military trends and standards.
Before being the Army Commander, he as Lieutenant Colonel was historically the concurrent Commanding Officer of two different Regiments of GAF, and was the General Officer Commanding (GOC), Southern Command as a Brigadier General and later as Major General as Chief of Staff at the General Headquarters of the entire GAF, where he is credited for working to pleasantly increase the emoluments of all personnel of GAF.
After his appointment on February 18, 2020, a month before Ghana located COVID-19 in its bounds and subsequently locked down two major metropolis, he is deemed to have hugely transformed the Ghana Army in the areas of accommodation facilities, training and morale of his troops, restrictions notwithstanding,
For about one-and-half years since his appointment, the Army Commander, who enlisted into GAF in 1985, has strategically expanded the Army with two Mechanized Battalions, each at the northeast and northwest parts of Ghana, reinforced troops at midsections with adequate accommodation and equipment, and a new armored regiment to fortify the northern frontier.
The Professional Armour Officer, set his sights on transforming the famous Battle Training Camp, Bundase, into an international standard Centre of Excellence for a United Nations Peacekeeping Training for the African sub-region, and has mainly succeeded by constructing modern dormitories to replace weak camp tents, completed a multipurpose hall and re-networked the water system of the training camp.
The Ghana Army, in addition to what the central government has initiated, is also constructing Forward Operating Bases (FOB) at Bui and Tepa, in the Bono and Ashanti Regions, respectively, massively reconstructed the Recruit Training Schools at Shai-Hills and the Daboya Training Camp, in the Greater Accra and Savanna Regions.
The GAF has long had acute accommodation challenges, but efforts are ongoing by the Government of Ghana to retool, reequip and provide major residential facilities under a program dubbed Barracks Regeneration Program (BRP), however, the Army has seen some appreciable provision of accommodation facilities at its Units, with internally generated resources.
There have been palpable improvements in accommodation provision at the Army's 1, 2, 3, 4, and 5 Battalions of Infantry, 64 Infantry, and 153 Armored Regiments and the landmark construction of a UN village for International Peace Support Operations (IPSO) purposes.
On training, the Army has reinforced some courses and also introduced a couple, such as; Battalion Commanders' Course, Increased Career Progression Course, new Peacekeeping Pre-deployment and Media Training Module, Female PROMAX Cadre, and annual training exercises like EAGLE CLAWS, BURNING ARROW, intended to train to reinforce the Northern and Mid-Zone Frontiers of Ghana, against aggression.
In US military terminology, "Unified Combatant Commands" or "Joint Task Forces" can have components from all services and components – Army-Land, Air, Naval, Marine, and Special Operations, thus a Land Component Command is a command directing all land forces on behalf of a combatant commander or Joint Task Force commander.
Major General Oppong Preprah is such a father of Peace who's thoughts for the military and the civilians across the world are indeed remarkable.
*Culled from February Issue of PAV Magazine