Ghana: 3 Alleged Suspects Involved In Shootings Arrested By Police
By Maxwell Nkansah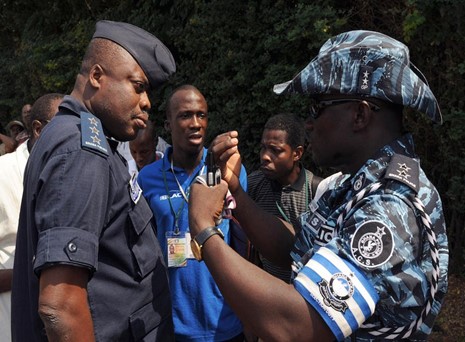 The Bawku District Police, in collaboration with the military, upon intelligence, on January 31, 2022, arrested three persons suspected to be involved in the recent gunshots and Killings in Bawku. The Operation led by C/SUPT. Adamu Seidu and SUPT. Simon Peter Ankabati, the Bawku District Commander, with assistance from the military first visited the residence of the Suspects, Sunday and Abacha Adamu but the team met their absence.
The team proceeded to Gigande, a suburb of Bawku where 41-year-old Maxwell Asana was arrested. A search conducted on his premises led to the retrieval of 2 foreign pistols, 50 rounds of AK 47 live ammunition, 17 rounds of M16 live ammunition, 10 rounds of live 9mm ammunition and 3 rounds of G3 live ammunition.
The exhibits, Police sources said were hidden in a pot of water on the suspect's compound. Police sources revealed that intelligence gathered indicates that the suspect is the person who has been supplying and servicing weapons for other suspects.
The joint Police and Military team proceeded to Natinga, another suburb in the Bawku area and arrested suspect Ibrahim Fatawu. One other suspect however absconded through a gutter upon seeing the police.
During a search of the house by the team, one of the uncompleted rooms which housed some cattle, had 1 AK 47 assault rifle with the number No.1983NI0892, 1 Arcus Pistol with the number No.20KR500604, 2 AK 47 magazines, 80 rounds of G3 live ammunition and 8 rounds of AK 47 live ammunition, all of which were retrieved. Police sources revealed.
The team also arrested a third suspect, Mohammed Abubakar who was alleged to be a member of the group of persons who fired into an FPU vehicle belonging to the Police on December 25, 2021, at Missiga, on the Pusiga road. Police sources said.
All three suspects have since been detained and will be processed for court while the exhibits have also been retained for evidential purposes, Police sources confirmed.