Fresh Hope For African Diaspora As Simba Steps Up Financial Literacy Programs
By Ajong Mbapndah L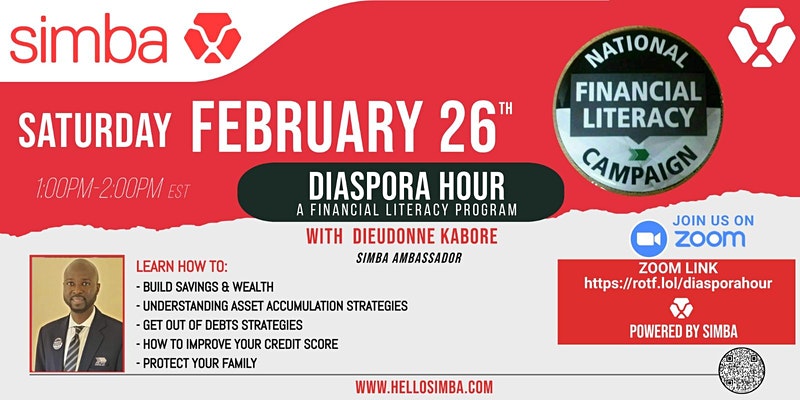 Launched last year, the Simba financial literacy programs for African Immigrants  are back on the rails following a brief  hiatus with  the start of "Diaspora  Hour."  scheduled for 26 February 2022.
Hosted by Simba Ambassador Dieudonne Kabore, focus will be on building savings and wealth, understanding asset accumulation strategies, how to improve credit scores, family protection and other issues to ease the financial pressures that African immigrants in the USA are saddled with.
The 26 February event is part of the Empowerment Series for African Immigrants launched in November last year Simba to provide African immigrant communities with access to financial products, services, and education. Other elements of the Simba empowerment series include diverse public events, trainings, fairs and other vital tools and information to facilitate and improve access to financial services and related opportunities for African immigrants.
According to Kabore, " preparing for the future is very important for the success of members of our community. The financial literacy campaign I am part of is dedicated to equipping our community with the tools that they need to protect their families and to present them with a myriad of financial services that can help attain and build wealth. Simba I am proud to represent is one of them. They will help us save a lot of money we can use for other purposes. "
An accountant with vast experience in financial education and services,  Simba Ambassador Dieudonne Kabore  will use the Diaspora Hour as a medium to share  tips and information that many African immigrants are not exposed to or knowledgeable about in the complex world of finance.
Founded by Simon Tiemtore, a West African Immigrant from Burkina Faso, SIMBA is positioned to provide a strong response to the multi-faceted challenges facing African immigrants when it comes to financial transactions. From money transfer amongst the immigrants to remittances, and a broad range of other fresh opportunities.
Although the core market of Simba is the African diaspora, the card can be used by anyone in the USA. According to the management of Simba, the launching of the card is the first in a series of other products expected to be rolled out progressively in upcoming months.
Currently, Simba money transfer services are available in Algeria, Burkina Faso, Botswana, Chad, Ghana, Guinea Bissau, Kenya, Libya, Madagascar, Malawi, Mauritius, Mozambique, Namibia and Zambia.
The Diaspora Hour is free and members can access the event via the link below.
https://www.eventbrite.com/e/financial-literacy-program-tickets-274375012047
Simba services can be accessed by downloading the application on https://tinyurl.com/ajongpv
For inquiries send email to  support@hellosimba.com