CANON BRINGS IN A NEW HOPE FOR RADIOLOGY PRINTING IN PARTNERSHIP WITH REAP SOLUTIONS AT THE ARAB HEALTH EXHIBITION
Championing the spirit of ingenious innovation, Canon showcased the prestigious output of its Laser and inkjet products along with its third party Dicom solution at the Arab Health Exhibition in an endeavor to provide radiology and medical professionals with solutions that can augment their efforts in contributing to the health and wellbeing of patients worldwide.
The stellar products displayed at the Arab World Health exhibition included PP Image Press C710, Booklet maker, TX2100 as well as the I Med Dicom solution.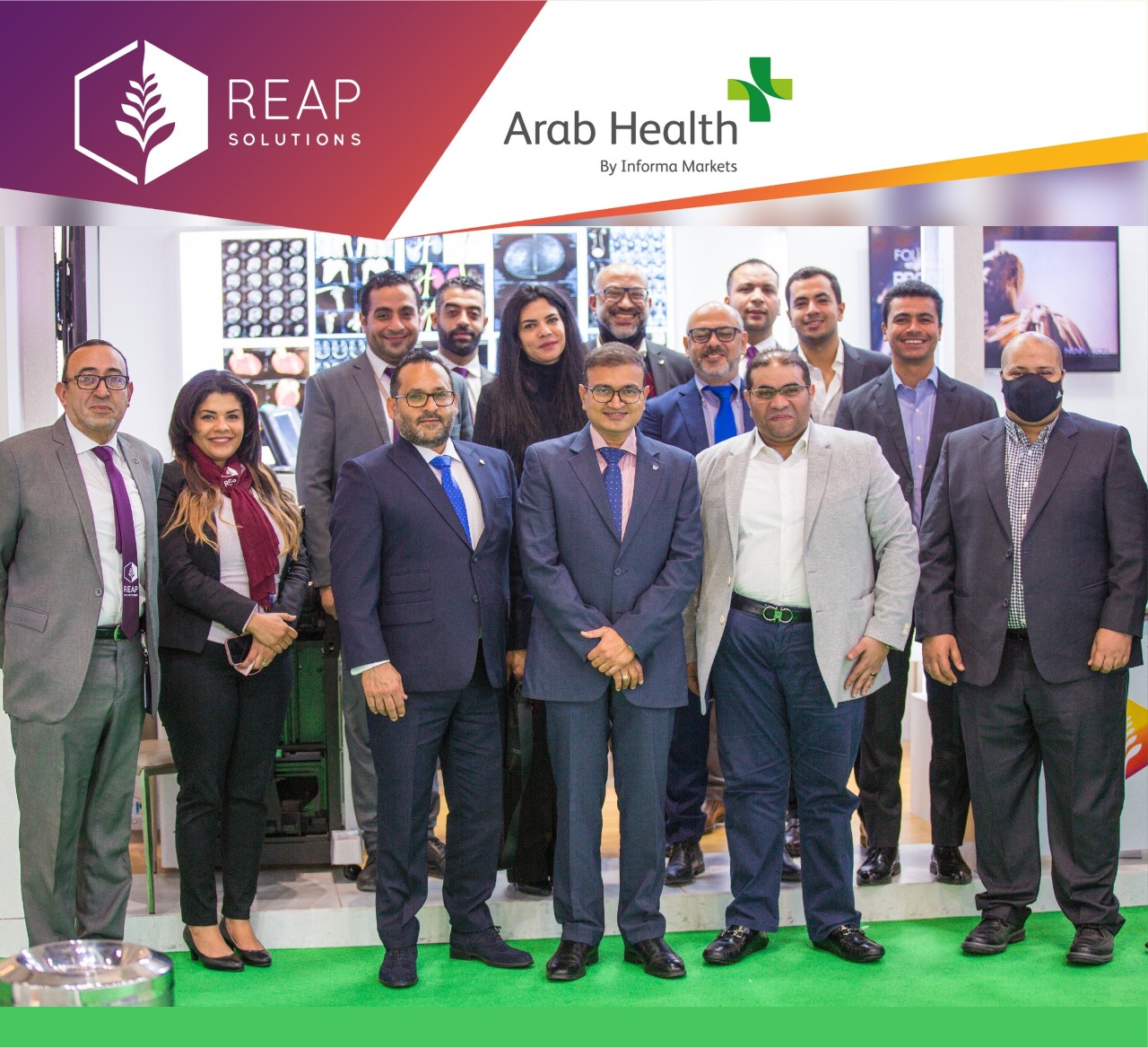 Dubai, United Arab Emirates, February 3rd 2022: Canon Central & North Africa announced today of its recent participation at the Arab Health Exhibition in alliance with Reap Solutions to unveil its exceptional production printing products & solutions that can further support healthcare and medical professionals in delivering optimum health opportunities for patients through uncompromised performance, comfort and safety features. Strengthening its commitment to put the patient's health at the heart of everything that's done, the company put on display its ground-breaking products such as the imagePROGRAF TX-2100 printer built with an award-winning blue-film technology that packs the potential to revolutionize radiology printing in Egypt.
In an effort to work hand-in-hand with academic and industry partners to create market-leading solutions, Canon invited forty-five leading doctors from Egypt and garnered attendance from one hundred and fifty visitors from Africa, Middle East and India with a potential for distribution. Other products showcased at the exhibition include Canon BLM50 and BLM35 Production Booklet makers that provide modular in-line booklet making solution for creating high-quality professional saddle-stitch and square fold booklets of up to 200 pages and are designed for centralized reprographic departments and commercial printers. The imagePRESS C710 printer that offers production grade features at a budget friendly investment remained a popular choice amongst the visitors.
INTELLIGENT AND HIGH-QUALITY SOLUTIONS THAT STAND THE TEST OF TIME
"At Canon, our aim has always been to put the customer need at the heart of everything that we do and provide intelligent solutions that meet not only the current but also future market demands ensuring results are achieved faster for better diagnosis process along with increased clinical confidence from the medical professionals. One of our products on display was the ultra-popular wide format printer TX-2100, that was earlier distributed to around hundred physicians and doctors across Egypt last year with the help of Reap Solutions. Through this printer, our visions has been to ensure that the patient's journey right from onboarding to diagnosis to actual medi-care remains transparent thereby elevating the level of confidence between the patients and doctors. As the pandemic has taught us, our solutions now need to be quick, safe, easy to decipher, environment-friendly and must allow for distance treatments if needed. With our state-of-the-art printing products, the results can be shared in best quality along with the lowest size on any application, to facilitate diagnosis from distance if needed. This creates a win-win situation for both patients and doctors, allowing convenience whilst ensuring safety," commented Somesh Adukia, MD – Canon Central and North Africa. The 24-inch multipurpose TX-2100 printer, with smart software and flexible borderless printing features also boasts innovative features such as hot swap ink tanks and an automatic media detecting system that can facilitate production workflows with full pigment ink and a water-resistant media option.
USHERING IN A NEW WAVE OF CHANGE
Canon and Reap Solutions further announced of their plans to prolong their partnership in an attempt to cover more opportunities within the medical sector and take the tried and tested products to newer territories. The company executives hinted at geographical expansion as well as product expansion with the aid of doctors and medical fraternity across different locations worldwide.
Ahmed El Okr, CEO of Reap Solutions remarked, "Last year has been a banner year for us at Reap Solutions as we have been able to provide radiologists, physicians, doctors and patients with unconventional printing solutions and reports that have proven to be vastly beneficial especially during the pandemic. Our know-how of the industry as well as our distribution landscape across different geographies gave us an upper hand in ensuring the right printing solutions were made available to doctors and healthcare professionals during the testing times of the pandemic.
Furthermore, our association with Canon allowed us to explore innovative solutions that give doctors, physicians and medical professionals the opportunity to revert back to the basics i.e. printing on paper yet with the edge of film-like quality. One of the most crucial benefits of the printers was demonstrated in the Chest CT-scans for ribs, as it allows to scan in 3D and print in color, thus highly upgrading the quality to its previous counter-part method of laser printing. The radiology doctors unlike physicians require high printing quality as well as adjustments that can take their diagnostic process up a notch, thus Canon's imagePROGRAF TX Series printers equipped with a 5-color LUCIA TD Pigment ink system capable of producing fine lines and sharp text, even on non-inkjet coated paper made the right fit for this job."
"Additionally, the reports are now resistant to water, light, tears, rips or any kind of fading thereby allowing for a long-lasting archival system. Our solution breaks the barrier for report archival which can be crucial in significant cost and time savings for medical practitioners. Documentation of medical records is vital to advance diagnosis process, thus having the ability to archive reports for years is now essential. Canon's blue-film technology incorporated printers come with all these benefits thereby making these products a pre-requisite for optimum healthcare. I am extremely grateful to Canon for supporting Reap Solutions right from the beginning even in the initial trial and testing phases and I am affirmative that together, we will bring a positive wave of change across the medical fraternity."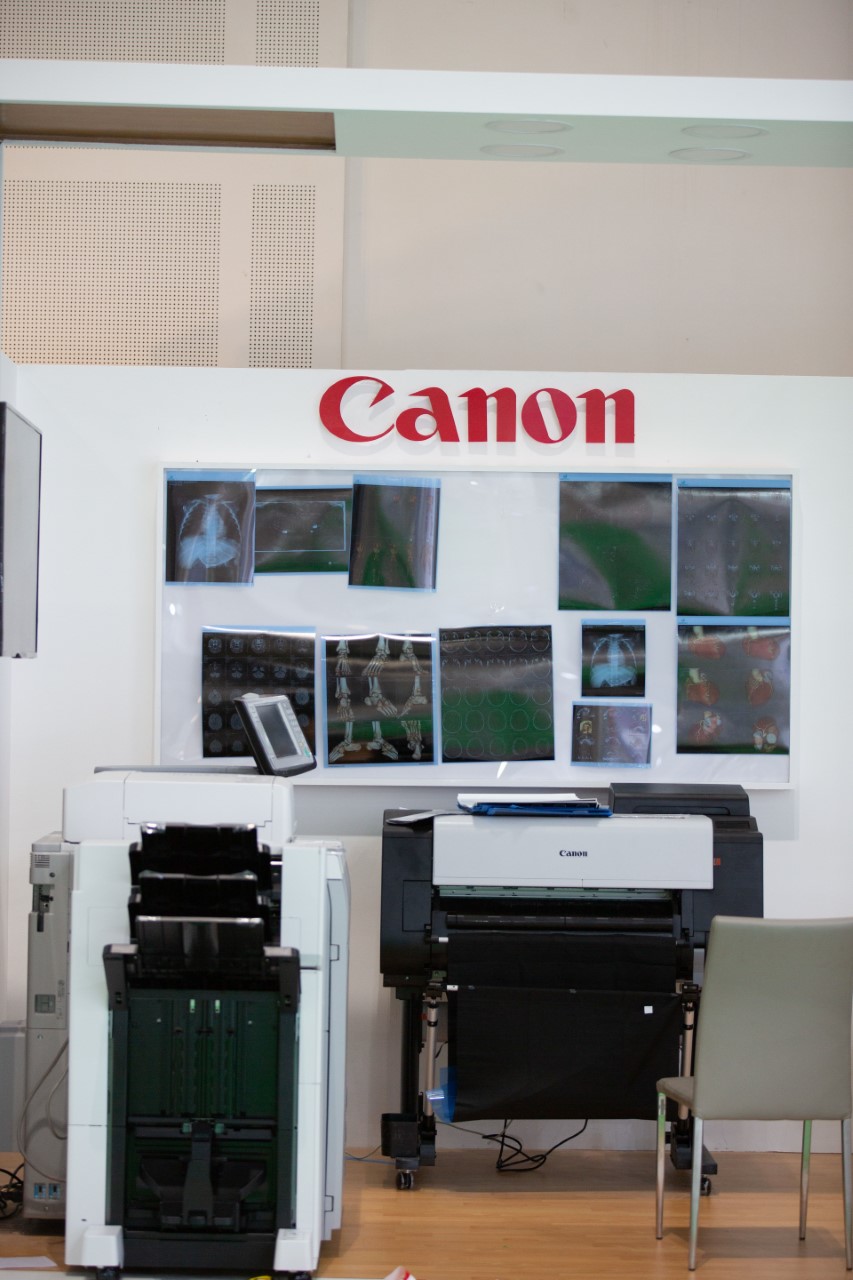 CUTTING-EDGE SOLUTIONS FOR CHALLENGING TIMES
Having received an overwhelming response at the Arab Health Exhibition, Canon and Reap Solutions will continue their partnership and are currently working with doctors, healthcare professionals in a bid to continuously enhance and evolve their solutions to meet the ongoing demands of the industry. Basis the success of Canon's imagePROGRAF TX-2100 in optimizing the identification and diagnosis process for medical workers and doctors, the company plans to expand its product line that can drive valuable outcomes to positively impact medical professionals in enhancing their patients' future.
Speaking on the matter, Somesh Adukia said, "We appreciate all the efforts done by the Reap team in taking our products to the market, their support has been a key contributor in ensuring that our innovative ideas reach the right minds at the right time. We will continue to work together to introduce new products as well as acquire newer territories that can benefit from these cutting-edge solutions. We are extremely proud of the difference we have been able to create in easing a patient's journey through advanced and high-quality radiology reports that are also environment friendly. The extensive interest shown at our booth at Arab Health Exhibition by visitors that include leading doctors from across the African region is a testimony to the superior level of support our products can provide in assisting medical practitioners. Together with Reap Solutions, we are committed to building a brighter future for all with our state-of-the-art printing products."
About Canon Central and North Africa
Canon Central and North Africa (CCNA) (Canon-CNA.com) is a division within Canon Middle East FZ LLC (CME), a subsidiary of Canon Europe. The formation of CCNA in 2016 was a strategic step that aimed to enhance Canon's business within the Africa region – by strengthening Canon's in-country presence and focus. CCNA also demonstrates Canon's commitment to operating closer to its customers and meeting their demands in the rapidly evolving African market.
Canon has been represented in the African continent for more than 15 years through distributors and partners that have successfully built a solid customer base in the region. CCNA ensures the provision of high quality, technologically advanced products that meet the requirements of Africa's rapidly evolving marketplace. With over 100 employees, CCNA manages sales and marketing activities across 40 countries in Africa.
Canon's corporate philosophy is Kyosei – 'living and working together for the common good'. CCNA pursues sustainable business growth, focusing on reducing its own environmental impact and supporting customers to reduce theirs using Canon's products, solutions and services. At Canon, we are pioneers, constantly redefining the world of imaging for the greater good. Through our technology and our spirit of innovation, we push the bounds of what is possible – helping us to see our world in ways we never have before. We help bring creativity to life, one image at a time. Because when we can see our world, we can transform it for the better.