Cameroon: Suspected "Separatist fighters" Incinerate QRC Okoyong Dormitories
By Boris Esono Nwenfor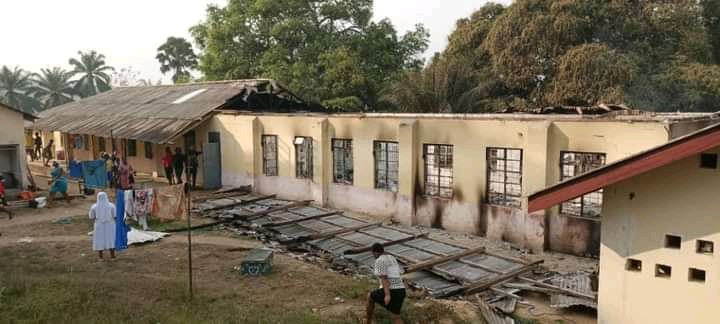 Dormitories belonging to the Queen of the Rosary College (QRC) Okoyong, Mamfe, South West Region are set to have been set ablaze after members of the separatist fighters operating in the area stormed and burnt down the dormitories, with the atrocity receiving wide-spread condemnation.
The incident which just goes to add to the numerous atrocities carried on educational institutions in Mamfe and across the South West Region is set to have been carried out in the morning of this Friday, February 11, as the students were sleeping in their dormitories, a former student of QRC Okoyong told Pan African Visions.
Queen of the Rosary College, Okoyong is the first girl's secondary school in Cameroon having been founded in the 1950s. It was created by Catholic reverend sisters and it has been an edifice of academic and moral excellence. It is a reputable college and is regarded as the cradle of girls' education in Cameroon having produced the likes of the present Minister of Secondary education, Prof Nalova Lyonga, Chief Justice Florence Arrey, award-winning musician Daphne and many more.
Videos and pictures seen by this reporter showed a huge flame coming from the dormitory section of the school. Flames could also be seen coming from the beds where the children sleep. Meantime, pictures showed the remnants of burnt beds, with the roof of one of the buildings completely brunt down. No report of casualty has been reported.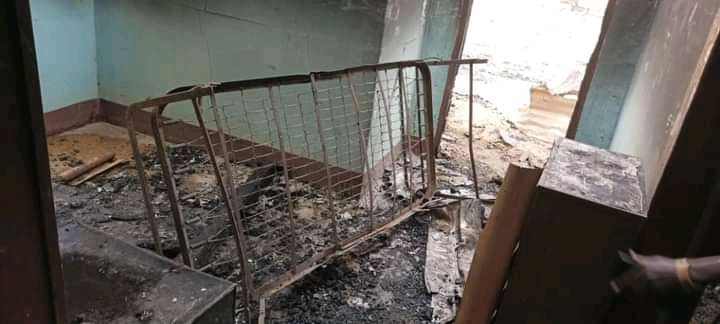 "The school was not completely brunt down, just the dormitories where the children sleep were those guys set ablaze," one of the former students of Queen of the Rosary College Okoyong who we will call Lucy, not her real name told PAV.
"The children did not recover any of their belongings; they had to call their families to bring dresses from them. When the incident happened, the children ran to the convent for refuge. They were sleeping when those guys started burning their dormitories."
Queen of the Rosary College is located a few kilometres from the town of Mamfe and gives Cameroonian girls quality integral education for responsible womanhood. The school opened its doors on April 28, 1956, and effective classes are set to have begun on May 4 that year with just 26 students. QRC started as a comprehensive college and offered subjects such as religion, cookery, housecraft and others.
The school is said to have some four dormitories with modern-day facilities attached to it like a refectory accommodating all students as well as a spacious assembly hall and a chapel for worship. There are also science, a sickbay, staff quarters and other facilities.