Becoming The Preferred Ghanaian Yoghurt Brand
By Mariam Naa Dedei Aryeetey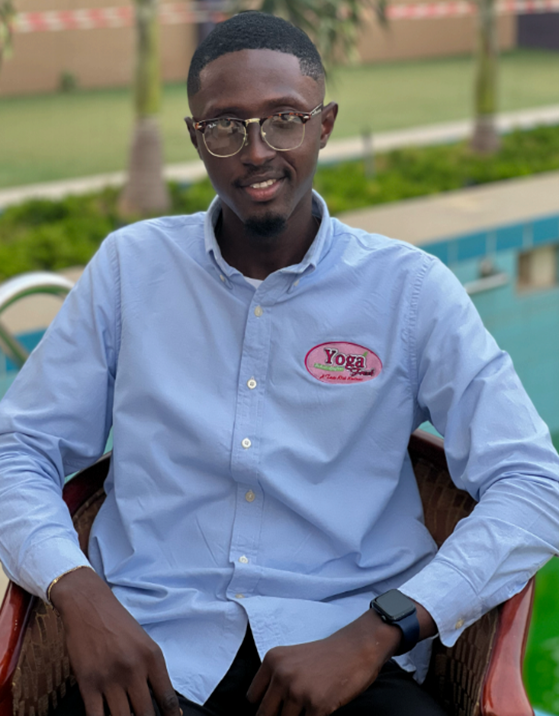 Sampson Boakye Addei is a Ghanaian Entrepreneur and the C.E.O of Yoga Business. Mr. Addei originally hails from Asamankese in the Eastern region and Kumasi in the Ashanti region. He was however born and bred in Ghana's capital Accra. Sampson had primary education at Dieudonne International School and then went to Kumasi Academy for his secondary education.
Mr. Addei is currently a graduate from the University of Cape Coast, Ghana with a bachelor's degree in Geography and Regional Planning. He had his National Service with the Ghana Lands Commission after tertiary education. Sampson Boakye Addei is a compassionate, hardworking and outgoing person that loves hanging out with family and friends.
From humble beginnings
The inspiration to produce yoghurt came about from an encounter with a Yoghurt Vendor who encouraged him to explore the market due to its potential to generate income. His sense of adventure and entrepreneurial spirit drove him to consider the business prospects of the idea which made him drop out of tertiary school in third year to learn yoghurt production. With that advice and dream of becoming a successful Entrepreneur, he converted one room in his mum's house; a two bed apartment into a yoghurt production hub. He later formed an ambitious team who believed in the vision and expanded further till they moved production out of his mother's house.
'I have an enterprising spirit and am amazing team which makes our work much easier. As a man of the people, philanthropy is a hallmark.'
The first two years of operations was tough because they incurred losses but the contributions of team members with support from his dad kept the business afloat. The first major losses incurred by the business was the fermentation of all 500 bottles of yoghurts in a day, due to inadequate storage avenues and limited knowledge about preservation. One incident he will forever remember he was tagged 'Yoghurt Wura' (Yoghurt Seller) by some friends. The teasing rather challenged the team to go the extra mile to see this venture succeed. His cousin (General Manager) and his close friend (Marketing Manager) have both been exceptionally supportive right from the inception of the company. Their belief in him made it easier for them to buy into the idea and invest into the business. Even with our unique brand, we faced some challenges breaking into the market initially because of competition but with time, our customers have come to love Yoga Fresh and have helped us to establish networks and marketing channels.
Yoga Business Group currently has forty (40) employees and thrives on relationships and networking to promote the business. He associates the smooth running of operations to the existing harmony among the core team members. The company thrived during the COVID lock down, by employing social media and personal delivery channels to customers. They are also producers of bleach, disinfectants, antiseptics and liquid soaps. Their products can be found in numerous marts and shops across Ghana.
The company is looking to expand its market share by adding other products like bottled water and flavored drinks soon in to the market.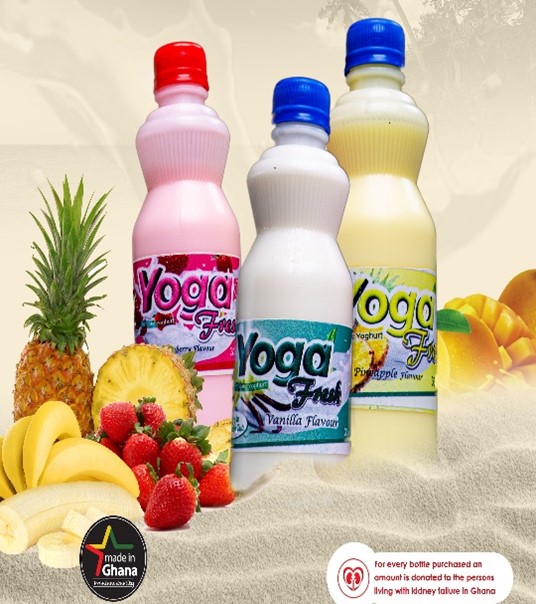 Yoga Fresh can boast of low sugar content, good pricing and better taste. The product has a life shelf of two months but should preferably be served cold. The business does not only focus on sales but donate a percentage of their revenues to charity homes, hospitals and other avenues.
Recipients of their charity donations include the Korle bu Teaching Hospital Renal Unit, amongst other charity homes. Yoga Fresh can be has a page on Instagram at yogafreshgh
Mr Addei prides himself to be his ability to meet expectations of all around him. Sampson is a passionate young man who believes in providing value to society and i's Hero especially in Entrepreneurship is his own dad His advice to all. He would like to take this opportunity to extend his sincerest gratitude to all employees of Yoga Business Group, his family, friends and customers who continue to stay loyal to the brand
His advice to all young Entrepreneurs is that, they should remain focused, work and build formidable teams that will expand their visions into the much desired companies.