UN-Habitat and partners give Kenyan government officials real life bicycling experience
The event was aimed at inspiring the officials to recognise cycling as an adequate mode of mobility for the capital city as well as equipping them with an understanding of the challenges and opportunities for cyclists.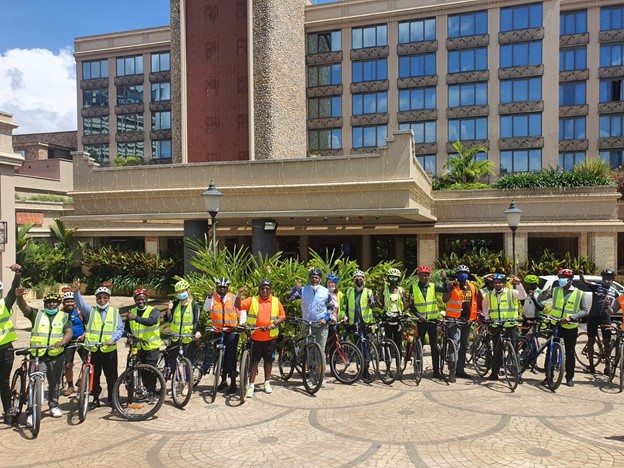 UN-Habitat, in collaboration with the Institute of Transportation and Development Policy and Critical Mass Nairobi recently organised a bicycle ride for government officials in Kenya.
Street Design Manual for Urban Areas in Kenya
 in January next year. "Change is inevitable, and I foresee a Nairobi and other major urban areas as cycling towns. I am your champion!" concluded Hinga his remarks. With support from the International Climate Initiative supported 
Growing Smarter
 and 
Urban Pathways
 projects, UN-Habitat is advocating for decongesting cities through promoting walking and cycling as attractive, safe and inclusive forms of mobility. During the workshop, all participants acknowledged the shortage of non-motorised transport infrastructure and the poor safety of cyclists. They all agreed on the fact that government should make pedestrian and cyclist lines mandatory for all road (existing, un-construction and future roads).
*Source
UN Habitat
The event was aimed at inspiring the officials to recognise cycling as an adequate mode of mobility for the capital city as well as equipping them with an understanding of the challenges and opportunities for cyclists.  The ride brought together some 30 people who cycled together on an 8-km stretch to experience the existing bicycle lanes. The event was led by Charles Hinga, Principal Secretary, State Department of Housing and Urban Development, Ministry of Transport, Infrastructure, Housing and Urban Development & Public Works with attendance from various other government agencies including the Nairobi Metropolitan Area Transport Authority (NaMATA), the Kenya Urban Roads Authority (KURA), the Kenya National Highways Authority (KeNHA), and Nairobi Metropolitan Services (NMS). The cycling on Ngong Road, Kilimani Ring Road and Dennis Pritt Road observed good and challenging designs of cycle lanes that the state actors noted for action at policy and regulation levels. The bicycle ride was followed by a workshop at Serena Hotel, in which participants were invited to share reflections. "The cycling experience was very refreshing, and I must say that I am a convert now. It is a very practical way of having this conversation, rather than just sitting in boardrooms because today we have experienced different cycling designs. Now that we have experienced the designs first hand, we can go and do some design review – and truly make a commitment" shared Hinga.  Vincent Kitio, Urban Basic Services Section, UN-Habitat emphasised that "there are large numbers of people walking in Nairobi and cycling could make it easier for many of these to reach their destination, for example schools or work places." The event provided a platform where local cyclists had a chance to meet the decision-makers, which resulted in exciting conversations. Cyprine Mitchell, founder of Critical Mass Nairobi, emphasized to the policy-makers that "when you wear a shoe, you know where it pinches. When you design a road and you don't experience the road the way the end user will experience it, you will never get to understand the challenges the end user actually faces." The government urged UN-Habitat and partners  to engage further on sustainable urban mobility in Kenya's urban areas and also committed to endorse the