South Sudan President's Salva Kiir Mayardit seeks special support from President Mnangagwa , fumes over UN Arms Embargo ,sends special envoy
By Nevson Mpofu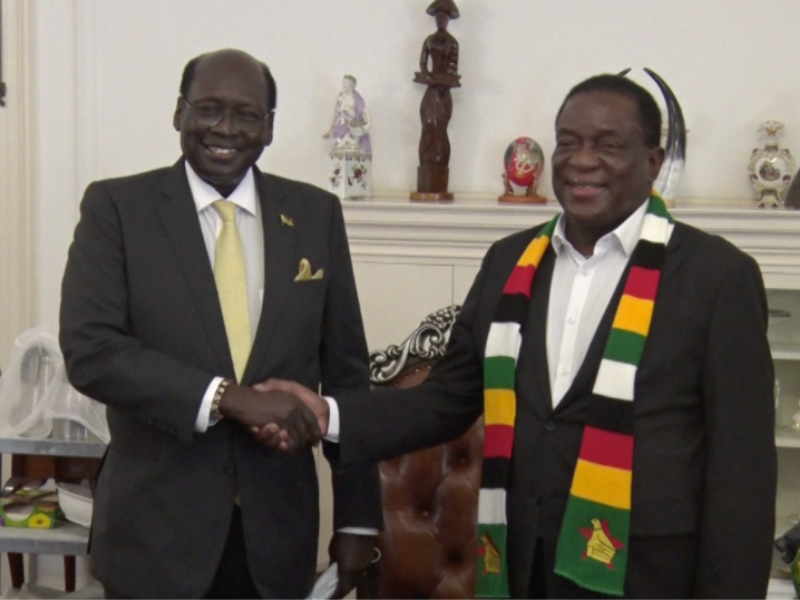 President Salva Kiir Mayardit on Monday 10 January sent an envoy standing as plenipotentiary to President Mnangagwa with a special letter meant to create mutual relationships after spelling out the outstanding case of the arms embargo.
South Sudan is currently reeling and seething with anger over the arms embargo and some restrictions passed on it by the United Nations Security Council in 2018 when the peace pact was signed. The special envoy Barnaba Marial Benjamin delivered a request to President Mnangagwa which asks him to play a special role on removal of an international arms embargo imposed on South Sudan in 2018.
Benjamin who is the Presidential Affairs Minister paid a courtesy to President Mnangagwa at State House in Harare early this week with pleasure of joy from President Mnangagwa . His visit is on the sidelines of discussions on strengthening diplomatic relations and economic co-operation.
Addressing journalists Barnaba Benjamin fumed over the issue of arms embargo by the United Nation Security Council. He stressed out that the embargo was the main reason among some political and economic why President Kiir sent him to Zimbabwe. . he said seething with anger that the arms embargo has frustrated the country efforts to implement peace pact signed in 2018 to end the civil war
'' I am here as an envoy with a special letter from the president of South Sudan to deliver it to the President of Zimbabwe His Excellence Emmerson Mnangagwa .
'' We seek support from President Mnangagwa through institutions like SADC, AU and UN to look at this issue. UN has had an arms embargo on South Sudan since 2018 ''.
'' We are frustrated this has had an impact on us as a nation. We are still stressed as we try to move on making peace a vision of the day.
''Peace Agreement requires unified army. Now its impossible because of the arms embargo imposed on us by the UN Security Council ''
'' Arms embargo has posed severe difficulties for us as a country to implement a peace pact signed in 2018.''
''We have trained 53,000 troops now because of the arms embargo we are not able to procure arms needed. This hampers peace process implementation.''
However he and his country on behalf of President Salva Kiir congradulated President Mnangagwa on his 2018 election victory and his leadership which he said is seen changing the country.
''Congratulations on your 2018 election victory and good well respected leadership. We also thank you for helping us in the liberation struggle of South Sudan
''We thank you again for our 150 students who graduated from universities in Zimbabwe. We shall invest in Education and Trade.
South Sudan has invited President Mnangagwa to visit the country. His task is to foster solidarity and Pan-Africanism.
'' We hereby invite the President of the Republic of Zimbabwe His Excellence Emmerson Mnangagwa to visit South Sudan and foster solidarity and Pan-Africanism ''
''President Salva Kiir has been pressed with a lot of issues since the time Zimbabwe attained new leadership under President Mnangagwa .
UN Security Council is under fire in South Sudan to end an Arms Embargo and restrictions which is cause of concern frustrating peace pact of 2018. The country has been in human rights violation record since 2013 when the civil war began.