President Museveni sends an envoy with a special message to Rwanda's President Kagame ….but little is expected still
By Jean d'Amour Mbonyinshuti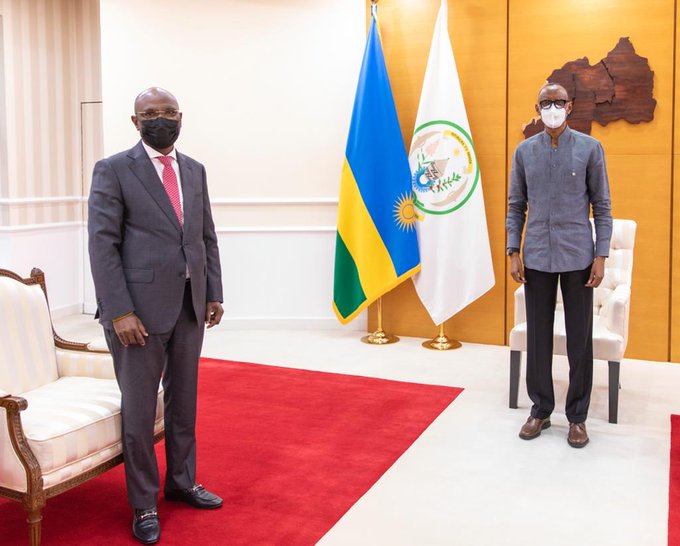 President of Rwanda Paul Kagame on Monday 17, January 2022 received in his office a special envoy Ambassador Adonia Ayebare from Uganda who was said to have brought a special message from Ugandan President Yoweri Kaguta Museveni.
The Monday official visit was announced by the Ministry of Foreign Affairs (MINAFET) on its twitter handle.
"H.E president Paul Kagame today received Ambassador Adonia Ayebare who delivered a message from H.E President Yoweri Museveni," reads a tweet posted on twitter with no details of what was the message.
The Visit by Ambassador Ayebare, who is the Uganda's Special envoy to UN comes as Lt. General Muhoozi Kainarugaba, the first son of president Museveni posted a picture of President kagame and warned anyone with intentions to attack him as he will be attacking a family member.
"This is my uncle, Afande Paul Kagame. Those who fight him are fighting my family. They should all be careful." General Muhoozi tweeted on Monday Morning.
But for Rwanda, words and a tweet won't solve any problem until a tangible solution is sought on the side of Uganda.
Rwanda has accused Uganda, its longtime ally of having turned against it and started abetting and supporting the terrorists groups especially RNC which is led by Lt. General Kayumba Nyamwasa and has been accused of destabilizing Rwanda.
Rwanda also accuses Uganda of torturing Rwandans living in Uganda illegally evicting them from its soil.
On the other hand, Uganda accused of Rwandans on its soil of spying Uganda which it says it should stop.
Issues of Rwanda-Uganda bilateral relations started in 2017 and borders have been closed since except for trucks ferrying good and air transport. Rwandans were advised not to cross to Uganda or else they do it on their cost.
Commenting on the visit, Yolanda Makoro said that such visits have never yielded results and called on tangible actions as well as accountability.
  "Good to see talks continue at all levels, but meetings & envoy visits have not led to tangible results on Uganda's part. Still no accountability for terrorist elements operating against Rwanda inside Uganda, and harassment of innocent Rwandans continues," said Yolande Makoro, the government of Rwanda's spokesperson.
Commentators said that countries should seek what unite them than what separates them and called on leaders of both countries to take action and end rows.
"African people must unite against foreign aggression,we must focus on content and what brings us together than what separates us. These processes must be supported by all compatriots," said Diplomat/Security Policy Advisor(AU)
"Borders have never been an issue! If Rwandans are not welcome in Uganda, what would be the purpose to open the borders? Until Uganda stops supporting RNC and other terrorist groups, harassing Rwandans living there or visiting, our borders remain closed, period," said Mwiza Josy, a concerned Rwandan.