Kenyan police celebrates expert who has transformed security sector
By Samuel Ouma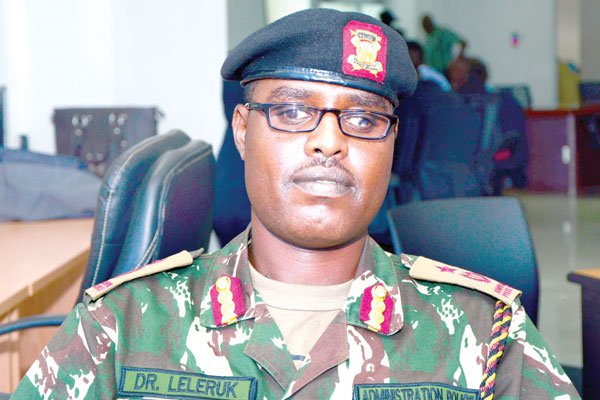 Dr. Mark Leleruk, PhD, OGW, HSC, is an Assistant Inspector General of Police (AIG) who is currently deployed as the Director, Enforcement Services at the Nairobi Metropolitan Service.
A distinguished scholar, Dr. Leleruk, PhD earned his Doctorate in Diplomacy and Peace Studies from Laikipia University, Master of Arts in Armed Conflict and Peace Studies from the University of Nairobi and a Bachelor of Arts in Community Development from Catholic University under the Administration Police Service /Tangaza College Scholarship.
The renowned peace ambassador has trained locally and globally, acquiring immense knowledge and professional skills in policing.
He undertook various courses, including Police Management Courses and Strategic Leadership Development Course at the Kenya School of Government. In addition, Dr. Leleruk, PhD, attended a Post Graduate Peace Support Operation Course in Vincenza-Italy, Leadership Course in Washington DC-USA, International Law Enforcement Course in Botswana and Peace Keeping Operation Command Course at Rwanda Peace Academy.
The dedicated and hardworking security expert enlisted in the National Police Service and graduated as a Police Constable.
He earned his promotion to the ranks of Corporal, Sergeant, Inspector, Chief Inspector, Superintendent and Senior Superintendent of Police.
As a result of hard work, commitment and devotion to duty, he was promoted to the prestigious rank of Assistant Inspector General of Police.
His illustrious policing career began at the National Police College – Embakasi 'A' Campus, formerly known as APTC, where he performed exceptionally well as an elite trainer.
He was deployed as the Coordinator Peace-Cop in the Rift Valley Region, where he successfully implemented the multi-agency approach and embraced Community Policing Concept to prevent and manage various conflicts in the vast region.
In recognition of his advanced academic prowess, Dr. Leleruk, PhD, was seconded to Egerton and Laikipia Universities as a lecturer in Military Science, Diplomacy, Peace Studies, and Foreign Policy. He was also tasked with the supervision of postgraduate students from various Universities.
He later served as the Director at a department he founded at the National Police Service Headquarters, the Peace-Cop.
In his endeavour to prevent conflicts and promote peaceful coexistence among the communities, Dr. Leleruk, PhD founded the Peace-Cop program in 2005.
The initiative encompasses an early warning mechanism designed to predict and mitigate risks to peace and security. It involves the installation of Uniformed Peace Monitors across the country who provide situational alerts to Commanders in their respective areas.
The program has immensely contributed to Kenya's peace-building, humanitarian, and developmental engagements.
It is a transformative and proactive policing initiative that promotes a positive relationship between police and the public by enhancing trust and confidence.
He is also actively involved in action-oriented research at Social Ministry Research Network Centre in Nairobi. Dr. Leleruk, PhD, has continuously spearheaded partnerships for peace and Community Safety Initiatives along the Amaya Triangle that brings together the Counties of Laikipia, Samburu, Baringo and Isiolo to adopt a sustainable policy towards addressing common challenges, particularly on insecurity and resource conflicts, among others.
In recognition of his devotion, initiatives and exemplary service, Dr. Leleruk, PhD, was conferred the Order of the Grand Warrior of Kenya (OGW) and Head of State Commendation (HSC) awards.
"As the National Police Service (NPS), we take pride in Dr. Mark Leleruk, AIG, PhD, OGW, HSC, as an epitome of success to professional and transformative policing," said the National Police Service.
"His virtues of hard work and dedication to duty inspires fellow police officers, while the unwavering commitment to the pursuit of justice, promotion of peaceful coexistence among communities, and enforcement of law and order has immensely contributed to the maintenance of peace and security in Kenya."