IN ITS ENDEVEOUR TO PROMOTE EQUAL EDUCATION OPPORTUNITIES, CANON PARTICIPATES IN WORLD MAJLIS EVENT 'EQUIPPING YOUTH TO THRIVE: RETHINKING EDUCATION FOR A WORLD OF CHANGE' AT EXPO 2020 DUBAI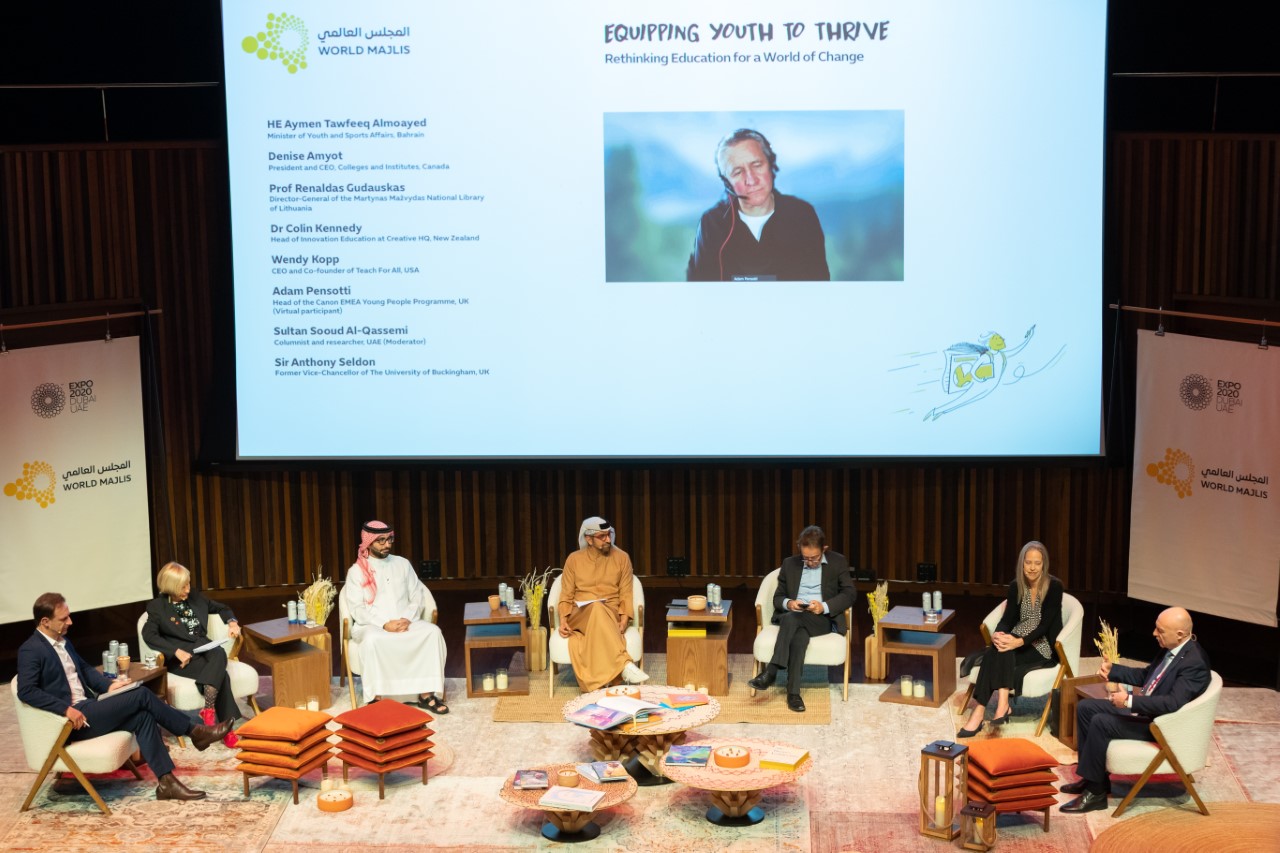 In alignment with the company's core pillar of empowering youth through education and learning opportunities, Canon joined in at the World Majlis conversation around 'Equipping youth to thrive: Rethinking education for a world of change' at Expo 2020 Dubai with Adam Pensotti, Head of Canon EMEA Young People Programme as a key contributor for the company
Canon is the Official Printing and Imaging Provider of Expo 2020 Dubai taking place from 1st October 2021 until 31st March 2022
Dubai, United Arab Emirates, January 12th 2022: Canon highlighted its commitment towards empowering children and youth by providing equal education and learning opportunities at Expo 2020 Dubai by being an active contributor in the conversation led by World Majlis on exploring the full breadth of possibilities in learning in the age of the fourth industrial revolution.
The esteemed panelists at this educational session of Expo's programme for people and planet included HE Aymen Tawfeeq Almoayed – Minister of Youth and Sports Affairs for the Kingdom of Bahrain, Denise Amyot – President and CEO at Colleges and Institutes in Canada, Prof. Renaldas Gudauskas – Director-General of the Martynas Mažvydas National Library of Lithuania, Dr. Colin Kennedy – Head of Innovation Education at Creative HQ, New Zealand, Wendy Kopp – CEO and Co-founder of Teach For All, USA along with Adam Pensotti, Head of Canon EMEA Young People Programme, UK and Sir Anthony Seldon, former Vice-Chancellor of the University of Buckingham, UK. Moderated by Sultan Sooud Al-Qassemi – a leading columnist and researcher based in UAE, the session dwelled deep into the steps and actions needed to enable and empower young people for the future by rethinking the how, where and why of education.
STUDENTS AT THE HEART OF EDUCATION SYSTEM
The COVID-19 pandemic ushered in a new era of remote education, something that existed before but was heavily under-utilized as a means of spreading education. Even before the virus struck, UNICEF estimated that by 2030, 825 million children in low- and middle-income countries would reach adulthood without the skills they need to thrive in work and life. A staggeringly shocking figure, which makes up half of all young people on the planet. When asked about what constitutes as features of high-quality learning today, panelist Dr. Colin Kennedy responded, "We must place students at the heart of the entire system and listen to their voice, perhaps it is not just the learning that needs to evolve but also the teaching methods, we need to adapt the teaching techniques to suit the audience of today."
APPLIED LEARNING – EMPOWERING PROFESSIONAL PATHS
Speaking on the same note, Denise Amyot said "It is essential to tailor the learning to the needs of the labor market and to identify practices that are culturally and socially relevant today. Educators must devise applied learning systems that allow students to learn what they deem necessary and then be able to put that into their professional practice. In Canada, we provide vocational training courses basis this philosophy and so far, it has worked wonders in elevating the life of students without adding unnecessary stress and complications."
BRIDGING THE GAP – EQUAL EDUCATION TO ALL
Elaborating on how equal education can be accessed by those in vulnerable situations with lesser opportunities, Adam Pensotti remarked, "The central reason why we started Canon's Young People Programme in the first place was to tackle this challenge of providing good quality learning opportunities to those that need it the most, young people from deprived backgrounds and communities in developing regions. Bridging this gap is one of our essential aims and we must leverage hybrid learning opportunities to close this gap."
BESPOKE EDUCATION FOR BETTER RESULTS
Our world is changing rapidly yet the ways we educate, inspire and equip our children today remains largely a legacy of the first industrial revolution. However, the state of Bahrain has implemented a 'Tertiary Action Plan' to achieve a breakthrough in this area. Shedding light on the plan, HE Aymen Tawfeeq Almoayed said, "We can look at the other industries and how they have evolved in becoming bespoke except education and thus we wanted to take a step in that direction. Although, we need to play to the strengths of teachers in order for them to be able to do their jobs at best, some teachers are good at remote teaching whereas some perform better in a class-room set-up, hence we need to identify the strong points of those leading the students and play it to our best advantage in coaching the generation of tomorrow."
ACTIVE, HOLISTIC, INCLUSIVE, LIFE-LONG – FACETS OF HIGH-QUALITY LEARNING
Echoing the voice of other panelists, Sir Anthony commented, "There are four key characteristics we must embrace in our educational systems. The first being 'Active Education' where students are actively involved by various ways of engagement rather than having a passive or inert system that does not place importance on a student's level of engagement or contribution in the learning space. The second significant characteristic is providing a holistic learning experience that not only places emphasis on the matters of head but also the heart. The last two features being inclusivity and life-long continuation of learning. The definition of a great life is when you are able to learn as much on your last day on Earth as you are on your first day here. We must put sustainability at the heart of our teachings and leverage technology and AI to create a better world for all."
EMBRACE DIGITAL TECHNOLOGY TO ELEVATE LEARNING
Integrating digital infrastructure can speedily transform the educational landscape in a country as exhibited by Lithuania. The country has set a pioneering example for the rest of the world to follow when it comes to embracing technology and innovation for enhancing our learning systems. Speaking on the matter, Prof. Renaldas Gudauskas said, "It is indeed true that we have made a great deal of progress by really enabling technology in empowering our efforts in the areas of sustainable learning. We must also look at libraries as a space for on-going development and life-long learning where people can interact, engage and learn."
CHANNEL CREATIVE ENERGY TO TEACH
Highlighting the importance of channeling creative energy in the education sector, Wendy Kopp said, "Our education system at the moment still remains primitive whereas everything else right from the challenges we face today to the solutions that are needed has changed drastically. We are still stuck in learning structures that were conceived decades earlier, it is vital that we modify this to meet the demands of the future. This is the main reason why at 'Teach for All' we motivate talented creative people to opt for education as a professional path as that's where we can make the difference at a grass-root level, by creating an equitable structure where students can learn to navigate the uncertainties of tomorrow."
STEAM NOT STEM
On that same note, Adam from Canon commented, "There is a fundamental problem with our education system right now, we are not evolving it to cater to what is happening at present. What I learned in the school was pretty like what my father learned in his days and unfortunately my children today are learning the same. That is a case in point of how dysfunctional our learning set-up is, another arena we need to highly focus on is arts. People often talk about STEM which stands for Science, Technology, Engineering and Mathematics but today we need to make it STEAM to include that A for Arts. We must empower the children to use their creativity especially in today's context of developing a sustainable world for all. Through Canon's Young People Program, we have been able to not only create a meaningful difference in the life of these young people but also kindled hope for a better future."
The panelists further went on to discuss the innovative and creative ways in which change, and reform can turn the face of the education sector to emerge as a truly inclusive, holistic and sustainable force for the future.
Click here to watch the full session!
About Canon Central and North Africa
Canon Central and North Africa (CCNA) (Canon-CNA.com) is a division within Canon Middle East FZ LLC (CME), a subsidiary of Canon Europe. The formation of CCNA in 2015 was a strategic step that aimed to enhance Canon's business within the Africa region – by strengthening Canon's in-country presence and focus. CCNA also demonstrates Canon's commitment to operating closer to its customers and meeting their demands in the rapidly evolving African market.
Canon has been represented in the African continent for more than 15 years through distributors and partners that have successfully built a solid customer base in the region. CCNA ensures the provision of high quality, technologically advanced products that meet the requirements of Africa's rapidly evolving marketplace. With over 100 employees, CCNA manages sales and marketing activities across 44 countries in Africa.
Canon's corporate philosophy is Kyosei – 'living and working together for the common good'. CCNA pursues sustainable business growth, focusing on reducing its own environmental impact and supporting customers to reduce theirs using Canon's products, solutions and services. At Canon, we are pioneers, constantly redefining the world of imaging for the greater good. Through our technology and our spirit of innovation, we push the bounds of what is possible – helping us to see our world in ways we never have before. We help bring creativity to life, one image at a time. Because when we can see our world, we can transform it for the better.
Media enquiries, please contact
Canon Central and North Africa
Mai Youssef
APO Group – PR Agency
Rania ElRafie