Growing Fears Of Another Rwanda-Uganda Clash In D.R.Congo
By Maniraguha Ferdinand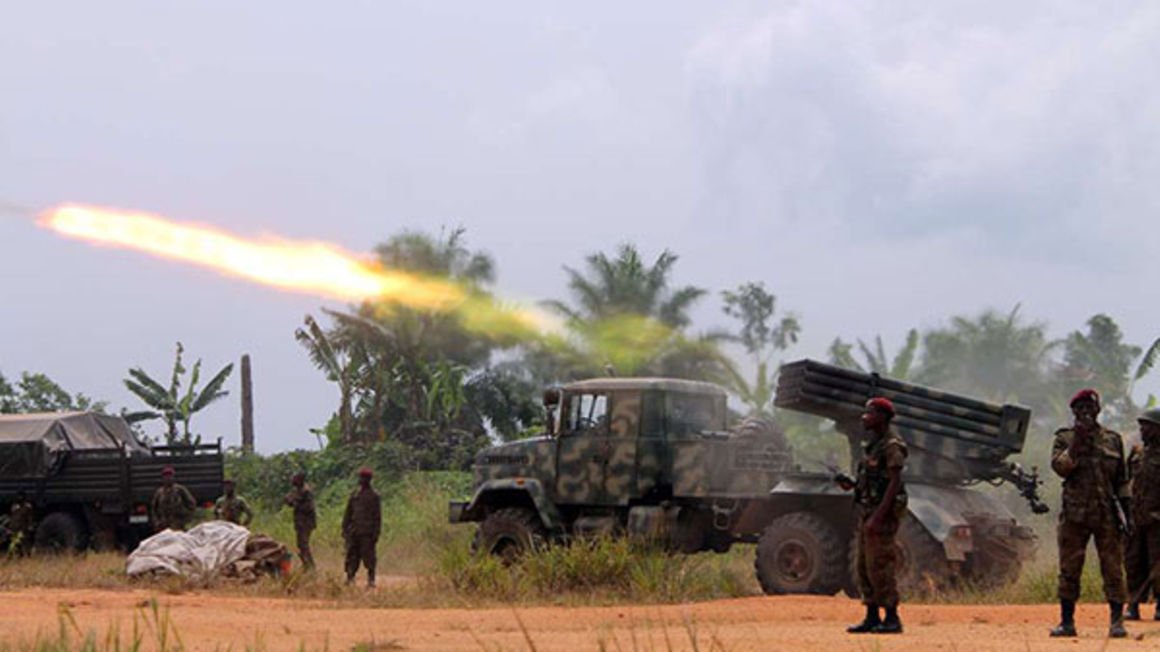 Fears are growing that the new great Congo war may be looming after Ugandan armed Forces (UPDF) have been deployed in Eastern Democratic Republic of Congo to fight Allied Democratic Forces (ADF), a former rebel group turned a terrorist organization.
The Ugandan army entered Congo in early December 2021 after multiple terrorist attacks which  hit Kampala since October.
It is feared that Uganda may clash again with Rwandan army in Congo after feuds that has distanced once old friends since 2017.
Rwanda and Ugandan army clashed on this land, in Kisangani city two decades ago. By Then each was backing a different faction of the RCD rebel group. Each side lost dearly.
Early December, Rwandan spokeswoman, Yolande Makolo admitted to RFI that Government is following closely, UPDF activities in Congo.
She didn't elaborate much but analysts started fearing that Rwandan army (RDF) may also enter Congo if felt threatened by UPDF presence.
A veteran journalist, Marc Hoogsteyns who covered East Africa for more than 25 years recently wrote that Ugandan entry into Congo may cost the world another great war.
Hoogsteyns urges that UPDF may divert from its first mission once in Congo and tries to equip rebel groups made of Rwandans operating in that great country so that they prepare to attack Kigali.
Rwanda has been accusing Uganda of supporting those groups such as P5 of former  Army Chief of staff, General Kayumba Nyamwasa, FDLR among others, though Kampala kept denying wrongdoing. Kampala also accused Rwanda of supporting ADF though the latter recently caught planning attack against Kigali. No independent body has been able to verify accusations.
"The drums of a bigger war in the Kivu's are beating louder and louder every day", said  Hoogsteyns.
Both Rwanda and Uganda have signed security related agreements with Congo, including those that could allow them deploy forces if needs be, to fight insecurity in Congo.
It is in the fulfillment of  President Felix Tshisekedi's promise to the people of the East who have suffered insecurity for over 25 years.
Brian Mukalazi, the Country Director of Every Child Ministries Uganda recently wrote an opinion piece, where he said that animosity between Rwanda and Uganda cannot put Rwanda at ease when Uganda is nearby in Congo.
"Given their rising animosity, these two countries, if both are invited into DR Congo, could spell doom for DR Congo and the entire Great Lakes region. For decades, DR Congo has been used as a fertile ground for breeding rebel activities and some of the rebel groups are said to be backed by DR Congo's neighbours", he wrote.
However, Uganda is confident that it will not fuel animosity with Rwanda, since the southern neighbor had been briefed before UPDF cross to Congo.
"The beauty is that Rwandans know what is happening on the ground. They have good intelligence and I am sure they have intelligence on the ground. I don't think it is in Rwanda's interest to confront the UPDF at this particular time", Uganda's State minister for International Affairs Henry Oryem Okello assured.
Early 2020, President Paul Kagame vowed to backfire if anyone tries to burn his 'house'.
"When you have so many grass-thatched houses next to each other, you don't want to play games of throwing fire because you might get burnt too", he said.
"So for us we don't play those games of setting fire to other people's homes. But we invest ourselves and everything we have in trying to make sure that our homes and houses are well-protected, that they don't catch fire easily. And make sure that whoever wants to set fire to our houses will do it at a very huge cost to himself", he added.
UPDF together with FARDC (Congolese army) have been boasting victories over ADF since December, and Rwanda is yet to announce if UPDF activities threaten its security.
**Culled from January Issue of PAV Magazine