Centre for Science and Environment to conduct online guidance training on clean air action planning for African cities
By Wallace Mawire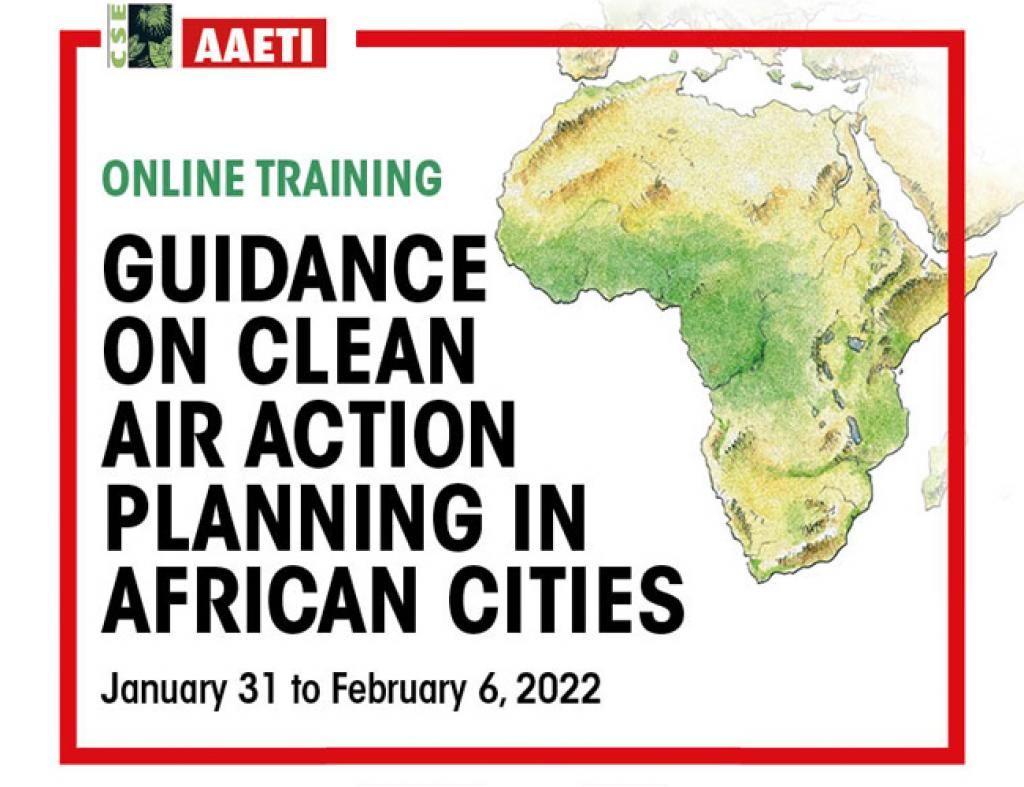 The Centre for Science   and Environment (CSE) will on January 31 to February 6, 2022 conduct an online guidance training programme on clean air action planning for African cities.
According to Priyanka Chandola,Programme Manager,Clean Air and Sustainable Mobility Programme for Centre for Science and Environment in  New Delhi in  India air pollution is the fourth leading risk factor for premature deaths globally.
It is reported that particulate pollution is a serious concern as over 90% of the world's population live in areas exceeding the PM2.5 WHO guideline.
It is added  Africa is also in the grip of particulate pollution as it reports the highest annual average PM2.5 exposure.
'With limited air quality monitoring and management higher daily exceedance poses a challenge in African cities,' Chandola said.
It is added that this has made it necessary for the national and city governments in the countries of Africa to prepare and implement a clean air action plan for time bound improvement in air quality even as their economy is growing.
CSE adds that rapid urbanisation, motorisation and sprawls are making African cities victims of killer pollution and congestion that threaten to destroy quality of life.
It is added that clean air action planning and implementation is  imperative for cities.
CSE recommends the  need to improve air quality monitoring and data analytics to estimate air quality trends, assess health risk, identify key pollution sources and implement pollution source-wise strategies to meet the clean air target.
It is said that a range of strategies will have to be designed and developed including air quality monitoring and management, clean vehicle technology and fuels roadmap, reduction of  importation of used vehicles, in-use vehicles emissions reduction, protecting  sustainable travel modes such as non-motorised transport (NMT)  through  walking, cycling and informal and formal bus transport and vehicle restraint measures such as parking policy to reduce travel demand and address industrial pollution.
CSE, a New Delhi, India based public interest research and advocacy organisation  has been researching and building capacity for air quality management and clean air action plans will be offering  online self-paced  training to provide guidance on clean air action planning and build knowledge and regulatory capacity of officials from concerned departments and agencies in the African countries.
It is reported that the training represents an initiative to promote good regulatory practices, facilitate exchange of ideas, build knowledge and strengthen capacity in countries of the Africa region to address the emerging challenge of air quality monitoring and management.
Topics to be covered include understanding urban air quality and public health challenges, strategies to strengthen air quality monitoring and adoption of new generation approaches including low cost sensor based monitoring and remote sensing based air quality assessment, understanding pollution source inventory and source apportionment, preparation of pollution source-wise clean air action planning, designing of specific strategies related to clean vehicle technology and fuel quality roadmap including vehicle import policy and towards zero emission vehicles, planning for sustainable transportation systems including NMT, informal and formal bus transport and vehicle restraint measures including parking policy, mitigation strategies for industrial pollution such as clean technology and clean fuel strategies for big and small scale industry, waste management strategies for controlling emissions from waste burning, strategies for dust control with special focus on construction and demolition.
Also according to CSE, as the Global South battles the impacts of air pollution, it is highlighted that there is considerable interest in understanding how countries in Africa are preparing to take on the challenge, as well as what they can learn from each other and from other nations in the Global South.
CSE has also previously organised an online network conversation to understand what Africa is doing to tackle the challenge of toxic air pollution.This was a part of CSE's initiative towards carrying forward multi-stakeholder discussions on finding solutions to air pollution that are of common interest to the nations of Africa.
CSE has also set up a Pan-Africa Network on Clean Air Solutions that brings together key regulators from different countries of Africa to foster knowledge-sharing, cross-learning and South-South experience-sharing on emerging good practices in the Africa region.
The conversation  helped participants to  understand the challenges the region is facing, especially the implications of the pandemic and economic slowdown for air quality improvement, as well as the progress on ongoing initiatives and the ones undertaken in the post-pandemic times to bring in change as part of the new normal agenda.
It is reported that already, many parts of Africa are on their way to adopting new policies and strategies for air quality management, emission standards roadmap, fuel quality improvement, restraining old vehicle import, improving public transport, walking and cycling, car-free zones and pedestrianisation.
The conversation focused  on strategies related to clean vehicle technology and fuel quality roadmap, vehicle import policy to reduce second-hand vehicle imports, mobility transformation and electric mobility.
This experience-sharing interaction sought to inform on progress and action to be taken further.