Cabo Delgado: A Stage Of The Long Battle To Defend The Sovereignty Of Mozambique, And SADC
The battle for Mozambique's sovereignty is becoming increasingly complex as soldiers from the country and the SADC region have fallen in battle in Cabo Delgado province, where terrorists linked to the self-proclaimed Islamic State are carrying out bloody attacks that have killed nearly 4,000 people, including members of the Defense and Security Forces and civilians. In the fight, despite the fact that the Mozambican forces have the support of SADC, Rwanda, and the South African military company Paramount, the terrorists are still active. In October 2021 it was four years since the first terrorist attack in Cabo Delgado and the Mozambican president exhorted, last December, the soldiers in combat to make 2022 a decisive year for the end of terrorist incursions. However, doubts hang over that goal because the terrorists are showing resistance and with a tendency to spread the attacks to other provinces.
By Jorge Joaquim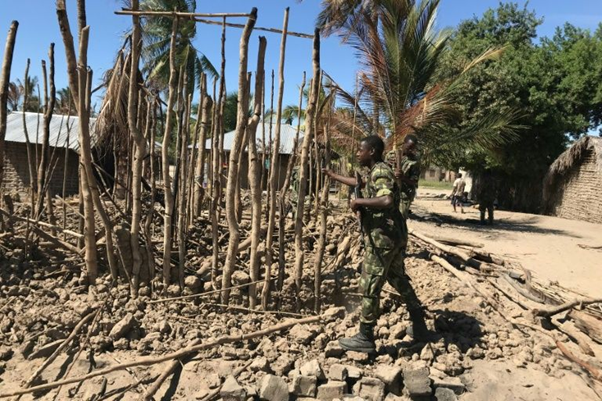 At least one member of South Africa's military was killed on 20 December in fighting between Mozambican and allied forces and terrorists in Macomia district, Cabo Delgado. the deceased soldier was a member of South Africa's special forces — and would be the first member of the special forces to be killed in action in 32 years, since the so-called Border War when apartheid South Africa fought to prevent Angola's and Namibia's independence.
The South African government confirmed the loss in a statement. The South African soldiers were ambushed by insurgents east of the village of Chai, in Macomia, according to a statement from the South African Department of Defence. The soldiers managed to fight through the ambush but were attacked again while waiting for a helicopter to come and evacuate them. "During this incident, an SANDF (South African National Defence Force) member was shot and declared dead on the scene," the statement said.
This is the first SANDF combat death in this mission. However, there's been a lot of loss of joint troops. Heavy fighting between Mozambican and allied forces and terrorists in Cabo Delgado has been reported.
The Southern African Development Community's (SADC) Mission in Mozambique confirmed on 24c  December that "SAMIM forces suffered three casualties," during an offensive around Chai administrative post, detailing "one fatality and two wounded, while Mozambican  forces suffered six casualties," including two fatalities. The Mozambican government confirmed the casuaties for the first time, announcing two soldiers had been killed and four wounded.
One Tanzanian soldier died during an offensive by allied forces that destroyed an insurgent camp south of Chitama, Nangade district, on Saturday, 25 September. Three members of the SAMIM force were injured: two soldiers, also from the Tanzanian People's Defence Force, and one soldier from the Lesotho Defence Force.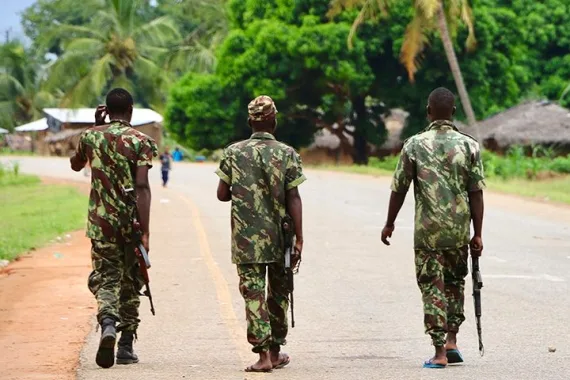 More than 600 women and girls have been kidnapped and enslaved by a group linked to Islamic State in Cabo Delgado province since 2018, says Human Rights Watch. Some of the women and girls have been rescued by Mozambican and regional forces fighting the insurgency, but many are still missing. HRW's report is based on interviews with 37 people, conducted remotely between August 2019 and October 2021. The interviewees included former abductees, their relatives, security sources, and government officials, and monitored media reports about kidnappings. The insurgents "forced younger, healthy-looking, and lighter-skinned women and girls in their custody to 'marry' their fighters, who enslave and sexually abuse them," HRW said. "Others have been sold to foreign fighters for between US$600 to US$1,800. Foreign women and girl abductees, in particular, have been released after their families paid ransoms, HRW said.
However, in In recent days, there have been reports of terrorist attacks in Niassa, apparently carried out by insurgents on the run following the offensive by SAMIM and Mozambican forces.
Niassa: a new stage of attacks
 An officer of the special nature reserve of Niassa province was killed by the terrorists in Naulala village, Mecula district on 20 December. Niassa's secretary of state Dinis Vilanculo confirmed the loss to state-owned TV, adding that the attackers set homes on fire and abducted some of the villagers. Vilanculo also said that Mecula town was now hosting approximately 3,000 people who had been forced out by the attacks.
President Filipe Nyusi has told people not to panic over recent terrorist incursions in Niassa province, promising that the Defence and Security Forces (FDS) are already controlling the movements of the insurgents. During his state of the nation address to parliament on 11 December, Nyusi said that the recent movements of terrorists heading north to the Tanzanian border, and westward to Niassa, were a direct result of the pressure being applied by the FDS and its allies, who have captured most insurgent bases in Cabo Delgado province.
However, Nyusi stressed that although the joint operations of the Mozambican army and troops from Rwanda and the Southern African Development Community had made progress in reducing the terrorists' ability to fight, the focus continued to be on cleaning up the areas where terrorists remained. He said that about 200 insurgents had been killed in combat, and named 11 terrorist leaders who had fallen, including Rajabo Faquir, killed on 18 November, "considered the number 3 in their hierarchy". The president dismissed the role of poverty and social inequality in the rise of terrorism in Cabo Delgado, saying that "there is no rational narrative behind terrorist actions. What we are facing is simply banditry."
In fact, the outbreak of terrorist attacks in Niassa province is not surprising. The insurgency's expansion was expected, given the military pressure they experienced in Cabo Delgado. The goal of terrorists is to continue to sow terror within the communities, as well as the dispersion of military forces fighting terrorism in Cabo Delgado.However, The terrorists would not be able to operate in the same way in Niassa as in Cabo Delgado, since the province had no access to the sea, and this would make logistics harder.
Troops from the joint Mozambican, Rwandan and SADC force were seen in certain districts of Niassa province, according to local sources, in an operation apparently aimed at clearing out possible terrorist positions and hideouts. The operation also aimed at preventing terrorists from escaping from Cabo Delgado into neighbouring Niassa.
Speaking to Rwandan state television last week, Rwandan president Paul Kagame said his country's forces had gathered intelligence suggesting that insurgents intended to expand into Niassa province. "Having secured Cabo Delgado, their plan was to take over another — a province called Niassa," he said. Research published earlier this year by Maputo-based think tank IESE found that the insurgency had installed "radical religious cells and recruitment mechanisms outside Cabo Delgado, particularly in Nampula and Niassa.
South Africa's deputy president David Mabuza has said that the possibility of the insurgency in Mozambique spilling into neighbouring states cannot be ignored. He defended the South African government's decision to support Mozambique's fight against terrrorism, saying, "Our involvement in stabilisation efforts in Cabo Delgado is in the country's national interest". Mabuza added that the Southern African Development Community's (SADC) member states needed to cooperate better and to share intelligence to prevent future insurgencies. He was answering questions in the National Assembly, in November.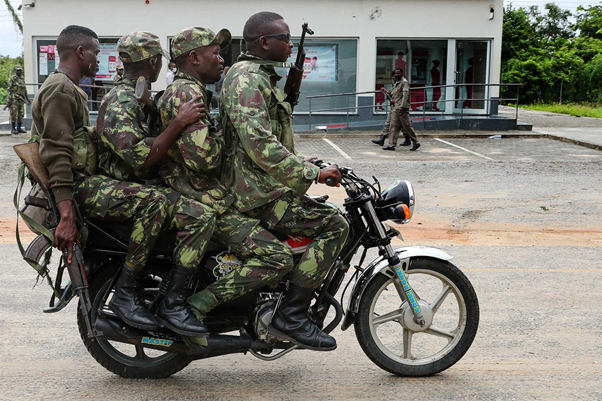 Lacking of a clear combat strategy
Opposition parties Renamo and MDM have complained about the failure of the state intelligence service, SISE, to anticipate the terrorist attacks in the north of the country. Both Renamo leader Ossufo Momade and MDM leader Lutero Simango blamed SISE for neglecting its duty of protecting the country against terrorism, and instead engaging in corruptionl. Some members of the Defence and Security Forces are allegedly charging people in exchange for escorting them along the Mueda – Mocímboa da Praia – Palma route. The charge varies between $63-78 per vehicle. The cost to bus companies of this illegal charging was the reason why the bus fare had gone up for passengers.
Mozambique and Tanzania have been criticised by the United States for failing to respond effectively to terrorism threats. In its annual terrorism report for 2020, the US State Department includes Mozambique in a list of "terrorist safe havens", defined as places where terrorists can operate, recruit and organise relatively safely, due to inadequate government control or political will. "Mozambique does not have a counterterrorism strategy to guide operations, and law enforcement agencies lack the training, equipment and overall capacity… to proactively detect, deter or prevent acts of terrorism."
Tanzania is named as a recruitment and transit point for terrorists and criminal organisations operating in Mozambique. The report said that commanders of the security forces of the two countries had signed a memorandum of understanding about joint counterterrorism operations, intelligence sharing and extradition. Tanzania had also announced the extradition to Mozambique of 516 people arrested in relation to terrorism in Cabo Delgado, it added.
However, the core problem for security provision in Cabo Delgado is that there are few troops in the pro-government coalition and a huge amount of geographic area that they must protect as civilians return to their homes. In the bigger picture, there is evidently much more to be done. According to one estimate, over 2,000 insurgents are unaccounted for, as are hundreds of hostages. Stability in many areas remains fragile, as evidenced by the limited numbers of displaced people returning home and the caution from humanitarian agencies in resuming operations.
As the SAMIM mission heads towards the end of its current mandated deployment in mid-January, the mission continues to make some operational gains, but still faces a series of unresolved questions about its long-term future.
*Culled from January Issue of PAV Magazine