Belgium Ambassador to Kenya Peter Maddens to donate 500 indigenous tree seedlings yearly
By Samuel Ouma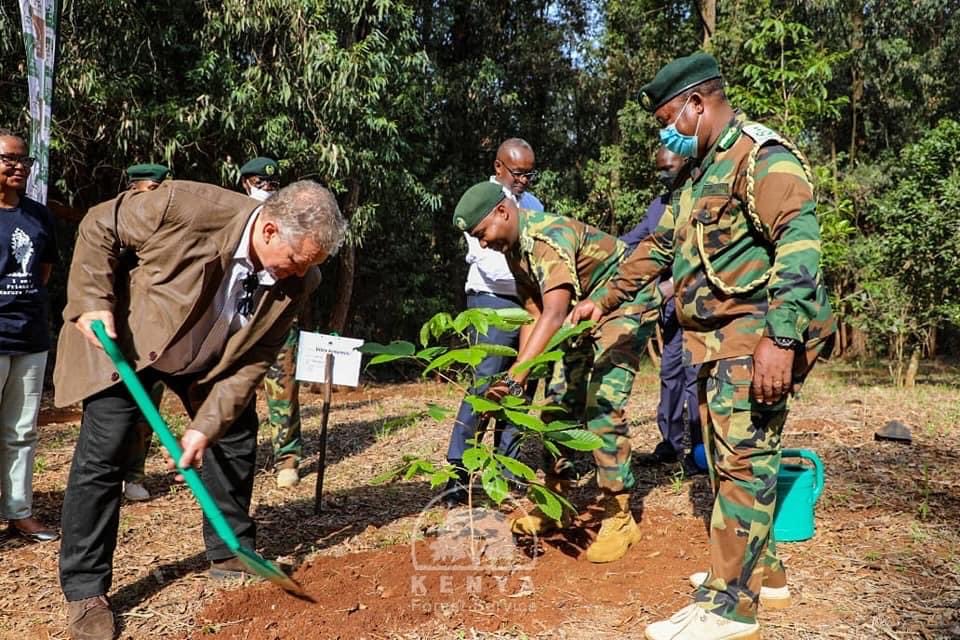 The Belgium Ambassador to Kenya, His Excellency Peter Maddens, has committed to donating 500 indigenous tree seedlings annually to Kenya Forest Service (KFS) as one way of offsetting his travel carbon footprint.
Amb. Maddens made this commitment while officiating a ceremonial tree planting at Karura Forest Reserve, outskirts of Nairobi, to launch the annual tree-planting drive together with the KFS Board Chairman Peter Kinyua and the Chief Conservator of Forests Julius Kamau, EBS.
"One of my particularities as an ambassador entailed travelling to several countries under his ambassadorial docket, namely; Somalia, Eritrea, Madagascar, Comoros, Seychelles," said Ambassador Maddens.
Thus, he confessed to his environmental consciousness necessitating his drive to offset his carbon footprint by planting tree seedlings.
The Ambassador further added to global climate change discussions, such as COP 26 in Glasgow and the forthcoming UN Environment Assembly (UNEA-5) in Nairobi, focusing on environmental awareness and the need for concrete actions.
On his part, the KFS Board Chairman, while lauding the initiative by the Belgian Ambassador, decried the ongoing plot within the corridors of the Legislature to amend the Forest Conservation and Management Act (2016) to give room for forest excision in the country without the involvement of the Service who currently are mandated to protecting, conserving and sustainably managing public forest resources for the present and future.
He noted that the danger of this amendment would quickly result in loss of gazetted forests in the country through excision, citing Karura Forest Reserve as an example of a forest that would have suffered excision through political interests save for the efforts by the Late Nobel Peace Laureate Prof Wangari Maathai to safeguard the forest.
Kinyua also encouraged other institutions and members of the public to support KFS to grow trees for the country's good, adding that the Service works closely with forest adjacent communities through CFAs countrywide.
On his part, the CCF noted that the Service developed the Adopt-A-Forest Framework through the Ministry of Environment and Forestry to provide a guided mechanism for partnership in the restoration and rehabilitation of degraded forest resources.
He further added that the Service is currently pursuing discussions for partnership with UNDP and Safaricom to develop an online Carbon Credit Calculator which will facilitate environment-conscious individuals intending to offset their carbon footprint (e.g. from travelling) to calculate and identify the amount they would require to offset by contributing towards tree planting.