Floods kill nearly 800 animals, destroy over 37,000 tons of cereals in South Sudan
By Deng Machol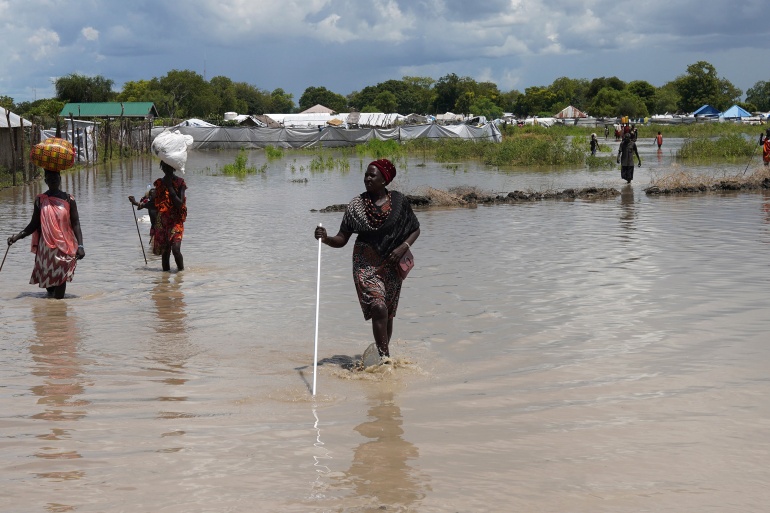 Juba – Heavy floods in restive South Sudan have destroyed an estimated 37,624 tons of cereals, according to the latest preliminary report from the United Nations Food and Agriculture Organization (FAO).
The report also said that 795,558 livestock have perished due to flooding this year in eight states of South Sudan.
South Sudan is experiencing its worst floods in 60 years and the UN is linking the situation to climate change. This is the third straight year of horrible flooding, endangering livelihoods in the country.
The excessive rains, overflow of rivers, or a combination of both normally causes flooding – with some of the rivers flowing in from areas as far as neighbouring countries.
It said 65,107 hectares of land have been submerged since May.
"Preliminary FAO analysis indicates that about 65,107 hectares of cultivated land have been damaged due to floods, with an estimated loss of 37,624 tons of cereals, which is expected to have negative consequences on the food security of the affected populations," said the report seen by Pan African Visions.
"Most people affected by the floods find it difficult to survive, as flooding from previous years has not yet receded and the new influx of water exacerbates the situation, making the prospect of a recovery difficult if not impossible," the report said. "This includes cattle, goats and sheep, and an unknown number of poultry, dogs and donkeys."
More than 835,000 people have been affected by floods in eight of the country's 10 states, with Jonglei, Unity and Upper Nile the worst affected, according to the U. N.
"This disastrous level of crops and livestock loss represents a significant threat to the livelihood and food security for hundreds of thousands of South Sudanese," said Meshack Malo, FAO Representative in South Sudan.
According to the World Food Program (WFP), South Sudan is one of the worst hunger crises globally, with 2.5 million people in emergency or worse levels of acute food insecurity, of which 108,000 people are estimated to already face famine-like conditions.
It also notes that 4.7 million people are already in crisis levels, adding this is probably the worst food security situation since the country became independent in July 2011.
However, the country's five-year civil war, hunger and corruption have all ravaged the world youngest nation.
However, the FAO, with support from USAID, Norway, UK, Sweden, African Development Bank and UNOCHA, has responded by providing seeds, tools and fishing kits to people affected by flooding, as well as initiating an emergency vaccination campaign to combat livestock diseases which spread more easily in flood affected areas.
"But further investment and efforts will be necessary in the new year to help farmers and livestock keepers recover from the devastation caused by floods in 2021," added Malo.