Christopher Lamora Confirmed as U.S. Ambassador to Cameroon
By Boris Esono Nwenfor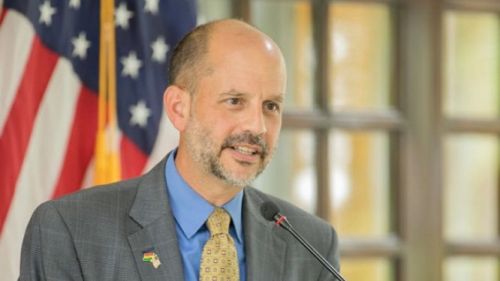 Christopher John Lamora has been confirmed by the U.S. Senate as the new Ambassador Extraordinary and Plenipotentiary to the Republic of Cameroon. The confirmation was done on December 18 and the new Ambassador is expected in Yaounde, the capital of Cameroon where he is to present his letter of credence to President Biya.
The confirmation has slightly gone under the radar in the Cameroonian community who had voiced their displeasure to President Biden's nomination, the reason being Ambassador Lamora is openly gay which is not accepted in the country. It will thus be interesting to witness how the collaboration between the Ambassador and officials in Cameroon will be.
President Joe Biden had nominated Christopher Lamora back in April to replace Peter Henry Barlerin, whose tenure had ended the previous year. In June 2021, Christopher Lamora went before the Senate for confirmation and reports indicated that the process took longer than usual due to the Republican-led blockade on the thirty Ambassadors prosed by President Biden.
Christopher Lamora is not a new face in the Cameroonian milieu having been part of the Diplomatic mission to the country. Lamora worked at the U.S. Consulate General in Douala, Cameroon and that knowledge acquired will be vital if he is to continue where his predecessor left off and create new partnerships and relationships between the two countries.
"I am proud of what we have achieved together particularly in the area of health: the fight against HIV/AIDS and malaria," Henry Peter Barlerin said in the meeting with President Biya as he officially left the country as the U.S. Ambassador.
Cameroon and the U.S. have equally cooperated in the fight against the novel coronavirus pandemic (COVID-19). The Ambassador advised that the impact of COVID-19 should in no way hamper efforts made against other diseases like HIV/AIDS.
Who is Christopher Lamora?
Christopher Lamora, a career member of the Senior Foreign Service, is the Deputy Chief of Mission at the U.S. Embassy in Accra, Ghana. He was previously the Acting Deputy Assistant Secretary for Central Africa and African Security Affairs in the Bureau of African Affairs at the State Department and he also served as Director of the Office of Central African Affairs, Deputy Director of the Bureau's Office of Economic and Regional Affairs, and desk officer for the Democratic Republic of Congo.
He served overseas at the U.S. embassies in Guatemala, the Dominican Republic, Greece and the Central African Republic, and the U.S. Consulate General in Douala, Cameroon. Lamora earned a B.S. at Georgetown University and speaks French, Spanish, and Modern Greek.