Midea reforça parceria global com Manchester City
A gigante global de eletrodomésticos inclui mais ativos de alta visibilidade e impulsiona a oferta de experiências e de conteúdo para fãs de futebol
MANCHESTER, Inglaterra, 28 Outubro 2021 -/African Media Agency(AMA)/- Midea e Manchester City anunciaram hoje uma ampliação de sua parceria global que começou em janeiro de 2020. Ao longo dessa parceria, Midea produziu conteúdo digital envolvente, extremamente popular entre os fãs do City em todo o mundo. Principalmente, o #MideaHomeChallenge, que manteve os fãs entretidos durante os períodos de lockdown, quando vários jogadores do Manchester City desafiaram os fãs a mostrarem suas habilidades no futebol interagindo com seus eletrodomésticos de maneiras diferenciadas.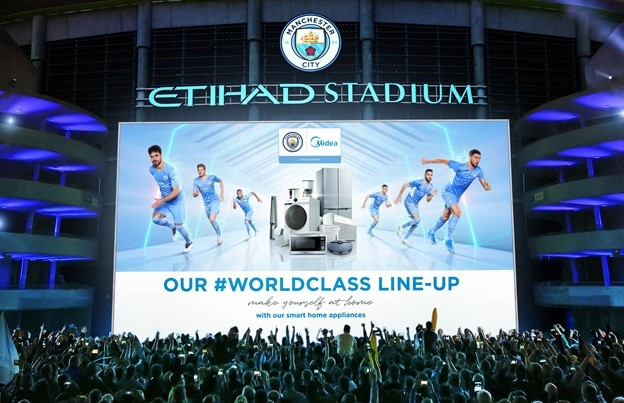 Além da campanha Midea #WorldClass Awards que celebrou os desempenhos do Clube, e especialmente a performance dos jogadores, durante a temporada 2020/21. O inovador show de premiação da Midea, moderado pelas lendas do City Paul Dickov e Shaun Wright-Phillips, atraiu milhões de visualizações e de fãs quando nove troféus diferentes #WorldClass foram votados e, posteriormente, atribuídos a seus jogadores favoritos do City.
Nesta temporada, junto com o novo sistema, líder mundial, de tela LED de dois níveis do Etihad Stadium, a Midea agora tem 12 slots de LED em cada partida do Manchester City em casa, para mostrar sua extensa gama de eletrodomésticos inteligentes em todas as categorias.
"A visibilidade global da Midea ainda é bastante pequena em comparação com nossas ambições. A parceria com o Manchester City – premiada como a equipa desportiva mais inovadora do mundo e que tem como filosofia buscar resultados extraordinários, através de um futebol super atrativo de se ver – dá-nos grande visibilidade global e um parceiro de negócios com as mesmas grandes ambições para o futuro." disse Eric Wang, VP do Midea Group e Presidente e CEO da Divisão de Negócios Internacionais do Midea Group.
"São 55.000 fãs no estádio, mas milhões de fãs do Manchester City entre os 3,5 bilhões de fãs de futebol em todo o mundo assistindo em casa, na TV e nas redes sociais – e é em casa que a Midea está. Assim sendo, na Midea temos o prazer de mostrar nosso compromisso e visão de futuro a milhões e bilhões de fãs que estão curtindo o futebol em casa ". Wang continuou.
"A parceria do Manchester City com a Midea vêm crescendo e estamos muito satisfeitos por aprofundar ainda mais a nossa relação. A Midea demonstrou grande compreensão em como engajar os fãs do City em todo o mundo, produzindo alguns de nossos conteúdos de mídia social de melhor desempenho nas últimas temporadas e agora estamos ansiosos para expandir o alcance desta parceria para outras regiões e integrar ainda mais produtos inteligentes." disse Roel de Vries, City Football Group's Group Chief Operating Officer.
"Aqui no Brasil, nosso objetivo é mostrar a todos os fãs de futebol e do City nossa ampla gama de eletrodomésticos inteligentes que fazem com que os consumidores 'sintam-se em casa', como nosso slogan diz ('make yourself at home'. Portanto, além de reforçar a presença de nossa marca globalmente, esperamos despertar entusiasmo nos consumidores brasileiros ao longo de toda a temporada, aproximando as pessoas, e possibilitando que aproveitem suas casas ainda mais" disse Felipe Costa, CEO do Midea Carrier JV no Brasil.
A Midea também ampliará seu relacionamento com a comunidade, apoiando o renomado programa do clube: 'City In The Community', a explorar maneiras de enfrentar os desafios sociais. Nos próximos meses, o Clube também contará com a Midea – líder de eletrodomésticos inteligentes, para fornecer instalações aprimoradas para jogadores e fãs em todo o Campus da Etihad.
Além do compromisso com a equipe masculina do Manchester City, a Midea também é parceira global exclusiva de eletrodomésticos, linha branca e HVAC da equipe feminina do Manchester City e principal parceira do New York City FC, que joga na MLS.
Distribuído pela African Media Agency (AMA) em nome do Midea.
For more information, contact:
Brando Brandstaeter
Head of Global Brand Management & Communication
Midea Group – International Business Division
Stephanie Borthwick
Head of Public Relations
City Football Group
stephanie.borthwick@cityfootball.com
Sobre o Manchester City Football Club
O Manchester City FC é um clube da Premier League inglesa inicialmente fundado em 1880 como St Mark's West Gorton. Tornou-se oficialmente Manchester City FC em 1894 e desde então conquistou European Cup Winners' Cup, sete títulos do Campeonato da Liga, incluindo cinco títulos da Premier League (2012, 2014, 2018, 2019, 2021) e seis FA Cups. O Manchester City FC é um dos 11 clubes que compõem o City Football Group e conta com o New York City FC e o Melbourne City FC entre seus clubes irmãos.
Sob o comando do técnico Pep Guardiola, um dos treinadores mais condecorados do futebol mundial, o clube joga seus jogos domésticos e da Liga dos Campeões da UEFA no Estádio Etihad, um estádio espetacular de 55.000 lugares que o City chama de casa desde 2003. Hoje, o estádio fica no campus Etihad, que também inclui a City Football Academy, um centro de treinamento de performance e desenvolvimento juvenil de última geração localizado no coração de East Manchester. Com um Academy Stadium com capacidade para 7.000 pessoas, o City Football Academy também é onde o Manchester City Women's Football Club e o Elite Development Squad treinam diariamente e jogam seus jogos competitivos em casa.
Para mais informações, acesse www.mancity.com.
About Midea & Midea Group
Midea é uma das mais de 10 marcas dentro do negócio de eletrodomésticos inteligentes do Midea Group – uma empresa líder global de alta tecnologia classificada como # 288 na Global Fortune 500 de 2021. Os negócios do Midea Group vão além de eletrodomésticos e compreende cinco pilares de negócios: Smart Home, Electro-Mechanical, HVAC & Building Technologies, Robotics & Automation, bem como Digital Innovation. Todos os negócios do Grupo Midea buscam um único credo: #HumanizingTechnology.
A marca Midea oferece uma das gamas de produtos mais abrangentes do mundo na indústria de eletrodomésticos inteligentes, especializada em tratamento de ar (soluções de ar-condicionado comerciais e residenciais), refrigeração, lavanderia, eletrodomésticos de cozinha, portáteis, produtos para tratamento de água e eletrodomésticos para limpeza de pisos.
A Midea acredita no fornecimento de soluções 'surprisingly friendly' – surpreendentemente amigáveis, adotando uma abordagem centrada no consumidor e de resolução de problemas. Indo além para o futuro, constantemente explorando e inovando para atender à demanda do consumidor em constante mudança.
Midea é, entre muitas outras, a marca nº 1 do mundo de tratamento de ar [1], a marca nº 1 do mundo de portáteis [2], a marca nº 1 do mundo de climatizadores [3], a marca nº 1 do mundo de ventiladores refrigerados [4 ], e a marca nº 1 do mundo de panelas de arroz [5].
Os 34 centros de produção globais da Midea e mais de 150.000 funcionários em mais de 200 países e regiões geraram uma receita anual de mais de US $ 41,4 bilhões em 2020. Os 28 centros de inovação mundiais da Midea e o forte compromisso com P&D resultaram em mais de 62.000 patentes autorizadas até hoje.
Para mais informações, acesse
https://www.midea-group.com/Our-Businesses/smart-home/midea
https://www.midea-group.com/newsRoom/News/MIDEA-BOOSTS-GLOBAL-MANCHESTER-CITY-PARTNERSHIP
[1] "Midea – World's No.1 Air Treatment Brand"
Source: "Euromonitor International (Shanghai) Limited;
Consumer Appliances 21ed, retail volume sales in units, 2020 data"
[2] "Midea – World's No.1 Small Cooking Appliances Brand"
Source: "Euromonitor International (Shanghai) Limited;
Consumer Appliances 21ed, retail volume sales in units, 2020 data"
[3] "Midea – World's No.1 Air Coolers Brand"
Source: "Euromonitor International (Shanghai) Limited;
Consumer Appliances 21ed, retail volume sales in units, 2020 data"
[4] "Midea – World's No.1 Cooling Fans Brand"
Source: "Euromonitor International (Shanghai) Limited;
Consumer Appliances 21ed, retail volume sales in units, 2020 data"
[5] "Midea – World's No.1 Rice Cookers Brand"
Source: "Euromonitor International (Shanghai) Limited;
Consumer Appliances 21ed, retail volume sales in units, 2020 data"
Source : African Media Agency (AMA)