Meet the Top 9 outstanding African Female Entrepreneurs in the ABH 2021 Top 20
By Samuel Ouma and Ajong Mbapndah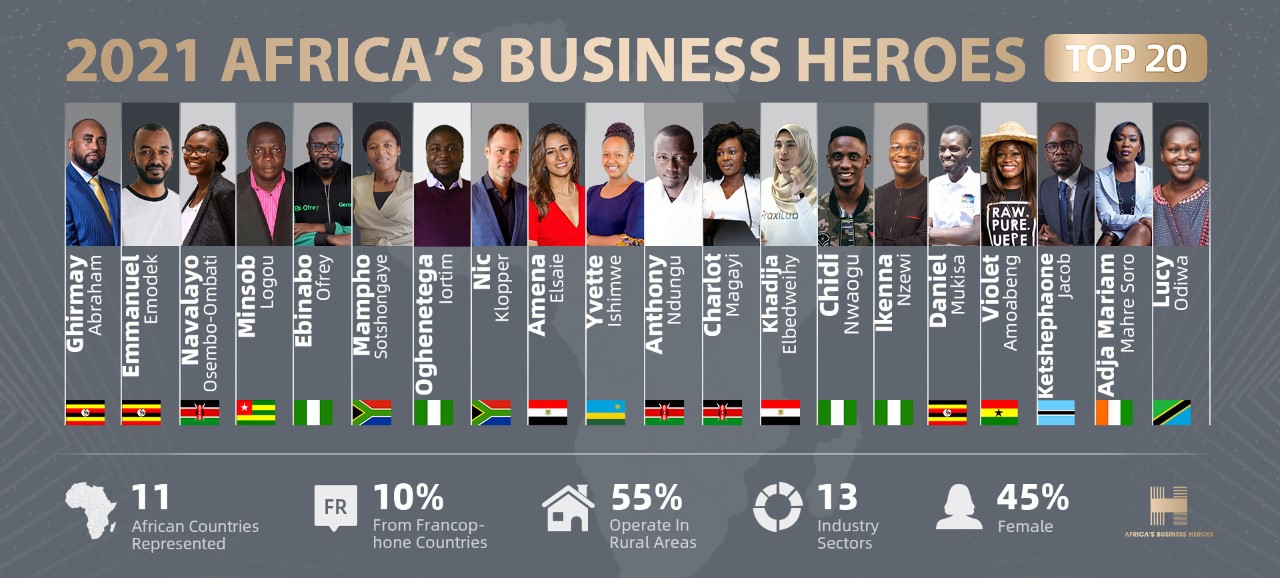 Recent reports indicate that Africa is now a world leader in women business owners. It is evident that unlocking women's potential can make a massive contribution to the continent's growth and prosperity.
The Jack Ma Foundation continues its all-inclusive commitment to addressing barriers to economic development and entrepreneurship across Africa with grant funding support to outstanding entrepreneurs who are creating solutions and making a difference in their communities. With an overall goal of supporting African economies grow through entrepreneurship, each year for ten years (2021 being the 3rd edition), the foundation's philanthropic initiative 'Africa's Business Heroes' (ABH) prize competition awards grant funding to 10 outstanding African startups as follows: the winner receives $300,000, the 1st Runner up receives $250,000, the 2nd Runner up receives $150,000 and seven others in the Top 10 each receives $100,000, all on top of training, networking and other opportunities and support.
This year nine female entrepreneurs are competing together with 11 male African entrepreneurs (making a total of the ABH Top 20), each aiming to be selected among the Top 10 who will be sharing a grant of 1.5 million US dollars in November this year.
These nine female entrepreneurs are from Kenya, Egypt, Ghana, Tanzania, South Africa, Rwanda, and Cote d'Ivoire. They represent eight key sectors mainly: media and entertainment, consulting, beauty and wellness, education, energy, retail, food & beverages, plus construction.
The previous 2 ABH editions, 2019 and 2020, have been won by female entrepreneurs; Nigeria's Temie Giwa-Tubosun, Founder and CEO, LifeBank, a medical logistics startup who won in 2019, and Kenya's Chebet Lesan, Founder & CEO of BrightGreen Renewable Energy, who won last year. Women continue to exhibit incredible potential in founding and managing businesses across Africa.
With a 45% female representation in the ABH Top 20 this year, Pan African Visions interviewed the 9 ABH female Top 20 finalists to learn more about what is behind the motivation to the fast increasing female entrepreneurship across Africa, what inspired them to apply for the ABH competition, how they have managed to make it thus far in a tight continent-wide competition. They have tips for other budding and existing female entrepreneurs in Africa, especially when the pandemic has left many African economies struggling. Here is a wealth of knowledge they shared.
"Always remember that you do not have to walk the journey alone, there are people willing to walk with you, find them and allow them," said South Africa's Golden Rewards 1981cc Founder Mampho Sotshongaye.
"Create solutions for your communities, especially now, so much can be done, and the world has never been more willing to support female entrepreneurship," stated Charlot Magayi, Founder and CEO of Mukuru Clean Stoves in Nairobi's slum of Mukuru.
"It is time that female entrepreneurs stop downplaying what they do and realize that it is their work that has contributed to the economic growth experienced in Africa and launches higher. The road to entrepreneurship will not be a walk in the path, but certainly, it will be worth the sacrifice. Always be ready for crisis and strive to learn and acquire those mitigation strategies that will ensure that after the dust has settled, you will remain standing. In every situation, strive to keep your sanity and self-esteem; mental health is key," added Lucy Achieng' Odiwa.
What inspired female entrepreneurs to apply for the ABH competition?
The entrepreneurs applied for the competition after being inspired by numerous reasons like the Covid-19 pandemic, the journey of the previous finalists, and to inspire African youths that it is possible to grow a global brand from Africa.
"I was inspired by the opportunity to get my brand known at a continental level, the desire to create a better supply chain, marketing and PR networks that will help me expand my business, and also by the opportunity to inspire many African youth that it is possible to grow a global brand from Africa," said Kenyan Navalayo Osembo-Ombati, Co-Founder & CEO of Enda Athletic Inc.
Lucy Achieng' Odiwa, Co-Founder&CEO of Women Choice Industries (Tanzania), said, "Being a champion and a strong women and girls safer menstrual hygiene management advocate, ABH competition, was an avenue and a platform through which I could better offer myself and engage the global world to address consequences of period poverty and showcase the consequences of lack of period management absorbent in Africa."
How have the nine female entrepreneurs managed it so far?
"Getting this far in such a huge African competition, I think, is a matter of mastering your business and field and the motivation of growing within your company," said Adja Mariam Mahre Soro, Director of the Ivorian publishing house Voyelles Editions in Cote d'Ivoire.
"Our success so far, I would say, comes from our mission which is to foster societies where persons with disabilities and businesses grow together, empowering all and transcending barriers, and our unique way of approaching this issue which is not to go through the charity (pity) approach. This unique approach is what drove the creation of our services and made them stand out and be effective," added Amena Elsaie, an Egyptian Co-founder and CEO of Helm Ltd.
What is the motivation behind the fast-increasing female entrepreneurship across Africa?
"Even though we still have a long way to go with motivating female entrepreneurship across Africa; but I think today one of the key reasons why female entrepreneurship is fast increasing is because the society is progressively shifting the mindset around women empowerment. And once a woman is empowered and believed-in, she creates impressive ventures," stated Rwanda's IRIBA Water Group Ltd Managing Director Yvette Ishimwe.
Violet Awo Amoabeng, CEO & Founder of Skin Gourmet, said, " I believe the number of female entrepreneurs is increasing throughout Africa because gender equality in Africa is on the rise thanks to education and changes in the African mentality about the role of women in the society. Plus, African girls now have more role models who confirm their dreams that they too can be great."
Summary
Female entrepreneurship in Africa has no limit to specific industries. Women are working hard across the continent to build successful businesses in various sectors, employing people, impacting communities, and are playing a significant role in changing the African business world – a move that shows the true power of female entrepreneurship. Supporting female entrepreneurship in Africa is supporting the continent's accelerated growth.